Messi leads Barcelona to victory in entertaining game in Seville
Lionel Messi scored three and set up another as the leaders twice pegged Sevilla back before running out 4-2 winners at the Sánchez-Pizjuán.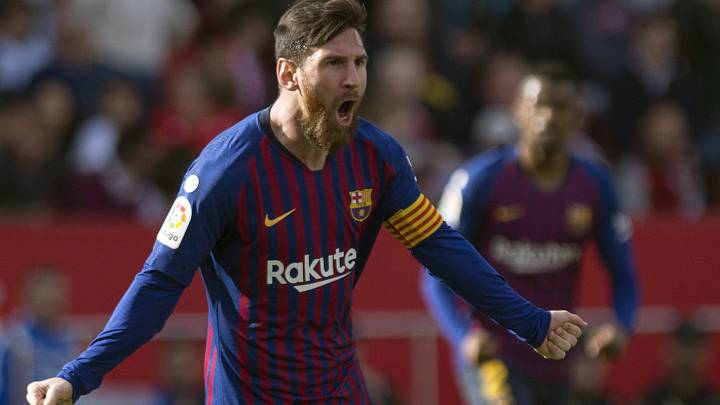 Sevilla 2-4 Barcelona: as it happened
  Peeep peeep peeep! That's it! Barcelona win 4-2 in Seville, and it's a victory that's all about Mr Messi. Twice the hosts led, through strikes by Jesús Navas and Gabriel Mercado, but, in the end, they had no answer to Barcelona's captain, who was extraordinary - and comes away from the Sánchez-Pizjuán with a hat-trick and an assist. With second-placed Atlético Madrid still to play this weekend, Barça go provisionally 10 points clear at the top of LaLiga and, despite a team display that did not altogether convince, have taken a giant stride towards retaining their Spanish title. That was Messi's 50th hat-trick for club and country, by the way. Meanwhile, defeat for Sevilla means that Pablo Machín's men have lost five of their last seven in LaLiga, and leaves them outside of the Champions League places for the first time since September. Thanks for reading!

  Not content with scoring three himself, Messi now drops an inch-perfect ball into the path of Suárez, leaving the Uruguayan one on one with Vaclik. He makes no mistake, lifting a cool finish over the Sevilla keeper. That's Suárez's first LaLiga goal in a month.
93' Suárez seals the points! 4-2 to Barcelona!
92'   Sevilla win a free-kick on the right flank, which Mesa will deliver... right onto a Barcelona head. The visitors clear, and...
90' Mesa becomes the sixth Sevilla man to collect a yellow card after yanking over Busquets on the touchline. There will be four minutes of time added on at the Sánchez-Pizjuán.
88'   Vázquez... just off target! The ball drops to 'El Mudo' on the penalty spot, but he has his back to goal and has to send an improvised effort over his head and towards Ter Stegen's goal, and it flies just past the woodwork.
It's a sublime hat-trick for Messi. Having pumped two into the top corner, he now applies the deftest of touches to dink the loose ball over Vaclik when Aleñá's shot deflects off Kjaer and into the Argentine's path. 3-2 in Seville!
85' And up go Barcelona and score what is, in all likelihood, the winner! I hardly need tell you who got it.
83'   Now Sevilla win themselves a free-kick in swing-it-into-the-mixer territory, but again the delivery is poor, Banega the culprit this time.
82' Sarabia follows Kjaer into the book for an ill-advised aerial challenge on Alba, and again Barcelona have a dead-ball chance to send it into the danger area.  It's a tame delivery from Dembélé, though. 
80' Kjaer is booked for a robust challenge on Messi, and Barcelona have a free-kick on the right wing... which comes to nought.
79' Coutinho is indeed the man withdrawn, and on trots Aleñá.
78'   Dembélé crosses, Gómez clears, and it falls to Messi in shooting space on the edge of the box. The home faithful take a giant, collective gulp, but his shot is tipped over by Vaclik.
76' Carles Aleñá is preparing to come on for Barcelona. The odds on Coutinho being the man to make way are decidedly short, I'd say.
75'   15 minutes remaining at the Sánchez-Pizjuán. It's anyone's game.
73'   Navas fires a ball into the six-yard box, where Ben Yedder tries - to no avail - to flick one in. Piqué gets himself in the way, and there's no way through for the Frenchman. 
71'   Oh my. Messi is inches away from bending in a third. Cutting in from the left, he sends an effort towards the far top corner that Vaclik has absolutely no hope of saving... but it drifts just past the post.
  Having fired one into the left-hand top corner in the first half, now Messi pings one into the top bin on the other side, and this time it's with his right! It's a bit of a poor clearance by Sevilla's goalkeeper, falling straight to Rakitic. The Croat advances and feeds the ball to Dembélé, who cuts it back to Messi on the 'D' - where the Argentine dose the rest.
68'   Messi again! He's really quite useful. 2-2!
66'   Barça plop the ball about to little effect in the Sevilla, and when the hosts win it back they surge forward on a break lead by Mesa. He lifts a ball towards the left-hand side of the box, where Promes twists and turns before sending a ball across goal... but no-one in a white shirt is there to get on the end of it!
63'   Kjaer and Suárez come together once more. This time outside of the box, and this time Mateu does blow his whistle. However, Messi's delivery into the area is put out for a corner, which Dembélé takes, but to no consequence. Moments later, Suárez sends a fairly tame effort into Vaclik's arms.
61'   Sevilla made their third and final change just before that corner, Roque Mesa coming on for Rog.
...but the decision stands. No penalty, and instead Barça must settle for a corner, which is sent straight into Vaclik's arms.
60'   Suárez falls under Kjaer's challenge and is after a penalty, but Mateu says no! To VAR it will go... and the replays would suggest that it is a spot-kick.
57' Sevilla make a second change, Amadou replacing Wöber, who looks to have done himself some sort of damage. The Austrian gets himself booked as he leaves the field, by the way; presumably he was deemed to have been time-wasting.
54'   Back come Barcelona, Messi sending an angled strike on goal that takes a touch off Navas and looks for a moment like it's going to loop over Vaclik, but finally just drops straight into his arms.
53'   Up the other end, Sarabia has a tame trundler blocked by Umtiti.
52'   There's a chance for Dembélé, but he gets his shot all wrong! Messi releases Suárez on the right, and the Uruguayan plays it first-time across goal to the substitute... but it's a swing and a miss! He then tries to claim that what actually happened was that he was brought down by Navas, but he ain't fooling nobody.
Roque Mesa is warming up and may also be on for Sevilla in the not too distant future, it seems.
50'  Indeed. The Argentine makes his way from the field to a rousing ovation and is replaced by Franco Vázquez. 
48' Rog is the first Sevilla player to go into the book after fouling Dembélé. It looks like Mercado can't continue for Sevilla, incidentally.
47'   Mercado blasts over from the edge of the area, but not before there are handball shouts against Alba when Navas crosses into the box. After a quick video review, though, the decision is: no penalty.
  Barça's two half-time substitutions see Sergi Roberto replace Nelson Semedo at right-back, and Ousmane Dembélé come on for Arturo Vidal, with Coutinho presumably dropping back into the midfield.
Peeeep! Back underway in Seville.
The teams are back out at the Sánchez-Pizjuán, where Barcelona have made two half-time changes.
It may not have been enough to see his side go in on level terms, but that goal by Messi... Woof! That's Barcelona's first from open play in LaLiga for three weeks, by the way.
That was a thoroughly entertaining first half. Though it was a pretty even battle for the most part, Sevilla certainly finished the strongest and it's hard to bedgrudge them their half-time lead. With their early start to the season seemingly catching up on them, Pablo Machín's men have been on a bad run in LaLiga of late. What a big win this would be for them.
And that's half time! Sevilla lead, and head back to the dressing rooms to a rousing ovation from the home support!
46'   Almost! The corner is taken short to Banega, who clips a cross to the back stick and onto Kjaer's head... but he nods just off target! 
45'   Wöber forces Umtiti into conceding a corner. Can Sevilla grab a third before half time? 
42' Mercado puts the hosts back in front! Sarabia does well to reach the ball before it goes out for a goal-kick, and when he cuts it back into the middle the defender is there to steer it into the far corner, with a finish not dissimilar to Navas' earlier on. 2-1 in Seville!
41'   Coutinho finds Suárez in space to run at the Sevilla defence, but the Uruguayan's control is ropey in the extreme, and the chance is gone. Back go Sevilla up the other end, and...
40'  Into the last five minutes of the first half. "It's flown by," says pundit Axel Torres on Spanish TV. It has indeed.
Piqué is the recipient of the game's first yellow card, for pulling back Ben Yedder after being shown a clean pair of heels by the striker a few moments ago.
36'   Banega chips Promes into shooting space behing the Barcelona backline, but the Dutchman wallops his strike over... and the flag was up anway! Moments later, Ben Yedder produces a lovely piece of skill to get himself into a cross position on the left-hand byline, but his delivery flashes across the face of goal. 
34'   Suárez wants a free-kick just outside the box after coming together with Mercado, but Mateu says no, nein and non. The Uruguayan does not take the news with the greatest stoicism, you'll be flabbergasted to learn.
31'   Chance for Piqué... but Sergi Gómez stands up well and gets it behind! Messi clips a beautifully-weighted little ball in behind the Sevilla backline for the central defender to run on to (not sure what he's doing there, but hey ho). The through ball leaves Piqué one on one with Gómez, but his twists and turns aren't fooling his fellow Barça academy graduate, and he can't carve out enough space to get a clean shot away.
30'   Busquets gives away a free-kick on the left wing, and Sarabia has the chance to send it into the box. But having been short with his previous dead-ball delivery, he lumps this one slightly too long.
Rakitic flights a ball towards Messi on the penalty spot, and what comes next is pure class, as the Argentine thumps a first-time volley past Vaclik and into the top corner! 1-1 in Seville.
26' They are level now, though! What a lovely strike by Messi!
24'   Vidal looks to get Barça back on terms right away with a header sent towards Vaclik's left-hand post, but the keeper holds on with the minimum of fuss.
Messi's attempted ball into the box is cut out, Sevilla break quickly, and when Ben Yedder slips Navas into the box in acres of space, the former Manchester City man coolly guides it across Ter Stegen and into the left-hand corner!
22' Sevilla break forward, and Navas slides the Andalusians in front! 1-0 at the Sánchez-Pizjuán!
21'   Coutinho races towards the Sevilla box and plays it to Vidal... who completely fluffs his first touch/attempted first-time pass/whatever it was his was trying to do. And when the hosts clear moments later...
18'   Oh, that's close from Ben Yedder! Receiving the ball just inside the area, the Frenchman swivels neatly and punches a shot towards Ter Stegen's far corner... but Umtiti gets enough of a touch on it to send it wide! Corner to Sevilla...
16'   It's been a ding-dong first quarter of an hour. It's Sevilla's turn to attack as, much to Barça's chagrin, Mateu Lahoz awards the hosts a free-kick on the right-hand corner of the penalty box. Sarabia's delivery is rank, though, and fails to beat the first man. Shame.
14'   Suárez plays it across the face of the box for Messi, before scuttling into the box to collect the return. But, like Busquets moments before him, the Argentine is unusually inaccurate with his lofted pass, and again the attack is snuffed out.
12'   Sevilla break, but Piqué coolly backheels it clear when Sarabia tries to find Ben Yedder in the box. Back come Barça, but Busquets plops an uncharacteristically loose ball over the top for Messi, and the chance is lost.
10' Messi chests down a Suárez pass on the edge of the box and shoots on goal... but sees his effort blocked by Kjaer. Moments later, Coutinho bounces a speculative strike towards Vaclik's near post, but it's easy for the Sevilla goalkeeper.
8' Suárez forces a corner, which is played short and, rather than leading to a ball into the danger area, brings about a prolonged spell of Barcelona position in not altogether dangerous areas of the Sevilla half. And when the hosts win it back, Navas scampers towards the visiting byline and sends in a threatening ball that fizzes across the face of goal.
4' Rog is penalised for gently clothes-lining Vidal, and Messi has the chance to swing the ball into the box from the right. His delivery is easily cleared, though.
Antonio Mateu Lahoz is our match referee, by the way.

1' And Sevilla carve out a chance right away, Wöber crossing low for Promes to sidefoot towards the corner - but Ter Stegen saves, and the assistant's flag was up anyway. 
Peeeep! Underway at the Sánchez-Pizjuán.
Out come the teams in Seville!
There will be a minute's silence for former Sevilla president Roberto Alés
, who passed away this week.
No Kevin-Prince Boateng in the Barcelona squad, by the way - amid suggestions that Valverde has already lost faith in the January signing.
But they do come into this afternoon's clash buoyed by their 2-0 midweek win over Lazio in the Europa League - a result that completed a commanding, 3-0 aggregate win over the Serie A side, and saw the five-time tournament winners take their place in the semi-finals.
Meanwhile, Sevilla now trail their visitors by 17 points in the wake of a run of just the one league victory in their last eight - and Getafe's win over Rayo Vallecano earlier today has even seen the Andalusians slip (albeit provisionally) out of the top four.
And Barça boss Ernesto Valverde is confident that his charges will be back bothering the onion bag regularly in the near future, telling his pre-match press conference:  "If we keep creating chances then the goals will come."

However, the Catalans still remain in a position to open up a provisional 10-point lead at the top of the league, ahead of second-placed Atlético Madrid's match-up with Villarreal tomorrow.
Both sides are on a run of somewhat indifferent form, with Barcelona on a sequence of just one win in their last five games in all competitions, and suffering a bit of shortage of goals: their last three matches have yielded just the one, and that came from the penalty spot.

  However, it's also true that Sevilla did beat Barça in the one game the teams have played at the Sánchez-Pizjuán this term, goals by Pablo Sarabia and Wissam Ben Yedder earning a 2-0 victory last month in the first leg of the sides' Copa del Rey quarter-final - an advantage which, unfortunately for Los Hispalenses, would go on to be wiped out when they were walloped 6-1 in the return.

  Sevilla must be getting sick of the sight of Barcelona: today's game is the sides' fifth meeting in a season that has seen the Catalans knock Pablo Machín's men out of the Copa del Rey, beat them in LaLiga in October, and defeat them in the Spanish Super Cup back in August.
It's a full Sevilla debut for Marko Rog, by the way. The Croatian midfielder, who joined on loan from Napoli in January, made his first appearance for the Andalusians as a substitute against Lazio in midweek.

The two other changes to the Barça side that drew in Lyon on Tuesday see Arturo Vidal come into the midfield in place of Sergi Roberto, and Philippe Coutinho start ahead of Ousmane Dembélé in attack.
  As for Barcelona, the headline news is the return of Samuel Umtiti in the centre of defence - the Frenchman, who has been dogged by injury this term, makes his first appearance for the Blaugrana since back in November.
  For hosts Sevilla, three are four changes to the side that beat Lazio on Wednesday, as Maximilian Wöber, Éver Banega, Marko Rog and Quincy Promes come in for the Sergio Escudero - who picked up an injury in midweek - Roque Mesa, Franco Vázquez and André Silva.
Barcelona XI: Ter Stegen, Semedo, Piqué, Umtiti, Alba, Rakitic, Busquets, Vidal, Messi, Suárez, Coutinho.
Sevilla XI: Vaclik, Gómez, Kjaer, Mercado, Wöber, Sarabia, Banega, Rog, Navas, Promes, Ben Yedder.
Kick-off is just over an hour away, and we have team news...
Good afternoon and welcome to our live coverage of Sevilla and Barcelona's LaLiga week 25 clash at the Estadio Ramón Sánchez-Pizjuán!
Sevilla vs Barcelona: match preview
Sevilla host leaders Barcelona in LaLiga this afternoon (16:15 CET) in what is the sides' fifth meeting this season.
The Andalusians lost out to Barça in the Spanish Super Cup in August, before also going down to the Catalans in LaLiga in October and over two legs in the Copa del Rey last month.
Sevilla have won one in last five in LaLiga
Having been among the frontrunners in the first half of the campaign, Sevilla are on a run of one win in eight league games that have seen them drop off the pace, leaving them 17 points behind Barça and eight off Real Madrid in third.
However, they come into today's clash fresh from a midweek victory over Lazio that secured a comprehensive, 3-0 aggregate triumph over the Italians and booked their passage to the Europa League semi-finals, where they will face Slavia Prague.
Goal-shy Barcelona also in indifferent form
Meanwhile, Barça arrive at the Sánchez-Pizjuán on a patchy run of form of their own, having struggled for goals in the process of drawing four and winning only one of their last five fixtures in all competitions.
Nevertheless, a victory in Seville would see the visitors warm up for next week's Clásico double header by opening up a provisional 10-point lead at the top of the table.