Distracted Real Madrid squeak past Levante with two penalties
Karim Benzema and Gareth Bale both netted from the spot as Real Madrid edged out Levante at the Ciutat de València on Sunday night.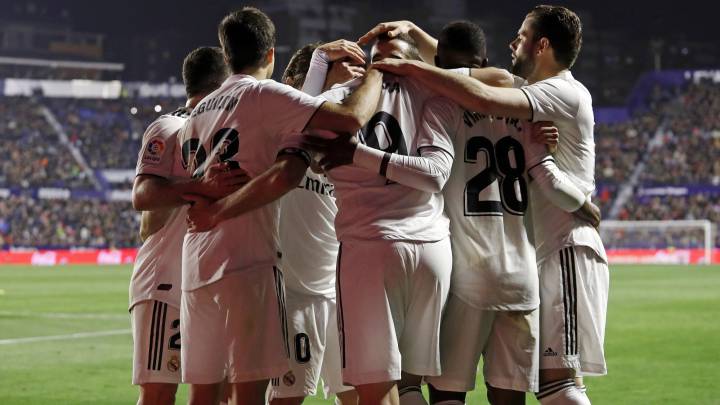 Levante vs Real Madrid: match report
They came with thoughts of a double-header against their biggest rivals in mind. Their play suggested those thoughts were too close to the front of their mind. The result, somehow, went their way. Real Madrid were handed two penalties - converted by Karim Benzema and Gareth Bale - and that was enough to see them leave the Ciutat de València with all three points.

Levante took the game to their more illustrious hosts from the start and across the game created the better scoring chances, with Bardhi, Morales and Roger all looking to cause problems for the white defence that was without the suspended Sergio Ramos. They hit the post twice when they should have scored, and had a number of other gilt-edged opportunities. When VAR awarded their sloppy opponents a penalty for handball just before half-time, the frustration that their efforts may not be rewarded was clear.
A neat finish from Roger on the hour mark gave the home fans something to cheer, and they'd have probably accepted four points out of six in their two league games against the European Champions, but it wasn't to be. If the first spot kick was fair, the second was much more contentious. The referee gave it instinctively as Casemiro seemed to be booted into the air as part of a hurried clearance following a corner. Replays suggested that VAR would correct the decision, with minimal, or no contact being made with the Brazilain. It didn't, and Bale rolled the ball home. A late Nacho second yellow didn't change anything.

This was an escape for Solari, and some fans may excuse him and his players having other things on their mind. This will not be the case on Wednesday and Saturday, where two positive outcomes, and a much-improved performance will be demanded at the Bernabéu. When there's a Clásico at stake, nothing else can detract from your focus.
Levante vs Real Madrid: how it happened
Thank you for joining me for the game wherever you are in the world. We'll be back soon with more live action. Did we mention there are two Clásicos coming up?
Levante players will likely be sitting in the dressing room in disbelief, some with heads in hands pondering what might have been, others throwing random items around in a rage. They had the better chances, while Madrid were often sloppy. They wake up tomorrow frustrated the loss. But that's football...
Madrid will leave Valencia delighted to have picked up all three points, and get back to winning ways after that loss against Girona. In saying that, if Barça are watching, they'll not have seen anything to particularly worry them for the two game that are coming up over the next six days.
Full-time: Levante 1-2 Real Madrid
90'+4' Peep, peep, peeeeeeep! And that's it! 
90'+2' Rochina into the book a second time and he's off. Silly dissent!
90'+1'   The hosts are trying to find a way in through the line of white but they may be out of ideas after a frustrating evening. 
90'   We'll have four minutes added on herre, and we start them now...
89' Vukcevic comes on for the final few minutes replacing Bardhi
88'   A double chance for Levante but Courtois rises above the crowd to grab the ball and then take the foul. Pressure off but Madrid have to hold out with 10 men.
86' Levante take some of the pace off the game as they look for a more measured approach. It ends with a clever ball over the top and Nacho pulls down the runner. It's another yellow for the defender, and that means an early bath.
84' Another yellow, this time for Luna
83' Asensio comes on for the Brazilian
82'   Bale tries to get more involved with a shot at the edge of area but is snuffed out by Fernandez. Looks like Vinicius is heading off.
Levante 1-2 Real Madrid 
78' Gooooooooaaaaaaaaaaalllll! Gareth Bale rolls the spot kick into the net and then runs away, noticeably not really engaging in any celebration with teammates.
77'   It's given (although from the replays I watched I'm not sure how!)
76'   Penalty shout as Casemiro goes to ground under a challenge. Referee points to the spot but then puts his finger to his ear and waits for advice...
75'   Nice break from Los Blancos, first from Lucas on the right, switches it to Bale on the right, who feeds Reguilon. His shot is deflected just wide of the post.
73' Ch-ch-ch-changes happening | Dwamena on for the lively Roger and Bale on for Benzema.
71'   CHANCE!! Vinicius sprints free behind the last defender (the Brazilian continues to be the greatest threat for Madrid) and as he slides the ball low past Fernandes, the keeper dives to the left and gets a hand on it to stop it going in. The defence covers. Great save!
70' That change is here: Kroos replace by Valverde (I think my previous question has been answered!)
68' Lucas Vázquez rightly booked for a clumsy tackle, possibly due to frustration at his seeming inability to make a decent pass today.
67'   It looks like Solari is about to make a change. Will it be one to try and win this game, or one with an eye on the double Clásico coming up.
66'   Nice run from Casemiro breaks through the Levante lines. His ball off to Lucas allows the winger a strike at goal but he shanks it well, well wide.
64'   That control from Los Blancos is lost and Levante look to hit quickly on the break. Carvajal covers well.
63'   Madrid try to settle the frantic nature of this second half, first building down the right, then to the left, and back to the right. No space being given so the visitors choose to recycle rather than losing possession.
Levante 1-1 Real Madrid |  A ball across the area is neatly turned home by the Levante striker, out of the reach of Courtois. Nothing less than the hosts deserve.
60' Goooooooaaaaaaaallllllllll!!!!! Roger finally gets on the scoresheet!!
59'   CLOSE! Vinicius is getting more and more involved. Cutting in from the left and dinking a curler which edges just wide of the far post.
58' Rochina with a late challenge on Carvajal is rewarded with the sight of a yellow card held up for him to admire.
57'   Morales screams towards the referee that his side deserved a penalty. The chipped ball over the striker seemed to land on the Frenchman's arm but it was not anything near what counts as an infringement of the law.
55'   Free-kick to be swung in from the newly-rugged looking Toni Kroos after a foul on Lucas. Benzema meets it in the crowd but his header flies over.
52'   Sloppy from Varane whose back pass is weak and Courtois has to be quick to beat the attacker. Good feet from the big Belgian keeps things under control.
51'   Nice end-to-end flow about the start of this second half. Vinicius again involved breaking down the left. He cuts inside and rolls the ball into the path of Lucas on the right. A bit of indecision from the Spaniard results in him colliding with the covering defender and he gets hurt. After a few seconds he agrees he can run it off.
49'   CHANCE! Vinicius is the recipient of a low cross from the left and had his first touch been better (it was by no means an easy task!) he would have had the goal at his mercy. 
47'   After that early scare Modric breaks through the centre of the pitch and has a chance to set Vinicius sprinting into open space. Very poor attempt at the pass from the current Ballon d'Or holder. Maybe he can blame the wet conditions.
46'   Immediately Levante pick up where they left off. Roger gets in on the right and forces Courtios into a good save. 
Peep. Levante get us going....
Right, can the home side put their annoyance behind them. Here comes the team...
Twice Levante have hit the post when they should have scored, while they have also created some other chances that should have been taken. This is the reason that they are losing, despite so much effort.
The hosts have looked the more dangerous side throughout that half with Morales, Roger, Bardhi and Luna all looking lively. Their frustration will be focused on the VAR awarded penalty that is the difference between the sides at the break, but that is not where it should lie...
Half-time: Levante 0-1 Real Madrid 
45'+1' The half time whistle blows and the referee walks off in conversation with frustrated Levante players.
45'+1'   Into the one minute of added time and Levante are in disbelief at what has transpired.
45'   POST!! Levante almost hit back immediately. Roger released through the centre, ahead of the chasing defenders and he picks his spot past Courtois, straight off the upright.
43'   Goooooooaaaaaaaaaaallllll!!!!! There's no Sergio so Karim steps up and strokes it into just right of the centre. Fernandez dives the other way.
  Yes it is. Penalty!
40'   VAR time!! A cross from Modric hits the rising arm of Bardhi and the ref runs off to check if it was inside the area...
39'   Kroos finds some space at the edge of the area and tries one of those placed drives that we've seen before. The angle is decent but it's lacking bite and Fernandez gathers with ease.
35'   Tidy play again from Levante, with Bardhi and Luna opening up the left. Then a ball chipped in from deep almost finds the toe of the running Roger, but Varane instead gets the tip of his boot to it and flicks it back to his keeper.
32'   SAVE! Vinicius breaks into the right-hand channel of the Levante area and lets fly. Fernandez is able to block well as the angle closed. Nothing comes from the corner.
30'   CHANCE!! And what a chance it was for Rober. A terrible attempt at a clearance in his own area from Lucas falls to the Levante defender after the freekick had allowed everyone forward. The ball bounced and then was there for the taking, but he fired it high and over. The hosts may rue these misses...
29'   Vinicius tries to shimmy past Cabaco but is tackled well (despite going flying) and Levante break at pace. Nacho is the player that stops the bursting run though, in a rather robust, and very cynical, challenge.
27'   More pressure building on Madrid's goal and this time Luna tries a surprise shot on the volley from wide. Courtois in position to catch and looks to start something quickly.
25'   After that close chance, Roger's next involvement is to hack down Casemiro. The ref takes his name.
23'   CLANG!! A great cross in from the left and Roger at full stretch knocks it onto the post. Levante looking the more dangerous right now.
20'   Penalty shout for the hosts! Ref gives it little attention. A quick look at the replay and they had a case. Carvajal's hand softly pulls on Morales' shoulder and the striker goes down. 
19'   Reguilón again finds himself high up the pitch again but is slow getting his feet to do what he needed them to and the Levante defender gets in first.
17'   Solari is rather animated down on the touchline, trying to get more urgency from his side.
15'   A bit of a firm challenge from Nacho is seen as 'part of the game' by the ref, when some were calling for a card. Remember Nacho will miss Saturday's match against Barça if that were to happen.
13'   More positive stuff from Vinicius, this time on the right. He links up well with teammates to create the cross, one which Reguilón meets at the back post. The defender can't make it count, with the high ball back across goal to lofty for Lucas.
12'   Vinicius has his first run at the home defence and they're scared to put in a challenge at the risk of catching one of his dancing feet in the area. The young Brazilian's touch into Benzema is cut out and it's cleared.
10'   As we reach the 10-minute mark, Madrid fashion their first real chance. Good work on the right of the area by Carvajal, twisting and turning, feeds Modric and his ball across goal someone evades everyone.
8'   Los Blancos struggling to make anything happen here. Even when they win the ball back they are quick to lose it again. Levante players hopping all over them whenever they enter their half.
6'   Rochina tries his luck from distance but Courtois watches it slide past the outside of the right post.
4'   Almost very dangerous for Madrid as a ball is rolled across goal by Luna from the left but Carvajal is in the right place to sort it out. Encouraging start from the hosts.
3'   Courtois called into action to punch the delivery clear. Then loose play from the visitors allows Levante to attack again. Nothing from it.
2'   Simon gets scampering away down the right and is closely followed by Reguilon who does enough to stop the break, but at the expense of a corner.
1'   Madrid start us off and manage to get most of the starting XI to have a touch before Levante win it back by intercepting a long pass.
 Ignacio Iglesias Villanueva looks at his watch, ensures all the TV channels are switched on, winks at his VAR team, and blows the whistle.
A fine minute's silence undertaken for Levante players, and now we are ready to get down to action.
Right, the teams are out on the field and handshakes being completed.
Los Blancos are clear favourites coming into this game - you can get a Levante win at 7/1 with some bookmakers - but lest we forget that it was the Granotas who left the Santiago Bernabéu late last year with the three points. A 1-2 upset, but most would agree this is a much-improved Madrid side.
Nacho and Casemiro start but will both be wary that they are a booking away from missing the Liga Clásico next Saturday. Possibly Solari is playing on the fact that they'll be fine for Wednesday's Copa second leg.
As expected, Vinicius gets the shout over Gareth Bale. The young Brazilian has been arguably the brightest spark of Solari's short reign and has another chance to prove he should start in the Clásico.
You likely already knew that Mayoral would miss out on playing his parent side but were you aware of the reasons behind Toño's omission? The defender recently, reportedly on suspicion of extortion and threats, but his lawyer says there has been a "tremendous injustice". Full story here.
The team news has some interest. First up the home side...
To complement your live-feed reading pleasure, may we recommend some alternative viewing and listening options. This also includes an extra warm welcome to several people in the United Kingdom who, from today, have the chance to watch the game on terrestrial channel ITV. 
Levante, for their part sit just below the middle of the table but a home win over their more illustrious visitors will see them jump to just four points off the Europa League places. Their current 30 points has them equidistant from European qualification and the relegation zone.
Santiago Solari's side had been building some momemtum after a shaky start and some commentators started to put them forward as potential title challengers to early leaders Barcelona. A 1-2 reverse to Girona at the Bernabéu put paid to any such lofty ambitions.
Hello and welcome to our live coverage of Levante vs Real Madrid with the capital side looking to get back to winning ways after a shock result last time out in LaLiga. Kick-off is 20:45 CET and we'll bring you all you need to know before taking you through the action as it happens.
Levante vs Real Madrid: preview
At this time of the season it is natural for clubs to be looking towards the upcoming games, with managers having to utilise their resources as best they can. Santiago Solari, for one, will know that this trip to Valencia, no matter how important to maintain their place near the top of the table, is down the pecking order in terms of challenge. Likewise, this is one of those games that can be seen as a free hit for Paco López, with games against those in and around them in the league more determinant of their final standings. He'll also know what Girona did.
Levante
The man Madrid will be most worried about is Morales, a footballer who is worth the admission fee to see. He started at Madrid, after a childhood in football sala, and then went on a journey that took him to Levante. "He asks for the ball, he dribbles, he is fast, and he is not selfish" it was said when he was first spotted. With loanee striker Borja Mayoral out due to Madrid being his parent club, much of the attention will fall to the 31 year old, to lead and impact on the game. Last week's 1-4 victory in Vigo did much to help the confidence of a side that has an outside chance of playing in a continental competition next year. A win tonight would truly make them believe.
Real Madrid
This is the game that comes between a Champions League last 16 first leg and a Clásico double-header. How Solari approaches it we'll have to wait and see but with some names definitely not in contention, it is likely that Barcelona will face some fresh legs on Wednesday night in the Copa. Sergio Ramos is suspended, after his sending off last weekend, while the out-of-favour Isco has been left behind, as has Álvaro Odriozola for 'tactical reasons'. Luka Modric returned to the squad after his own suspension and is likely to get at least an hour of action, but questions remain on both Casemiro and Nacho, who are a booking away from missing the Liga Clásico next Saturday. A win for Los Blancos with a few first team players getting a rest would get them back on track after the Girona surprise, and be the perfect preparation for the two home games ahead.