Messi back to his best ahead of Madrid challenge
After netting his 50th career hat trick, Messi will be enthusiastic about facing the double challenge at the Bernabéu this week.
Lionel Messi enjoyed a day of rest yesterday following his hat trick in Barcelona's 4-2 victory at Sevilla on Saturday. After the effort exuded at the Estadio Ramón Sánchez Pizjuán, coach Ernesto Valverde decided it was best to give his players a day to recover and disconnect ahead of the double-header of Clásicos at the Santiago Bernabéu on Wednesday and Saturday.

The Argentine is looking fresh after a couple of games in which he did rather little and his touch was not at its best. After the blow received a few weeks ago in a clash with Valencia's Toni Lato in the 2-2 draw at Camp Nou, the Barcelona captain had looked physically depleted. There was talk of an adductor injury and groin problems. But regardless of any issues he may have had, he did not lose his goal-scoring instinct.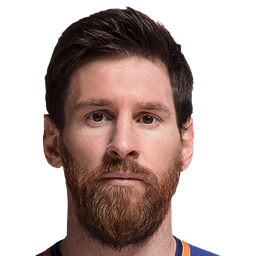 Following his hat-trick on Saturday (the 50th of his career: 44 with Barca and six with Argentina) Messi is top goal scorer in Spain with 25 goals and also leads in the standings for the European Golden Boot with 50 points – ahead of Kylian Mbappé, with 22 goals (44 points), and Cristiano Ronaldo, with 19 goals (38 points).
Messi primed and ready for the Bernabéu challenge
The Barcelona striker will be enthusiastic about facing the double challenge at the Bernabéu this week and, as he said after Saturday's game, is confident that his team can win on Wednesday to reach their sixth consecutive Copa del Rey final. The Argentine always plays with passion at the Madrid stadium, where he has scored 15 goals in 19 visits, although, interestingly, Wednesday will be his first visit to the Bernabéu in the Copa del Rey.
After having missed Barca's 5-1 thrashing of Madrid in LaLiga in October through injury, and not starting the first leg of the Copa tie earlier this month, Messi will no doubt be primed and eager to make his first start of the season against the old enemy on Wednesday.