Real Madrid: Bale's Vázquez snub hints at dressing room rift
The Welshman has never been a "banter" merchant at the Bernabéu but has been increasingly distant from his teammates this season as criticism has gone public.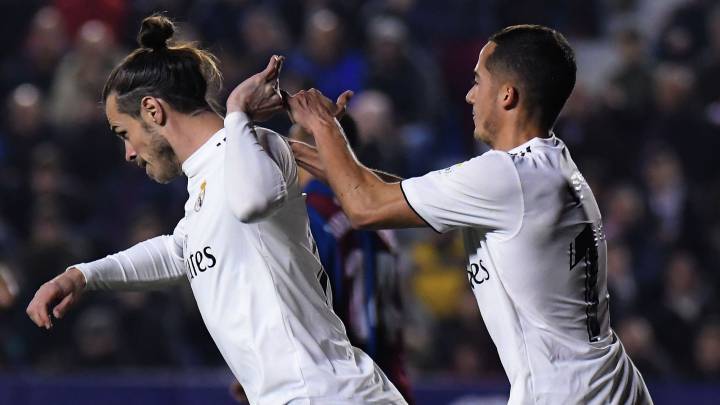 Gareth Bale's relationship with his Real Madrid teammates appears to have disintegrated in 2018-19 with the Welshman cutting an increasingly frustrated figure on and off the pitch.
According to Spanish radio station Cadena Ser, Bale was incensed by recent comments made publicly by Marcelo and Thibaut Courtois regarding his private life and his level of integration within the dressing room.
The Welshman, a more private individual than is perhaps the norm among modern footballers, has long been criticized for failing to learn Spanish after arriving in Madrid in 2013, but Marcelo went even further in a recent interview: "Kiko Casilla left and I was very close to him. He sat next to me in the dressing room. I'd arrive and there would be Kiko sat there", Marcelo explained. "But now I don't have anyone next to me. There's nobody there! On the other side I have Bale but he doesn't say anything! He only speaks English, so you can imagine what that's like! I'm like: "Hey! Hi! Hello and Goodbye..."
Courtois, meanwhile, revealed that Bale's nickname among his teammates is "The Golfer," due to the winger's passion for the game and the mini-course he has had constructed at his Madrid residence.
Bale unhappy with public criticism from Marcelo, Courtois
All of this has gone down like a lead balloon with Bale, whose attitude has been questioned more than once this season. On 8 January he drew criticism for leaving the Bernabéu in the 78th minute of the game against Real Sociedad with the visitors winning 1-0 and the target of his gesture after he found the net against Atlético in the Madrid derby two weeks ago has never been fully explained.
On Sunday, as he netted the winner against Levante in the Ciutat de Valencia, he brushed off Lucas Vázquez's attempt at congratulation and barely acknowledged the goal himself.
Bale was expected to step out of Cristiano Ronaldo's shadow when the Portuguese left for Juventus but instead he has found himself playing second fiddle to 18-year-old Vinicius in Santiago Solari's plans. When the Argentinean took the helm at the Bernabéu, he urged Bale to "eat up the pitch every time he plays."
Bale admitted in an interview with FourFourTwo magazine that he and Solari's predecessor, Zinedine Zidane, "weren't the best of mates" and the Welshman seems even less integrated this season. At a recent team dinner only two players were missing: Bale and Toni Kroos. The reason for the pair's absence, according to Courtois, was Spanish meal times: "The other night all the team had dinner, but Bale and Toni [Kroos] did not show up. They thought the dinner was too late. We met at 9.30pm."