Real Madrid-Barça: Hernández Hernández to referee Clásico
The Canary Islands official has been designated for the Liga Clásico at the Bernabéu on Saturday, which will be his fourth Real Madrid-Barcelona game.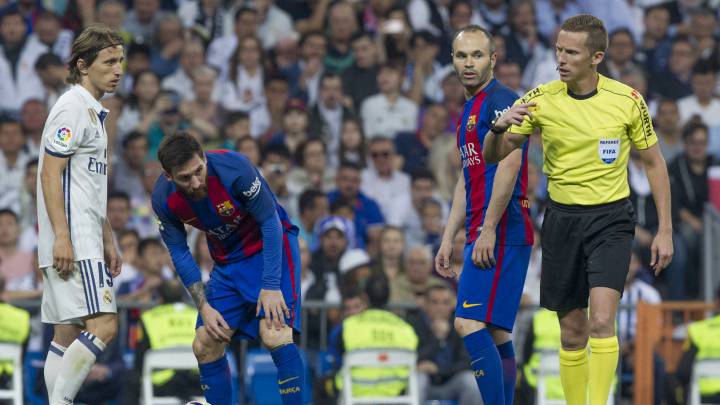 Alejandro Hernández Hernández has been handed the task of refereeing the Liga Clásico between Real Madrid and Barcelona at the Bernabéu on Saturday 3 March. The Canary Islands official will be assisted by Antonio Mateu Lahoz in the VAR control room.
Hernández Hernández has taken charge of three Clásicos previously. His first was on 2 April 2016, when Real Madrid took all three points in a 2-1 victory at Camp Nou. He returned to the middle for Barcelona's 3-2 win in the Bernabéu on 23 April 2017 and he was again on the whistle for the 2-2 draw between the sides last season in Camp Nou.
The referee's Clásicos have not passed entirely without incident. In the 2-1 Real Madrid victory in 2016 he ruled out a Gareth Bale goal for an infraction by the Wales forward on Jordi Alba as he leaped for the ball. The following season, Zinedine Zidane's Real Madrid secured the Liga title with a victory over Málaga in La Rosaleda but at the same time Hernñandez Hernández was taking charge of Barcelona-Eibar in Camp Nou, where he awarded two controversial penalties to the home side, one in favour of Jordi Alba and the second for an apparent Neymar dive.
Real Madrid-Barcelona: Sánchez Martínez handed Copa Clásico
Earlier this season when Barça thrashed Real 5-1 at Camp Nou, Hernández Hernández was in the VAR room when he awarded a penalty to Luis Suárez after Raphaël Varane brought the Uruguayan down, an incident that the official on the pitch, José María Sánchez Martínez, failed to spot.
Coincidentally, Sánchez Martínez has been assigned to officiate the Copa Clásico in the Bernabéu this Wednesday, with the scores level at 1-1 after the first leg at Camp Nou earlier this month.