Real Madrid 0-3 Barcelona: Copa del Rey Clásico 2018/19
Barça reached their sixth straight Copa final with a superb 20-minute spell in which Suárez hit a brace and forced a Varane own goal.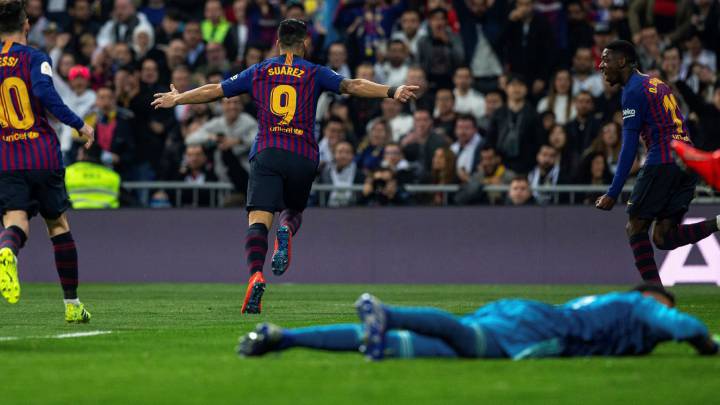 Real Madrid 0-3 Barcelona (1-4 agg.): Copa del Rey semi-final second leg as it happened
  And so it proved: when a chance fell to Suárez early in the second 45, he gobbled it up in clinical fashion. The two further Barça strikes that followed - a Raphael Varane own goal and a dinked Suárez penalty - left us with a margin of victory that did not reflect the overall pattern of a game in which, in the main, it was Madrid - and in particular their young Brazilian starlet - who played with the greater initiative and attacking verve. "Vinicius plays, Suárez scores," is my Spanish colleagues' fairly apt, four-word summary of a night that promised much, but ended in bitter disappointment for a Madrid side whose poor recent home record against their arch rivals - just four wins in the last decade in all competitions - goes on. Thanks for reading!
 Peep peep peep! That's it at the Bernabéu, where Barcelona took their chances and Real Madrid very much did not. The holders are through to May's final in Seville, where they'll face Real Betis or Valencia and will have the chance to win the Copa del Rey for a record fifth straight year. The Blaugrana go through 4-1 on aggregate, courtesy of a 3-0 second-leg scoreline which, on the one hand, flatters them in the extreme but, on the other, is all Madrid deserve for being quite so profligate in front of goal. When the hosts went in at the break empty-handed despite carving out a string of opportunities - most of which fell to the irrepressible Vinicius - the fear was that, with operators such as Lionel Messi and Luis Suárez among the opposition ranks, Santiago Solari's men might just be made to pay.
92'   Madrid win a free-kick in a central position about 35 yards out. Can they nick a consolation? No. Valverde pumps it over the bar.
90'   Two minutes of time added on. Long faces in the Bernabéu stands.
85'   Kroos' first-time ball finds Asensio in the box, but though the Spaniard turns well and gets the ball out of his feet, he thrashes a near-post effort over. Moments later, Ter Stegen has to look lively to grab hold of Carvajal's cut-back towards Benzema, who was waiting to turn it home. Madrid have been decent, but you get the feeling it's just one of those games when they could play till this time tomorrow and still not score.
83'   Benzema slips Bale in behind the Barça defence with a fine, first-time ball around the corner... but the Welshman gets his finish all wrong! If he had a right foot he'd have hit it with that; but he doesn't, and his unorthodox attempt to cut across the ball with his left does not work out well, it's fair to say. The flag was up, though, so it wouldn't have counted.
82' Madrid make a third and final substitution, Vinicius making way - to deserved applause - for Marco Asensio.
81'   Semedo is booked for a foul on Vinicius.
So that's Barcelona heading into a record sixth straight final, where they will have the chance to win a record fifth straight Copa del Rey.
79'   Barcelona make a second substitution, Arturo Vidal coming on for the final 10 minutes and Suárez trotting off after a successful evening's (or at least second half's) work.
76'   Keylor races out of his box to collect the loose ball and, with Suárez giving chase as the goalkeeper does his best René Higuita impression, the Costa Rican finally finds a team-mate.
Madrid have actually played really quite well, but suddenly find themselves 3-0 down. If you don't take your chances, though...
74' More changes. Real Madrid bring Fede Valverde on for Casemiro, while Barcelona take off Ousmane Dembélé and throw on Philippe Coutinho.
Bale came on for Vázquez moments before Barça's second goal, I neglected to tell you in all the excitement.
72' And Suárez dinks it in, Panenka-style! 3-0 to Barcelona!
71'   Penalty to Barcelona! This is going decidely pear-shaped for Real Madrid. Casemiro brings down Suárez - getting a yellow card for his troubles - and Messi leaves the spot-kick to the Uruguayan...
  Semedo's right-wing pass releases Dembélé, who advances into crossing space as Madrid look for an offside flag that doesn't come, and when his low ball across goal reaches the back post, Varane turns it into his own net with Suárez there to put it in if he hadn't.
69' And that, in all likelihood, is that! 2-0 to Barcelona, and Real Madrid now need three!
67'   Modric finds Carvajal towards the right-hand corner of the box, where the defender fizzes an angled strike towards goal - but it's saved by Ter Stegen. Madrid then come again, and Vinicius is close to scoring a superb solo goal! He runs past Busquets, runs past Semedo, leaves Piqué on his backside, advances into the box, cuts back inside and strikes... but his shot takes a deflection of an outstretched boot, and the sting is taken out of it.
66'   Gareth Bale is preparing to come on. 25 minutes for Madrid to force extra time.
64' Busquets is the second man to go into the book after fouling Modric.
62'   Great save by Ter Stegen! Vinicius is again at the heart of the action, taking on Semedo and sending over a cross that Reguilón launches himself at and nods towards the corner... but Barcelona's keeper parries with a fine flying stop!
60'   There are two penalty shouts, one for each side. Up one end, Rakitic tumbles just inside the box - and, despite only timid appeals - replays suggest he might have had a case. Moments later, Reguilón skins Semedo and crosses towards Benzema, who is sandwiched between Lenglet and Alba, connect with the ball, and has the Bernabéu screaming for a spot-kick. Nothing doing, though.
59' Vázquez gets the game's first booking for chopping Lenglet.
57'   That's a let-off for Madrid, as Barça create what in Spain they'd call a great 'pre-goal' chance. The visitors break, Messi feeds Dembélé, and the winger's first touch takes him into space to slip Rakitic in on goal... but he gets his pass all wrong, and it is cut out. 
54'   Vinicius sets off towards the byline - "He's so good," purrs a colleague in the AS newsroom" - and wins a corner off Busquets. It comes to nothing, but when Barça break, Madrid win it back and launch a counter of their own, and it's five on five. Twice Vinicius half-stumbles under Semedo's challenge in the box, though, and twice the referee says no penalty. 
52'   Kroos sends a speculative strike over the bar from 25 yards or so. Moments later, Busquets is penalised for a foul on Reguilón - he's not happy about it - and Kroos has another opportunity to swing one into the box. In it goes towards the back post... but Casemiro heads well wide when, in truth, decenlty placed to do better with his effort.
Alba's ball releases Dembélé to run to the byline on the left, and when the Frenchman cuts it back, Suárez sidefoots an expert, first-time finish low past Keylor at the near post.
50' And Madrid have been made to pay! Suárez with a clinical finish, and Barcelona lead on the night and in the tie! 
49'   Barça win a free-kick which is a near mirror image of Madrid's. Messi swings it towards the penalty spot, where Piqu'e heads on goal... but off target!
48'   Vázquez lulls Lenglet into conceding a free-kick on the right-hand corner of the box, in prime position for Kroos to deliver. That the German duly does, right onto Benzema's bonce... but he heads just over! And the referee blows up for a foul by the Frenchman on Busquets, anyway.
46'   Benzema slides the ball across the edge of the six-yard box, but nobody in a white shirt is there to gobble up the lay-off, and Dembélé gratefully clears. No changes at half time, incidentally.
Peeeep! When Barcelona finally make it back out onto the pitch - they are given a heavy whistling from the Bernabéu for their tardiness - José María Sánchez Martínez gets us back underway!
  Peep peep peeeeep! That 45 minutes zipped by, it's fair to say. It's still goalless at the Bernabéu, somehow; Real Madrid really should be ahead, but have been profligate to say the least. They can be very pleased with that first-half display: led by the scampering, scuttling, slippery Vinicius, they've played with much the greater attacking verve and have carved out all the clear-cut chances. But, what with Lionel '50 hat-tricks' Messi being the dictionary-definition antonym of profligacy, they may be made to pay a very dear price if they don't start taking their opportunities. 'Cos he bloody well will. Still, as it stands, Madrid are heading through on away goals.
45'   One minute of time added on. Vázquez is down and in some pain after being brought down by Rakitic. He'll need some attention.
42'   Barça come back at Madrid, and get themselves a free-kick midway inside the hosts' half when Kroos brings down Messi. It comes to nought, but the Blaugrana attack once more. Dembélé produces a lovely bit of skill to bamboozle Carvajal before crossing to the back post... but there's nobody there, and Reguilón heads clear.
40'   Madrid have Barcelona on the ropes here, but they've got to take advantage. Vázquez scuttles towards the edge of the penalty box, where he feeds Vinicius via a Ramos dummy. The Brazilian twists and turns, but can't escape the attentions of Semedo, who blocks.
37'   And again Madrid pass up a scoring chance! Reguilón clips a low cross into Vinicius on the edge of the six-yard box, but he strikes over!
36'   Madrid are going to be punished if they don't start taking their chances. Casemiro robs Piqué and puts Vinicius in on goal with a fine through ball, but the youngster's first touch takes him wide and, having seen his shot blocked, he then plays it into Benzema on the penalty spot.  The Frenchman does well to bring down what isn't the most user-friendly of balls - Vinicius fairly fizzes it into his stomach - but can't get enough power on his effort, and Ter Stegen saves!
33'   Reguilón sets Vinicius scampering at the Barça backline down the left. He looks so dangerous every time he picks it up. His final ball is definitely still in need of a bit of tweaking, though, and, with two men waiting he can only find a Barça shirt. Out of nowhere Rakitic then almost gets Roberto in on Keylor with a hopeful ball, but Keylor is out quickly enough to grab the ball. 
29'   Messi, fresh from scoring a 50th career hat-trick at the weekend, lays it off for Rakitic to shoot from outside the box, but the Croat's effort is blocked. Back it comes to the little Argentine, who releases Semedo to flash a ball across the face of goal from the left. Still Madrid can't clear once and for all, as Suárez delivers into the danger area from the other flank... but this time it's too close to Keylor, who gratefully collects.
26'   Semedo barges over Reguilón on the left-hand touchline. Still the referee keeps his cards in his pockets. Kroos delivers the resulting free-kick, but Ter Stegen punches and Barça clear.
23'   Again Madrid go close! Benzema centres, and Alba swings a panicky boot at the ball that succeeds only in finding Vinicius, whose snap shot is saved by Ter Stegen. The loose ball then bounces to Vázquez, but it bounces so high that he can't get over it, and can only loop it over from close range.
21'   Benzema's first-time ball in behind the Barça backline almost gets Vázquez in on Ter Stegen, but - fortunately for the visitors - it's the less-than-sluggish Alba who has the job of beating the winger in a foot race for the ball, which he duly does.
19'   Reguilón, you are a lucky, lucky man. Moments after almost taking the lead, Madrid could very well have gone behind after a lax backpass from the left-back gifts possession to Semedo, who has Suárez in yards of space in the middle. However, the Portuguese's ball across the face of goal towards the striker is cut out by Varane.
17'   Messi sends a lovely diagonal ball onto Alba's instep, but the Barcelona left-back is dispossessed by two white shirts inside the box, and Madrid clear... before carving out the first clear chance of the night! Benzema slips the ball into Vinicius, who drops a shoulder to create a yard of shooting space, but blasts over from 10 yards! 
It appears Ramos is OK, by the way.
They're having another look at it... and the decision is: no penalty.
13'   Ramos appears to be in a bit of difficulty after colliding with team-mate Casemiro. Meanwhile, the Bernabéu is screaming for a penalty when Vinicius runs on to Modric's ball into the box and tumbles under the challenge of Semedo. 
10'   Rakitic scythes Casemiro and is really rather fortunate not to be the game's first recipient of a yellow card. Moments later, it's Barça's turn to feel aggrieved with the referee, when Madrid are given a corner despite Ter Stegen clearly stopping Reguilón's deflected cross from going over the byline. Thankfully for Mr Sánchez Martínez, said corner comes to nought.
7'     Carvajal combines nicely with Modric to get himself into an inviting crossing position, but he cannot take advantage. Up go Barça to the other end, where Dembélé does manage to deliver a good ball into the box, flighting it to the back stick for Suárez to nod back to Roberto, who is lurking on the edge of the six-yard box... but Varane is there to clear! Good job he was, too; Roberto had a tap-in otherwise. It's been an intense start, not altogether unsurprisingly.
5'   Benzema almost slips Lucas in, but Semedo is across to clear. Back come Madrid, and Vinicius steams to the byline before cutting it back... but again a Blaugrana shirt clears. 
2'   The hosts want a free-kick when Semedo seems to get a little too rough on Vinicius on the left wing, but it's Barça who do get a free when Casemiro definitely does foul Dembélé. Cue a good 60 seconds of Barça possession, accompanied by whistles from the home faithful... but when Dembélé gets the ball in a position to run at Los Blancos' defence, Modric does well to rob the Frenchman.
Peeeeeep! Underway at the Bernabéu.
The teams are out at the Bernabéu, where our match referee is José María Sánchez Martínez.

  And club captain Sergio Ramos called on the fans to reprise what has now become something of a big-night tradition by turning out in force to welcome Madrid's team bus to the ground before the game. Which they duly did.
Tonight is Ernesto Valverde's 100th game as Barcelona coach, by the way. Speaking yesterday, meanwhile, opposite number Solari - who is in his 28th game in charge, if you're interested - called on the Bernabéu fans to be the proverbial 12th man tonight, telling reporters: "They are our only undisputed starter."

  Having said all that, the stats also show that Real Madrid have been the team to progress from the sides' last two Copa del Rey semi-final ties. So, you know: lies, damned lies and all that.
What's more, Madrid have not won a home Copa del Rey game against Barcelona since the days when Neil Armstrong's famous, if syntactically slightly puzzling, 11 words were still ringing in our ears:
Los Merengues have not managed to beat the Blaugrana in the four cup games played at the Bernabéu since a quarter-final victory back in 1969/70
.
  Over the past decade, there can be little doubting that Barcelona have had the upper hand over their arch rivals in Clásico clashes at the Bernabéu: since Pep Guardiola's side inflicted a memorable, 6-2 walloping on Madrid in May 2009, the Catalans have won a not unimpressive nine out of 16 in the Spanish capital in all competitions.
  But although a 1-1 draw at the Camp Nou - bringing as it does that all important away goal - counts as a jolly decent first-leg result for Santiago Solari's men, it's fair to say that history (both recent and not so recent) does not altogether seem to be on Los Blancos' side...

Real Madrid, meanwhile, are out to make it back to the Copa's showpiece occasion for the first time in five years. Their last final appearance came in 2014, when Gareth Bale went peak Gareth Bale all over Marc Bartra to secure the cup at Barcelona's expense. 

  Having become the first side since the 1930s to lift the Copa del Rey four times in a row last year, Barcelona are now chasing what would be an unprecedented fifth trophy triumph on the trot - in what, if they get to May's showpiece at the Estadio Benito Villamarín, would be their sixth successive final appearance. That would, you'll be surprised to hear, also be a record.

  "Stalemate" was the headline on the AS front page after Madrid and Barça met at the Camp Nou in the first leg three weeks ago, as Lucas Vázquez and Malcom scored in a 1-1 draw that leaves us with a semi-final that remains wide open...

Barcelona bench: Cillessen, Coutinho, Arthur, Malcom, Aleñá, Vidal, Umtiti.
Real Madrid bench: Courtois, Nacho, Bale, Marcelo, Valverde, Asensio, Ceballos.
  Jasper Cillessen, who has been Barça's regular keeper in the Copa del Rey, is in the squad after recovering from injury but is clearly not fit enough to start, so first-choice custodian Marc-André ter Stegen plays in his stead.
  For Barça, meanwhile, it's three changes to the team that Messied their way past Sevilla: Clément Lenglet comes back into the heart of defence for countryman Samuel Umtiti, Sergi Roberto slots into the midfield in place of Arturo Vidal, and Ousmane Dembélé is in for Philippe Coutinho.
Real Madrid make two changes to the side that squeaked past Levante on Sunday, with regular cup keeper Keylor Navas coming in for Thibaut Courtois between the sticks, and club captain Sergio Ramos returning from his weekend suspension to replace Nacho Fernández.

Barcelona XI:
Ter Stegen, Semedo, Piqué, Lenglet, Alba, Busquets, Roberto, Rakitic, Dembélé, Suárez, Messi
. 
Real Madrid XI:
Keylor, Carvajal, Ramos, Varane, Reguilón, Casemiro, Kroos, Modric, Vázquez, Benzema, Vinicius
. 
Kick-off is just under an hour away at the Bernabéu, and we have team news...
With a date with Real Betis or Valencia in May's final in Seville up for grabs, it's a Clásico cup tie that is oh so finely poised heading into this evening's deciding leg - a clash which is, of course, the first of two Madrid-Barça meetings in the space of just four days. 
Hola a todos, welcome to our live coverage of tonight's mouth-watering Copa del Rey semi-final second leg between arch rivals Real Madrid and Barcelona, which gets underway at the Estadio Santiago Bernabéu at 21:00 CET. 
Real Madrid vs Barcelona: Copa del Rey preview
Real Madrid host arch rivals Barcelona twice in the space of four days this week, starting with tonight's Copa del Rey semi-final second leg (21:00 CET).
Madrid then face Barça once more at the Bernabéu in LaLiga on Saturday, in a clash in which Santiago Solari's men will be out to bring themselves back to within six points of the league leaders and reigning Spanish champions.
Semi-final balanced on knife edge after first-leg draw
First, however, both sides' focus will be on coming through a cup tie left finely poised by a first leg that finished 1-1 at the Camp Nou three weeks ago, Malcom's second-half goal for Barça cancelling out Lucas Vázquez's early opener.
For Madrid, this evening's Clásico, the 241st in history, brings with it the chance to reach the final of the Copa for the first time since 2014 - when Gareth Bale's wonder goal clinched the trophy at the expense of their opponents today.
Barcelona seeking to seal sixth straight final appearance
Meanwhile, having won the Copa in every season since that final defeat at Mestalla - a record-equalling four years in a row - Barça are bidding to take their place in the tournament's showpiece event for the sixth time on the trot.
And the Catalans may trail Madrid in overall Clásico wins (only by one, admittedly: 94 to 95) but they have certainly had the upper hand over Los Blancos at the Bernabéu over the past decade, having won nine out of 16 in all competitions at the ground.