Real Madrid 0-1 Barcelona: LaLiga Clásico 2018/19
A first-half Rakitic goal was the difference between the sides at the Bernabéu as Barcelona moved 12 points ahead of their eternal rivals in LaLiga.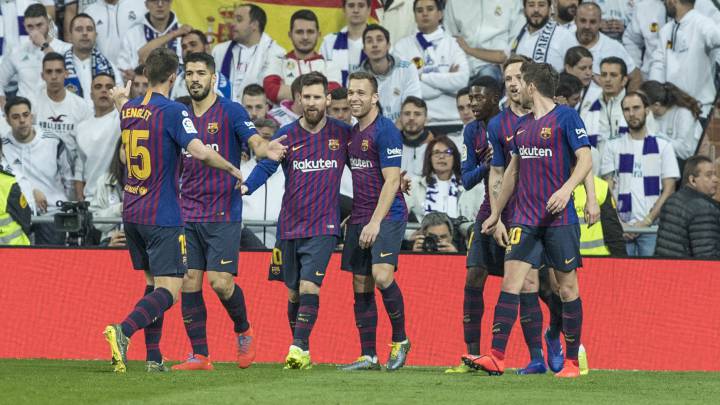 Real Madrid 0-1 Barcelona: as it happened
  Peep peep peeeeep! It's all over at the Bernabéu, where Barcelona have won for the second time in four days to take a big step towards retaining their LaLiga title. Ivan Rakitic's first-half goal is all that separates the sides after a game in which Barça enjoyed a far greater measure of control and limited the hosts to much fewer clear-cut chances than in Wednesday's Copa del Rey clash. They're well worth their victory tonight. Ernesto Valverde's men go provisionally 10 points clear of second-placed Atlético Madrid - and move a full 12 ahead of Real Madrid, whose hopes of ending the season with any major silverware now appear to rest exclusively on the Champions League. Los Blancos host Ajax in Europe's premier club competition on Tuesday, in a last-16 second leg that is make or break for the holders - and, in all likelihood, for head coach Santiago Solari. Tonight's result leaves Barça on a total of 96 wins over Madrid in 242 Clásicos - the first time that the Blaugrana have had the better of the arch rivals' overall head-to-head since back in 1932. Thanks for reading!
93'   So close from Messi! He curls a peak Messi shot towards the top corner from the edge of the box, and it flashes inches wide! That was very, very nearly 2-0. With time almost up, there's a little bit of argie-bargie, and there is a brief wait while VAR has a look at it. In the end, nothing comes of it, and...
92'   Messi feeds Coutinho in the box, where the Brazilian turns neatly away from his man - but can't quite lift it over Courtois, and the angle was tight. The flag was up anyway, so it wouldn't have counted. 
91'   There's a decent chance for Varane from eight yards or so out, but his header from Carvajal's cross just doesn't have enough on it, and Ter Stegen grabs hold.
90'   Three minutes of time added on at the Bernabéu.
88' Carvajal goes into the book for a challenge on Lenglet. Barcelona are getting ready to bring on Malcom.
87'   Benzema fires a sweetly-struck shot at Ter Stegen's goal from 25 yards or so, but the Barça keeper holds on relatively comfortably. Madrid then get Carvajal into space to knock it across goal from the right-hand side, but the right-back can't find a white shirt with his low delivery.
84'   Barcelona are almost in there, as Roberto advances into space on the right. If he gets his sqaure ball right, Suárez is in space to shoot inside the box, but Ramos cuts it out. Back come Barça, though, Rakitic fizzing a low, left-wing cross into the danger area, but sending it right down Courtois' gullet.
82'   Piqué overelaborates dreadfully on his own byline, and ends up conceding a corner. "That won't have pleased Valverde at all," says TV pundit Maldini. Fortunately for the centre-back, it comes to nought.
80' Asensio goes into the book for a foul on Busquets.
79' Philippe Coutinho is on for Barcelona, with Dembélé the man brought off. Madrid win a free-kick on the left flank, which Ter Stegen steps off his line and punches quite forcefully - so forcefully that there are more half-hearted penalty shouts after he clatters into Ramos.
  Arturo Vidal was brought on for Arthur a few moments ago, by the way.
78'   At the other end, Alba pulls the ball back into the danger area, but - thankfully for Madrid - he sends his pass straight to a white shirt. 
77'   Isco is immediately in the thick of the action, seeing a lot of the ball. Modric has dropped into a deeper midfield position alongside Valverde, it appears. There are half-hearted penalty appeals when Asensio falls theatrically to the turf inside the box, but he is - rightly - told to get up.
75' And on comes Isco for his first appearance in a month, Casemiro making way for the Andalusian.
73'   Isco is about to come on, it would seem. Benzema gets to the byline and pings the ball into the box, but Lenglet clears with relative ease.
72'     Vinicius gets the ball out of his feet 25 yards from goal and unleashes a shot towards Ter Stegen's top corner, but it flashes over the German's bar. Shortly afterwards, Vinicius feeds the ball to Casemiro, who sends a long-range effort towards the same top corner, but also blazes high. It it had gone in, it would have been something of a carbon copy of his goal against Sevilla in January.
68'   Madrid win a corner, which Valverde will take. Can the hosts grab an equaliser from this set-piece chance? No. Barcelona break and, after Messi flashes a ball across the face of goal, the Blaugrana recycle the play, knock it about for about 90 seconds, and get the ball back at the Argentine's feet. He slips Dembélé into shooting space in the box with a lovely, penetrating litte through ball... but the Frenchman thumps his effort wide!
66'   Barcelona break and almost get Dembélé running into yards and yards of open space, but Ramos is acorss well to clear the danger. Madrid have 25 minutes to avoid their second Clásico defeat in four days, and their third this season.
62' Ramos is again involved as Undiano Mallenco produces another yellow card, but this time the Madrid captain is the man on the end of the offence, Lenglet penalised for an aerial challenge.
61' Madrid make a second change, Marco Asensio replacing Bale - who gets more than a smattering of jeers from the home crowd after a game to forget. Isco is warming up, and gets an ovation from the Bernabéu fans.
60'   Ramos is not a happy bunny when he is given a yellow card for a foul on Messi. The booking means he'll miss Madrid's next league game, by the way. The free-kick comes to zilch, though.
58'   The goal just won't come for Vinicius! Having also forced a Ter Stegen save from close range that a I neglected to tell you about a couple of minutes ago, the young Brazilian fires a shot towards the German's left-hand corner from 12 yards... but it deflects off Lenglet and wide!
56'   Dembélé twists and turns before unleashing a low drive on goal that Courtois gathers. Moments later, Alba fizzes in a wonderful low cross to the back post, which Carvajal almost manages to turn into his own net. It's behind for a corner, which comes to nought. By the way, Messi seemed to be feeling his groin a few minutes ago, but appears to be alright.
54' Madrid make their first substitution, Fede Valverde coming on for Kroos.
53'   Again Barça are in behind the Madrid backline far too easily. Dembélé collects the dropping ball on the left and scampers into the box, but overelaborates and is finally dispossessed by Casemiro. At the other end, Reguilón then almost creates a Benzema chance with a neat, back-post cross, but a Blaugrana shirt is there first to hook it clear.
51'   Blimey, that's a bit of a let-off for Real Madrid. In the blink of an eye, Suárez is racing clear of the hosts' backline and advancing on Courtois, who does well to push him wide and deny the striker a clear shot on goal. Suárez tries to play at back to the top of the box, but Ramos is there to intercept.
48'   Benzema seeks to play a one-two on the edge of the box with Modric, but Barça scramble it clear just as the Frenchman looks like he might get the return and advance into a shooting position in the area. A minute later, Benzema misses an absolute sitter - although, thankfully for him, he was offside. Bale's cross finds the centre-forward all on his own at the back post, but he can't direct the ball into the net, and the assistant refree's flag only partially assuages the home fans' exasperation at the miss.
46'   Modric's right-wing cross looks for the head of Bale, but Barcelona clear with the minimum of fuss. No changes for either side at half time, though I wouldn't be ruling out a Solari shuffling of the pack sometime rather soon if things carry on as they left off.
Peeeeep! Out come the teams, and we're back underway in the Spanish capital.
  Peep peep peeeep! After a spot of handbags over a perceived Ramos elbow on Messi - who didn't cover himself in glory with his challenge, either - Undiano Mallenco blows his whistle and that's half time. It's been a very different first 45 to Wednesday's: Barcelona have largely been in control - increasingly so as the game has progressed - and have not given up anything like the number of chances they did three days ago. The visitors are well worth their lead, which came about courtesy of a lovely Ivan Rakitic finish, and indeed might well have even extended their advantage. As things stand they are heading 10 points clear of Atlético Madrid in second (Los Rojiblancos play tomorrow) and a whopping 12 ahead of Real Madrid.  
44'   Just as I write that, of course, they almost go and score. Casemiro pings a ball towards the back of the box, where Bale nods it into Modric's run into the middle - but the Croat sends his header just over!
42'   Vinicius gets his shot all wrong, so much so that it bounces out for a throw-in. He gets a sympathetic pat on the head from Rakitic. This first half really hasn't worked out for him, or Madrid.
40' Barça win a free-kick on the right, which Messi will swing in... hold on, no he won't. He goes straight for goal, but blasts it high. The visitors are in complete control now. 
38'   So nearly 2-0 to Barcelona! Suárez sells Varane hook, line and sinker with a drop of the shoulder, and thrashes a ferocious effort towards Courtois' left-hand corner from 18 yards. The Belgian does well to parry, and then does well again to get himself in the way of Messi's follow-up. He takes a blow for his troubles - after his own team-mate, Reguilón, falls into him, I think - but is OK.
34'   Real Madrid win a free-kick in swing-it-into-the-mixer territory, much to Valverde's annoyance. Kroos flights it towards the back post, and Reguilón almost plays it onto Ramos' head right in front of goal, but Barcelona get it clear, and - via a silly Suárez claim for a handball in the box after Madrid's captain clearly chests the ball down - Rakitic is brought down 25 yards out from goal. It's a great free-kick chance for Messi... but he curls his effort over the bar.
33'   Rakitic threads a delicious diagonal ball into Messi's run into the box. If the Argentine collects it, it's probably 2-0. But he doesn't.
31'   Modric does terrifically well to win the ball back off Alba on the edge of the Barcelona box, before crossing into the danger area with Benzema and Vinicius waiting. It finally falls to the Brazilian, but he can't get his shot away, and the chance is lost. A minute later, Reguilón thumps a left-footed strike on goal from range, but it flies a yard or two wide of Ter Stegen's right-hand post.
29'   Reguilón bustles past Alba and into the box, before throwing himself to the turf under Arthur's challenge, but Undiano Mallenco isn't fooled. It's a clear dive. The Madrid youngster escapes a yellow card, though, much to Barça's indignation.
27'   Vinicius slaps a ball straight into Ter Stegen's arms. "Madrid aren't creating anything like the danger that they did on Wednesday," says 'Maldini' on Spanish TV.
It's so simple, but so wonderfully executed. Sergi Roberto angles a low ball into Rakitic's run into the box, and the Croat controls, looks up and chips a fine finish into the net! Barça lead at the Bernabéu!
25' Gooooal to Barcelona! Rakitic with a lovely finish!
24'   Suárez wins a corner on the right for Barcelona, which Reguilón heads only as far as the Uruguayan at the back of the box... but he gets his control all wrong, much to the home crowd's delight. 
21'   Piqué puts in a vital block! Madrid get Vinicius scuttling towards the byline on the left, he pulls it back to Benzema, who in turn prods it on to Modric in shooting space just inside the area. He feints to pass, cuts back inside and drives an effort low towards the corner, but Piqué is there. Replays suggest Ter Stegen would have got there anyway, though.
18'   Messi goes so close to scoring! It's pinball stuff on the edge of the box, and suddenly the Argentine is chesting down and bursting into the area to dink it past Courtois... but his angled effort drifts just off target!
14'   That's a great save by Courtois! Although the flag was up, so it wouldn't have counted. Busquets, who is the man finally deemed to have been in an offside position, lays it off to Suárez, who fizzes a low effort towards the bottom corner - but Real Madrid's keeper gets a strong hand to it! Top stop, even if it wasn't necessary in the end.
12'   Close from Madrid! The home side win a free-kick when Lenglet fouls Vinicius, with Kroos' delivery eventually bouncing to Varane. The defender's snapshot is blocked by Lenglet on the penalty spot, but the loose ball falls to Kroos, and he thumps a rising effort on goal... but Ter Stegen gathers!
10'   Barça almost get Suárez in again, but again it's Varane who cuts out the pass - on this occasion delivered by Alba - just in time. Moments later, Rakitic flops to the turf in the penalty area under Reguilón's challenge, but Undiano Mallenco waves away the Blaurgana's appeals for a spot-kick.
9'   There's a sight of goal for Benzema... but he drags his effort across goal! The Frenchman is found by a neat, diagonal Reguilón ball, slips past Piqué and into the box, but can't connect properly with his shot.
8'   Vinicius gets his first proper sniff of the ball, and promptly draws a foul off Piqué. Soon after, the Brazilian has a better chance to advance into the Barcelona half and  run at the visitors' backline, but is dispossessed with relative ease.
5'   Ufff. Messi very nearly sets Suárez scampering into space to shoot inside the box, but Varane is across just quickly enough to clear. Just the five goals for the Uruguayan against Madrid so far this term, incidentally. Including two the other night, of course.
Busquets was given a very early yellow card for that foul on Kroos, by the way. "That's a huge booking," say pundit Julio 'Maldini' Maldonado on Spanish telvision, and it's hard to disagree.
3'   Bale it is who stands over it... and he pumps it into row Z. 
2'   Bale is calling for a free-kick for what he feels was a handball by Piqué as he seeks to break at pace. Nothing doing, says Mr Undiano Mallenco, but moments later Madrid do get a dead-ball opportunity, when Busquets is adjudged to have tugged Kroos down on the edge of the box. 
Peeeeeeep! Underway at the Bernabéu!
  Out come the teams! Tonight's referee is Alberto Undiano Mallenco, who was not initially appointed to the fixture, but was drafted in after an injury to the man originally given the job, Alejandro Hernández Hernández.
  It's a game in which, in truth, the task facing Madrid is, dare I say it, ever so slightly no-win. Defeat at home to Barcelona for the second time in a matter of days is an eventuality that nobody of a Madridista leaning wishes to coutentance; if Los Blancos do come out on top, meanwhile, they will still be six points off the leaders - and barring a win big enough to wipe out Barça's head-to-head advantage this season, effectively seven. On top of that, the fact would remain that they have lost out to Barça, or at best drawn, in the three games in which it has most mattered this term.
By the way, this is the first time ever that Barcelona have played back-to-back fixtures away to their arch rivals. And, as we mentioned earlier, it could be a doubly historic occasion if they can come away from the Bernabéu with a second victory in four days: in what is the sides' 242nd ever meeting, Barça have the chance to move ahead of Madrid in overall wins - 96 to 95 - for the first time since all the way back in 1932.
  And "give him time" is also the mantra espoused by AS English's very own Robbie Dunne, who has written a few words about 'Vini'.

  One man who did make the Brazil squad, though, is young Vinicius, who has been given his first call-up by Seleçao boss Tite - and, on the back of his recent displays for Real Madrid, thoroughly deserves it. He was terrific on Wednesday night - except when it came to putting the ball into the back of the net, of course. Former Madrid player, coach and sporting director Jorge Valdano is confident that will come, though. And what a player he'll be if and when it does.
Marcelo misses out again at left-back, where Sergio Reguilón has really established himself under Solari and keeps his place. This latest blow to the Brazilian comes fresh on the back of the disappointment of being omitted from his national squad.
Bale starts for Real Madrid in what could well be his last Clásico - as was reported by AS yesterday, the Welshman is said to be "on borrowed time" at the European champions, after a six-year career at the Bernabéu in which he has often been a man for the big occasion - as tonight's opponents know only too well...

Barcelona bench: Cillessen, Vidal, Malcom, Umtiti, Semedo, Coutinho and Aleñá.
  Isco, who is back in the squad for the first time since early February after recovering from an injury, makes the bench. He certainly looked in fine fettle in training this week, but has very much been on the naughty step since Santiago Solari took over from Julen Lopetegui at the end of October. Will we see him at some point tonight? Who knows. According to a poll conducted by AS.com ahead of tonight's Clásico, he'd have started if it had been down to the Madrid fans...

Real Madrid bench: Keylor, Marcelo, Valverde, Lucas, Asensio, Isco, Ceballos. Jesús Vallejo, Mariano Díaz and Luca Zidane are the three men culled from Santiago Solari's initial squad of 21.
  Just the one change of personnel for Barcelona, with Arthur Melo coming back into the midfield and Sergi Roberto, who started in the visitors' engine room on Wednesday, dropping into the defence to replace Nelson Semedo at right-back.

  Here's the Real Madrid XI in plain-old text format: Courtois, Carvajal, Varane, Ramos, Reguilón, Modric, Casemiro, Kroos, Bale, Benzema, Vinicius. In addition to Gareth Bale's inclusion in place of Lucas Vázquez, the only other change to the side that lost the Clásico in midweek is the return of regular LaLiga goalkeeper Thibaut Courtois between the sticks, with Keylor Navas back on the bench.
One important man for Barça, who doesn't usually miss out on this game, will not be in the stadium tonight, although nothing to do with Valverde's selection. Club president Josep Maria Bartomeu is staying at home. 

Ernersto Valverde reckons the Clásico will not be "decisive" in the Liga title race, but we rather think the Barça boss doth protest too much. It'll certainly all-but knock Madrid out of the reckoning and Atlético Madrid boss Diego Simeone has said the result in the Bernabéu won't matter if his side don't win away at Sociedad, something they have done only once in their last four trips to Anoeta. 
    Nobody is immune to criticism at Real Madrid these days. Toni Kroos was referred to as a 'diesel tractor' by former manager Benrd Schuster but Kroos responded with a wonderfully passive-aggressive response on Twitter.

There have been a few Clásicos down the years but you'd have to have been knocking around at Camp Nou a fair while to have enjoyed bragging rights over Madrid: If Barça win today, they will leapfrog Real in the head to head between the sides for the first time since 1932. 
    Here's an alternative preview looking at Real Madrid and Barcelona, their goalscoring differences and how they will line up today.

    All of the best Clásico lookalikes.

    Gareth Bale has scored just two goals in 13 games against Barcelona. He was whistled on Wednesday night when he came on and is struggling through his worst spell in white. He could get a chance today, however, to correct that record against Barça and turn the fans back on his side.

Only two active players in today's squads have scored a Clásico hat-trick. Neither of them play for Real Madrid. You can get odds of 70/1 on Vinicius adding his name to the list this evening, with Karim Benzema priced at around 30/1. Messi adding his 51st career treble in the Bernabéu is as low as 15/1 in places. 
Barcelona head into today's game seven points clear at the top of the table and victory will almost certainly ensure that second-placed Atlético Madrid are all Ernesto Valverde's side have to occupy their rear-view mirror over the final 12 games. Real would find themselves 12 points adrift if defeated and all but the most optimistic Madridista would have to conceded that's a bit of chasm at this stage of the season. 
If this all feels a little familiar, then you probably tuned in for the Copa del Rey Clásico a full three days ago, which was also staged at the Bernabéu and ended in a 3-0 victory for the visitors. You can have a read of how that unfolded here. 
It's Clásico o'clock again and AS English will be bringing all the latest news, views updates and coliur from the capital as Spanish football's biggest spectacle unfolds  on Saturday 2 March. 
Real Madrid vs Barcelona: preview
Real Madrid will be out to avenge Wednesday's Copa del Rey semi-final defeat when they welcome LaLiga leaders Barcelona to the Estadio Santiago Bernabéu for the second time in four days tonight (20:45 CET).
Madrid host Blaugrana reeling from midweek defeat to arch rivals
In a game that saw them spurn several chances to score, Madrid were made to rue their profligacy as two second-half strikes by Luis Suárez, either side of a Raphael Varane own goal, gave Barça a 3-0 victory that secured their place in May's Copa final.
Madrid now host their arch rivals in LaLiga - and, while they dare not lose two Clásicos at home in less than a week, victory for Los Blancos would, in all probability, serve only as a psychological boost ahead of Tuesday's crucial Champions League clash with Ajax.
After all, Santiago Solari's third-placed side trail Barcelona by a nine-point margin which is effectively 10, given that October's 5-1 thumping at the Camp Nou means they're unlikely to overhaul the Blaugrana's head-to-head advantage.
Barcelona can take big step towards LaLIga title tonight
Barça, on the other hand, would open up a commanding (albeit provisional) 10-point lead over Atlético Madrid - who face Real Sociedad on Sunday - were they to add to their impressive record of seven victories in their last 10 LaLiga visits to the Bernabéu.
And with the midweek Copa result leaving Madrid and Barça tied on 95 wins each from the 241 Clásicos so far played, the Catalans now have the chance to overtake Los Merengues in the sides' overall head-to-head for the first time since way back in 1932.