Juventus ride their luck to win in San Paolo and go 16 points clear
The reigning champions weathered a second half onslaught with both sides down to 10 men to carve out a vertiginous lead in Serie A.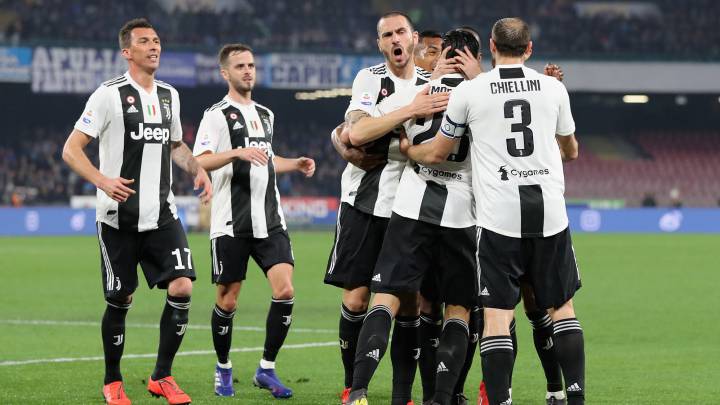 Juventus placed one hand on the Scudetto with a 2-1 victory over Napoli in the San Paolo as Carlo Ancelotti's second-placed Azzurri ceded their title challenge despite being the dominant side for most of the game.
Massimiliano Allegri's perennial champions are now 16 points clear of Napoli and 21 ahead of third-placed Milan after goals from Miralem Pjanic and Emre Can ensured another victory for the Old Lady, who are 12 games from the title and potentially an unbeaten season.
On Sunday's evidence, it seems that lady luck is also a Juve supporter. After Napoli keeper Alex Meret was dismissed in the 24th minute for chopping down the onrushing Cristiano Ronaldo, Pjanic curled in the resulting free kick to add insult to injury. Can made it 2-0 10 minutes later with a deflected header and at the break it seemed there was little scope of a Napoli comeback.
Ancelotti's gamble almost pays dividends
Switching to a back three for the second 45, Ancelotti decided to go all-out and it so nearly paid off for his side. João Cancelo was given his marching orders in the 54th minute to level the playing field and José Callejón pounced to pull back a goal six minutes later.
From there, it was 30 minutes of back-to-the-wall defending from Juve, who conceded 12 corners and faced 21 shots overall, most of them in the final half hour. When Napoli were awarded a penalty courtesy of a VAR review eight minutes from time, it seemed as though an equaliser few could argue was unwarranted was afoot. Lorenzo Insigne's well-struck shot beat Wojciech Szczesny but not the Polish keeper's post and rebounded so hard and fast that a follow up was impossible.
Napoli continued to press but Juve, led by old heads Giorgio Chiellini and Leonardo Bonucci, managed to cling grimly on for victory despite barely leaving their own half after the break, much less bothering substitute keeper David Ospina.
Nevertheless, Allegri's side will wake up on Monday with an insurmountable lead at the summit of Serie A as they cruise to another Scudetto. Only a collapse of epic proportions can prevent that now, but Napoli can at least console themselves in the knowledge they threw up a mountain in San Paolo to try and stave off the inevitable for a week or two longer.
Napoli vs Juventus live online: as it happened
90'+5' Full time: Napoli 2-1 Juventus. 
90'+4'   Chiellini clears and the whistle goes! Juve somehow cling on to win 2-1 in the San Paolo and that pretty much sews up the Scudetto as well! 
90'+4'   Ounas dances into the area and sends in a low cross but no Napoli player is on hand to get a telling boot to it. Time running out now. 
90'+3'   Goal kick to Juve, Szczesny in no rush to take... 
90'+2'   Ounas sends in a cross but it's overcooked and straight out on the far side. 
90'+1' Dybala is next into the book for a challenge in midfield on Ounas. 
90'   Five minutes tacked on. 
89'   Napoli come charging upfield again, last roll of the dice time for the home side. How much to be added? 
87' Both sets of players surround the ref, who cards Allan and Bentancur while Koulibaly goes unpunished. 
86'   Juve practically trying to play it onto the corner flag now. Dybala down with a scream of agony and this could be ugly for the Argentinean. Koulibaly went right through the sub and had the ref seen that he'd be off. 
85' Koulibaly in the book now for a clumsy challenge. 
What a blow that is for Napoli, who have genuinely deserved an equaliser and could reaonably have expected more after bombarding the visitors' goal in the last 20 minutes. 
84' Dybala on now, Bernardeschi makes way. 
83'   Woodwork! Insigne smashes it well enough but it hammers the post and comes flying back out! No chance of anyone getting on the rebound as the ball whizzes off to safety! What a let-off for Juve! 
82'   Penalty given! Insigne over it! 
82' And a yellow for Sandro! 
82'   It looks like chest first, arm second. But it's a penalty! 
82'   The ref trots off to have a look... 
80'   And a 12th as another shot is deflected behind. Number 13 as Fabián's toe poke hits Sandro's chest. Napoli appeal for handball but it looked clean. VAR getting involved anyway. They haven't had much to do up there this evening to be fair. Might as well... 
80'   And they'll have an 11th as Zielinski skips down the right. 
That's 10 corners for Napoli now. It has to be said that not one has directly troubled Szczesny. 
77' Callejón heads off to be replaced by Adam Ounas. The goal scorer does not look best pleased. He has been one of Napoli's best players this evening. 
77' Maksimivoc finds his way into the book for flooring a flying Bentancur with a very cynical challenge. 
75'   Yet another corner as Fabián nicks the ball in midfield and drives into the box. Great work from Chiellini to cut out what would have been a very dangerous ball into the area. 
74'   Napoli try to get a shot off as the ball bounces around in the area but Juve are spared by the ref's whistle as Zielinski is adjudged to have fouled Matuidi. 
73'   Allan and Mertens almost combine but there's a bit of a communication breakdown and Juve clear. Zielinski wins another corner as his shot is deflected wide. 
72' Mandzukic is down after seemingly getting a thwap in the face from his own keeper. And the striker is off,  Bentancur coming on to replace him. 
71'   Fabián! What a strike! That was going into the top corner until Bonucci got in the way. 
70'   Ronaldo is feeding on scraps now as Juve fall back to defend. Zielinski has another pop but again the massed black and white shirts repel the effort. 
69'   Zielinski! A cracking strike is tipped away by Szczesny, who somehow manages to prevent a corner. The Pole is afgain called into action as he gathers a high ball into the area. He's earning his coin at the moment. 
68'   Juve clear again, Napoli come again... the visitirs have barely had a touch in the last five minutes other than clearances. 
67'   Szczesny! The Pole is forced to make a decent snap save and it's another corner... Juve on the ropes.  
66'   Insigne takes but it's too close to Szczesny, who punches clear. Napoli build from the back again, the San Paolo urging their side forward. 
65'   Another corner for Napoli, another turn of the screw... 
65'   Alex Sandro diverts a Mertens cross behind for a corner... 
64'   Mertens almost squeezes through but Chiellini does just enough to put the Belgian off his stride. Napoli are really hammering on the door now. 
62'   It's cleared by Ronaldo, who is sticking in a shift at the back as well now as Juve are briefly knocked on to the ropes. Allan tries his luck from distance and it's not a bad effort but sails over Szczesny's bar. 
61'   The San Paolo is in full voice now, roaring their team on to get a second. Fabián cracks a shot from the edge of the area into a sea of black and white shirts. Corner to the home side... 
60'   The Spaniard makes a beautiful run to get in behind Chiellini and beats Szczesny to the cross, poking the ball past the Pole to make it 2-1! Napoli are back in it! 
60' Goooooooooooooooool! Callejón! 
59'   Ronaldo goes on a run but is denied a clean break through on goal by a well-timed chellenge from Hysaj. 
57'   Maksimovic is not the most graceful of players but the Serb lumbers out from the back to pick up a loose Chiellini clearances and somehow clears a couple of challenges before losing possession again. 
56'   A promising Napoli move breaks down with a loose Koulibaly ball. The home side have to take advantage of every chance they get to play the ball through the Juve back line. 
54'   Callejón! The Spaniard trips the offside trap and picks up Mertens' ball but Szczesny is alert to the danger and plucks the ball from the air as the winger looks to play it into the danger area. 
54' Cancelo goes in the book for a foul on Koulibaly and will be suspended for Juve's next league match. 
53'   Bonucci tries one of his trademark long balls from the back but Bernardeschi would have to be Usain Bolt to even get near that. 
52'   Juve trying to take the wind out of their opponents' sails by keeping possession, much to the chagrin of the home fans, who whistle their disapproval. 
50'   Great cross whipped in by Napoli but Szczesny gets down well to smother the danger. A goal for the home side would really change the dynamic of this game. Juve suddenly look a little uncertain of themselves and Napoli are growing in confidence. 
48'   Ronaldo looks less than amused as he goes down on the left and fails to win a free kick. Napoli are buzzing all over the pitch now. They can smell a comeback, but can it be made flesh? 
47'   Both sides down to 10 men now then... Napoli with an attacking formation. What will Allegri do in response? 
47' Pjanic on the streets of Naples! The Juve midfielder is penalised for handball and it's a second yellow for the Bosnian! 
46'   It looks as though Ancelotti has switched to three at the back with Dries Mertens replacing Kevin Malcuit. All out for the hosts then. 
46' We're back underway! 
It looks like there will be a Napoli change... 
The teams are preparing to come back out now. Let's see what Ancelotti has come up with at half time. It will go down as one of the all-time greatest comebacks if Napoli can pull this one out of the bag... 
After a fairly scrappy start to the game both sides found their range later on, Napoli managing seven shots to Juve's five. The visitors were more accurate though, with two on target resulting in two goals. 
45'+2'   How different might it have been if that Zielinski effort had been an inch to the left? As it is, Napoli go in at half time two-nil down and, provisionally, 16 points off the visitors.  
45'   Two minutes added. 
44'   Looks like Bernardeschi may be in a spot of bother after a tangle in the Napoli box. He's off temporarily for the old magic sponge. 
43'   Mandzukic appears completely bemused as to why he's been picked up for a foul in the box. Dragging down Maksimovic would be the quick answer. 
41'   Juve in more or less total control now. Napoli will be glad to get to half time to see what sort of magic Ancelotti can conjure on the chalk board. 
39'   It couldn't really be going much worse for the home side, who started so brightly and had the better of the opening 20 minutes. 
37'   From the resulting corner Can gets his head on it and it nicks a defender on its way into the back of the net! 2-0 to Juve now and a long, long way back for 10-man Napoli. 
37' Goooooooooooooool! Emre Can! 
Corner to Juve as Bernardeschi forces a mistake from Maksimovic. Pnajic connects with the delivery and draws a fine save from Ospina! 
35'   Insigne! A free from the Italy striker is well hit but Szczesny has it covered and makes a decent save. 
34'   Nice from Napoli! Callejón plays a beauty over the top for Insigne, who does well to control but blasts his shot wide. 
33'   Slight defensive mix-up allows Pjanic to feed Ronaldo but the Portuguese connects poorly in front of goal. 
31'   Not really much option now for Napoli but to go all out. The strain of playing with 10 will start to kick in in the second 45 so an early reply would be the ideal recourse for Ancelotti's side. Insigne tries his luck from distance but it's straight into Szczesny's paws. 
30'   Another Napoli break and another decent opportunity but the move breaks down and the home side have to settle for a corner. It's cleared by Bonucci easily enough. 
29'   Napoli go straight up the other end and almost bag an equaliser! Fabián plays it over the top and Zielinski hammers a shot against the post! What a couple of minutes! 
28'   The Bosnian takes the free and curls it past Ospina into the corner. 1-0 to Juve! 
28' Gooooooooooooooooool! Pjanic! 
27'   And they have a free kick to defend... 
26'   Striker Milik the man to make way as David Ospina comes on to replace the number one. It's not as though Juve really neeed a hand in their hunt for the Scudetto but they'll play 10 men for an hour now. 
25'   No sign of VAR being consulted and Meret trudges off. What a bizarre decision that was from the keeper. He had to come, but to launch himself into the Portuguese wasn't the best of ideas. 
24'   Red card! Blimey! Meret comes flying out of goal and clatters into Ronaldo. It looks like the Napoli keeper is off! 
23'   Corner to Napoli, taken short. "What's the point?" as my old man would say. He has a point. 
A total of two shots so far in the game, neither on target. Many a game is won in midfield and it seems this will be one of them, both sides playing with a block of four in the middle and two strikers. 
21'   Ronaldo! The Portuguese gets his first sight of goal and hammers a shot just over the bar. The lino's flag was up anyway. 
20'   Bonucci is down in agony after colliding with his teammate Bernardeschi. Looks like he got a leg full of stud from the winger. Obviously, Bonucci being Bonucci, he's back up again sharpish enough. 
19'   Neither side have allowed the other to settle into the game and it's been a fairly scrappy opening 20 minutes, with just the one chance for Napoli so far. Juve have barely been in the opposition half. 
17'   Napoli are awarded a free in midfield as Sandro makes the lightest contact with Callejón's mush. Perhaps with all the new handball rules the honchos are dreaming up, they can do something about frees being awarded for a finger in the ear etc... 
15'   Free kick to Napoli in "sling it in the mixer" range but the flag goes up for offside as the blue shirts pile forward in search of the delivery. 
14'   The corner comes to nothing after the stoppage but Napoli are having the better of the possession so far. Juve's front three have barely had a sniff and that's half the battle won right there. 
12'   Corner to Napoli, Callejón over it, but the game has been paused in honour of Davide Astori, the whole stadium applauding the former Fiorentina defender, who died on March 4 last year. 
11'   Zielinski! The Pole picks up a loose clearance on the edge of the area and tries to curl a shot around Szczesny, narrowly missing his compatriot's far post. First decent chance for either side. 
10'   Pjanic takes and with both Ronaldo and Mandzukic bearing down on the far post Meret tips it away for another corner on the far side. Emre Can is penalised for a foul in the area as he shoulder barges the Napoli keeper into his own net. 
9'   Matuidi bursts down the left with Allan in hot pursuit and wins a corner...  
8' A decent spell of possession for Napoli with a ball hoofed forward to nobody in particular by Koulibaly. 
6'   Juve's press does its job and forces Napoli back, with the home side looking to build patiently from midfield. 
5'   Napoli win a free on the right as Sandro drags Malcuit to the deck. It's slung in but cleared for a throw. 
4'   Juve try a training ground routine but Bernardeschi's shot is blasted straight into the wall. Napoli break and Callejón is scythed down. Nothing doing though, says the ref. 
3'   Emre Can is very clever there, playing a ball through for himself to run onto then makes the most of a brush in the face from a defender. Free kick to Juve in a dangerous area. 
2'   A promising Napoli move breaks down as Zielinski plays the ball into space... but there's nought but grass out on there on the right. Slight mix-up there. 
1' We're off! Juve get us underway and Matuidi is down almost immediately as he gets a ball in the gut. He's made of stern stuff though, the Frenchman, and shrugs it off. 
The stands are rocking at the San Paolo as the players come out of the tunnel. The Serie A anthem rings out over the stadium and we're ready to go! 
Napoli took the lead in the Allianz Stadium when the sides met earlier in the season but Juventus came back to win 3-1 with goals from Mandzukic (2) and Bonucci. 
We're about to get underway at the San Paolo. Can Napoli make a fist of the Serie A title race or will Juve put themselves out of reach? 
Napoli are on course to keep six clean sheets in a row in Serie A for the first time since January 2010. All they have to do is stop Juventus from scoring for the first time this season in domestic competition. 
Juventus are unbeaten in Serie A this season and have dropped points in just three of 25 matches. 
Massimiliano Allegri's side appear to be cruising to an eighth successive Scudetto and are currently 13 points clear of Carlo Ancelotti's side, who are the only club really left in the race with Milan 21 points adrift of Juve. A defeat this evening will end any realistic chance of Napoli catching the Old Lady. 
Hello and welcome to AS English's live coverage of the top-of-the-table Serie A clash between Napoli and Juventus from the San Paolo. Kick-off is at 20:30 CET.