Tagliafico: "We need to be far more efficient than the first leg"
The Argentina and Ajax player looked ahead to the Champions League clash commenting on Real Madrid's back to back defeats to FC Barcelona.
Ajax left sided player Nicolas Tagliafico spoke to the assembled media ahead of the 2018/18 Champions League tie against Real Madrid at the Bernabéu.
Does the first leg performance give you confidence going into the return leg?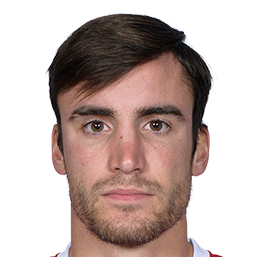 We played really well but it's true that were were a little wasteful in front of goal. We pressured well, retained the ball but need to learn from our mistakes.
Is the team confident of turning the tie around?
Always, hope is the last thing one loses. We need to deliver a solid performance for the full 90 minutes as we did in Amsterdam.
Would you like to pull on the white shirt one day at the Bernabéu?
I'm only focused on the game and thinking of my current side Ajax. We're still involved in three competitions my thoughts are fixed on winning the game tomorrow.
You could be marking Bale. How do you see his current form?

Real Madrid have an excellent squad. I tend not to focus that much on our opponents but centre on what I need to do to secure a win for the side.
If you were able to take away one player from the Real Madrid side, who would it be?
They have a really good team and whoever you remove the substitute has the same quality. They are all top and elite players.
You'll be cheered on by 4,000 Ajax fans…
It's great to have this support and it's a huge motivation knowing that we won't be alone. Maybe some Argentinians who live in Madrid will come along too...the support is always appreciated.
What's your view on Vinicius? 
I played against him when he was at Flamengo in a Copa Sudamericana final and he's a talented lad.
Did you watch the recent Clásicos?
Yes, I saw both games. Messi is always at an super level or just a very good level. We got to see how Real Madrid play and maybe they will be licking their wounds. We know just how good they are in the Champions League and this will be a totally different game.