Casemiro: "Solari is trying to be fair with everyone"
The Brazilian was speaking to Esporte Interativo and took time to praise the work of Lopetegui, Zidane and Solari as well as praising team mate Vinicius.
Brazilian midfielder Casemiro reflected on the latest situation with the LaLiga side in an interview with Brazilian outlet 'Esporte Interativo'. The Madrid player praised under-fire Solari, who the Brazilian maintains is "trying to be as fair as he can with everyone". He also praised former Madrid coach Julen Lopetegui and maintained that Zidane was a coach who had an incredible influence on his career, "we had a father-son relationship" he confirmed.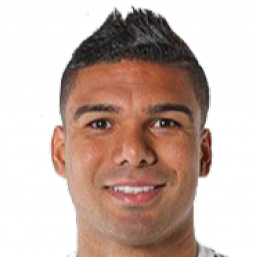 The game against Ajax: "We didn't play that well in Amsterdam but managed to secure a positive result. They didn't surprise me in the first leg as they delivered good performances against Bayern. for us the most important thing is to qualify for the next stage of the competition".
Solari: "I've worked under some great managers: Mourinho, Ancelotti, Zidane, Rafa Benítez... each with their own personality. Zidane was close to us all, he was like a friend. Solari is similar and doing his best to be as fair as he can with everyone".
Lopetegui: "It was a shame he didn't continue. He was a great help to me with FC Porto and he's a fine coach and wonderful person. Things didn't work out for him at Real Madrid and I guess that's the way football is".
Vinicius: "He's showing what a fine player he is with Real Madrid. He's on his way to becoming a major star and the club have deposited much trust in him. I can see him being one of the best players in the world within three years and he's got a good head on him and is a good lad. He still has plenty to learn but has come on so much in recent months as player.".
Neymar: "I'm sure he'll be ready for the Copa América and he's a key player for the Brazilian national team and the fans will be counting on him".
Cristiano: "It was a pleasure to play alongside him. He's a great person and one of the best players of all time".