De Jong: "Barça have asked me to ensure Ajax eliminate Madrid"
"If we progress it will send shock-waves through the world of football and we'll have put Ajax back on the map" claimed the player speaking to De Telegraaf.
Ajax midfielder Frenkie de Jong has already signed a new deal that will see him join FC Barcelona at the end of the current season. Ahead of the key Champions League Round of 16 game at the Bernabeu the Dutch player spoke to local outlet De Telegraaf offering his view on the tie.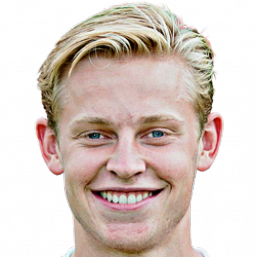 The game at the Bernabéu: "Eliminating Real Madrid would be amazing. They go into the game as favourites as they are playing at home and with the win against us in Amsterdam. They've also won the title four times in the past five seasons. However anything can happen if we have a good day and take our chances".
Favourites: "In Holland everyone thinks we'll progress. I generally prefer being favourite going into a game but there is a different pressure now going into the second leg".
The repercussion if you advance?: "If we were to eliminate Real Madrid, that would generate a major shock in the footballing world. We'd certainly put the name of Ajax back on the map".
Ajax's 0-2 win in Madrid in 1995: "I didn't see the whole game but have watched bits online. Ajax played well and won with goals from Litmanen and Kluivert and the side received applause from the home fans. That would be excellent if it were to happen again. That Ajax side had just won the Champions League and was full of talented players".
The request from Barça: "When I was signing my deal, many said to me "do your best to eliminate Real Madrid". That would be great for Barça".