Real Madrid overcome battling Valladolid to end poor run
Two goals from Karim Benzema and one apiece for Luka Modric and Raphael Varane saw Santiago Solari's side pick up all three points at the Estadio José Zorrilla.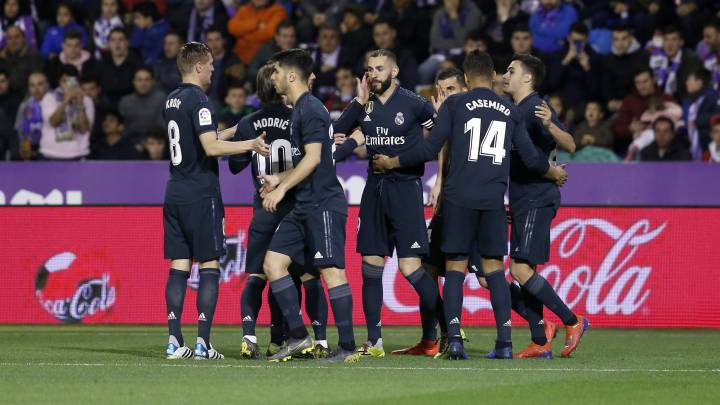 Real Valladolid vs Real Madrid: as it happened
Real Madrid ended a three-game losing streak by winning 4-1 at Real Valladolid in a chaotic game on Sunday in which the hosts had two goals ruled out, missed a penalty and hit the woodwork while the visitors had Casemiro sent off late on.
Karim Benzema scored twice after the interval with a penalty and a header from a corner to give Santiago Solari's side a 3-1 lead, after Raphael Varane struck in the 34th minute to cancel out Anuar Tuhami's goal for Valladolid five minutes earlier.
Ballon d'Or winner Luka Modric then showed his class to stretch Madrid's lead in the 85th after Casemiro was dismissed for earning two bookings.
Modric's goal completed a highly entertaining and eventful match at the Estadio José Zorrilla, which experienced a power cut before kick off, although the game began on schedule.
The victory is unlikely to extend Argentine Solari's stay as coach, with reports in the Spanish media predicting he will be sacked on Monday having only taken the reins in mid-November.
Madrid had endured one of their worst ever weeks before the game, exiting the Champions League in the last 16 with a 4-1 home defeat by Ajax Amsterdam after sustaining successive losses to Barcelona which ended their hopes of winning any silverware.
Anuar opened the scoring for the home side only for Madrid to bounce back with Varane, a Benzema double and Modric adding a late 4th. Casemiro carded too in a game that certaibly didn't lack incident.
That's all as Gil Manzano calls time on the action. A flattering scoreline it has to be said !
Marcelo booked ...
90'   We'll have 3' of added time
89'   Guardiola heads wide as time expires for the home side. Has this performance done enough to save Solari ? The million dollar question...
Marcelo on for Reguilon 
Varane off -Vallejo on for Madrid
Great work from Benzema feeding the Croatian who fires home with the right foot in the area. Curtains for the home side as we head into the final five minutes. 
Real Valladolid 1-4 Real Madrid
Modric makes it 4! 
82'   Valladolid looking for a second but Madrid standing tall despite being gown to ten men. 
80'   Casemiro's first ever red in a Real Madrid shirt ! 
Second yellow for Casemiro. The Brazilian fouls and refuses to stand back from the free-kick reducing his side to ten men for the rest of the game. 
76'   Post for Valladolid as Cop volleys against the woodwork.   
75'   Great break from Asensio who just fails to find Valverde. Valladolid pusging higher now looking for the goal that could get tham back in the contest.
73' Change for Madrid: Kroos off-Valverde on 
72'   Verde has looked excellent since coming on....Keko off-Cop on for the home side  
70'   Shout for a penalty kick for the home flag after a fine Verde delivey but the flag was already up ...Free for Solari's side.
69' Casemiro carded for a barge on Plano
68'   Benzema has taken five spot kicks for Real Madrid this season and has a 100% conversion rate.  
Double strike tonight for the French striker

64' Courtois carded for time wasting it would appear
Valladolid change: Verde on-Anuar off
61'   Valladolid rattled now as Madrid surge forward again. The fans have been silenced too at the Jose Zorilla with the third goal for the visitors and now sesnse that a comeback may be a bridge too far. 
Nacho (the Valladolid one) booked for a trip. 
Real Valladolid 1-3 Real Madrid
59'   Madrid enjoying a spell of domination now as Benzema nods home the 3rd for Solari's men 
57'   Dani Ceballos tries a volley but fires point blank at Masip. Delighful move from the side in black.
55' Asensio blasts wide with the goal gaping but the flag is up as the Mallorcan born player had strayed into an offside position.
54'   Fans now getting behind the home side as they forge a way back into a game they don't deserve to be behind in.
52'   Major blow for the home side who had started the better of the two teams...   
Valladolid 1-2 R.Madrid
50'   Penalty for Madrid.  Odriozola taken out by two players and Benzema scores the resulting spot kick. 
49'   Valladolid go close again as Anuar breaks into the box, good first touch as Courtois stands tall and the No. 23 pokes the ball wide.  
47'   Valladolid go inches from a second goal as a cross-shot drifts across Courtois' goal.
No changes at the break for either side.
Off we go in Valladolid as Madrid start the second half
Many have said that only an exceptional performace from Real Madrid tonight would be enough to save Santi Solari. To date his side have not delivered that performance and if the rumours are to be believed, this may very well be the Argentine's last game on the bench.

HT: Real Valladolid 1-1 Real Madrid 
Gil Manzano calls time ... 1-1 as the fans chant "Pucela, Pucela"
Reguilon carded for a trip on Alcaraz. 
45'+2'   It's been a strange game with waves of dominance for both sides in spells. Valladolid will rue the missed penalty but can have no complaints about the two goals that were ruled out. 
45'   3' of time to be added.
There is a sense that Madrid are not playing on full thrust with little option for attacking playes with an absence of support in each attack. Casemiro tries his luck from distance and forces Masip into a fine stop. 
42'   Valladolid manage to get the ball into the opposition half for the first time in approx. 10 minutes as a long ball finds Guardiola. The home side are unable to retain possession as Madrid break and win a corner. Valladolid will be the side more anxious to get to the interval.    
39'   Madrid in total control now with the goal even silencing the home fans who were previously full of noise.
Possession: Valladolid 40-60 (%) Real Madrid 
Valladolid celebrate 

37'   Another corner for Madrid as the goal seems to have sucked the hope and fizz from Valladolid.   
Real Valladolid 1-1 Real Madrid 
Madrid draw level after Varane taps into an empty net following a howler from Masip who aims to punch clear but misses the ball competely
32'   Sergio Guardiola is absolutely everywhere tonight as Benzema goes close and sees his goal bound shot deflected.
Penny for his thoughts ....

Great assist from Guardiola in pulling the ball back to Anuar at full stretch. An ironic cheer rings out from the home fans as the PA announces the scoreline.  
Goooooool and now it counts ! Valladolid go ahead as Anuar slots home
27'   Good passage of passing play from Real Madrid which ends in Reguilon pulling a righ footed shot wide.
25'   Madrid slowly easing their way back into the game now after a rocky 10' or so. Valladolid do look the hungrier of the sides it has to be said.   
23'   Madrid strike as Benzema fires a rasping left footed drive but it's high and over Masip's crossbar.
Solari at Valladolid tonight... 

20'   Dramatic start here at the Estadio Jose Zorilla with no lack of incident. Missed penalty and two VAR ruled out goals for the home side. Real Madrid yet to get into their stride tonight.
18' The ball is in the Madrid net yet again but the flag is up as Guardiola is inches offside...VAR being used again but looks as if the striker was marginally offside. VAR right with both calls.      
16'   Madrid have managed to roll two major inconveniences so far this evening but looked rattled as Valladolid stroke the ball around with added confidence.
The VAR confirms that the goal will not stand with an off-side position leading to the goal in the move. A major let off for Solari's men.
Goooooooooooooooooooool Valladolid goal....What a move ... Guardiola puts the home side ahead after a move slices through the rear guard. Wait ... VAR being called upon ....
12' Penalty for Valladolid. Odriozola wrestles Plano to the ground in the box....The defender carded too for his trouble. Alcaraz blasts the kick over. A shocker from the lad. Possibly one of the worst penalty kicks you will ever see.  
9'   Muted call for handball as Varane looks to latch onto the corner. Nothing doing for Hernandez Hernandez who waves play on. Correct call fom the official.
8'   Good intricate play from Madrid on edge of the area sees the visitros earn two back to back corners.
7'   Valladolid break with a gallop from Herrero seeing his ball cut out for a corner for the home side. Both sides making a positive start respectively. 
4'   Bright start with both sides endeavouring to pass the ball around with poise and purpose.
3' Danger from Madrid as the visitors win a corner. Varane fails to secure contact on the corner and Valladolid clear their lines.
1'   The home side win an early free-kick which comes to nothing and is cleared from danger.  
Off we go.... the home side start the acton...
A mild early March evening in the capital of Castilla & Leon with a current temperature of 13C and 0% chance of rain.   
The match officials lead the teams to the pitch with the light it would appear at 80-90%. Certainly not full 100% outpt from the stadium lights.
Real Madrid appear, the visitors in their away kit of all dark grey... charcoal I believe it's called !   
The Real Valladolid players are in the tunnel, the home side in their violet and white striped shirts, white shorts & socks.
Game starts on time according to the head LaLiga delegate at the stadium.... so 5' to kick-off.
What's not clear is the kick-off time.... We'll keep you posted...  
The game is on with most of the power back. 
Latest on the power problem at the José Zorrilla. Players and officials are getting changed in the dark with fans using mobile phones in toilets and concourse, also no power in press box.

The stadium floodlights are being powered by an independent generator but at present there is no light in the dressing rooms or stadium  concourse.
Two legends

Valladolid president Ronaldo meeting "Pucela" supporters in the pre-match fan zone.

Hello and welcome to live coverage of the Real Valladolid vs Real Madrid clasg from the Estadio Jose Zorilla at 2045 CET. What can we expect from the wounded Real Madrid side as they face a home side also facing a relegation battle.      
Real Valladolid vs Real Madrid: preview
Can things get any worse for Real Madrid? This is the question that will be answered after tonight's LaLiga action at the Estadio Jose Zorilla as relegation threatened Valladolid welcome Santiago Solari's wounded men after the Argentine coach oversaw what many feel is the worst week ever in the history of the Chamartin club after well documented exist from the Copa del Rey and Champions League with a 0-1 El Clasico defeat sandwiched in between.
Speculation is rife that this will be the last game for Solari as Real Madrid coach with word on the street suggesting that Jose Mourinho is poised to take over irrespective of the result of tonight's game. Florentino Perez however is facing stiff resistance from the other board members urging the president not to opt for the Portuguese which may see Solari survive through to season end. No Gareth Bale or Isco in the Madrid squad decimated with injuries which also see Carvajal and Vinicius forced to miss the action.
Valladolid coach Sergio Gonzalez sees tonight's game as a perfect opportunity for his struggling side to hit the "reset button" after a poor run of games which has seen the Castilla y Leon based side lose four of the past five games with the only point being a draw at home to fellow strugglers Villarreal.
Can Valladolid "fish in the tumultuous river" to coin a direct translation from Spanish or will Madrid galvanise and play for their under fire coach? Tuning in to the next 90 minutes of LaLiga is the only way to find out!