Zidane, the 11th coach to return for a second spell at Real Madrid
Before Zizou, ten coaches made their way back to the Madrid bench - among them Toshack, Capello, Muñoz, Di Stéfano, Beenhakker, Del Bosque - with mixed fortunes...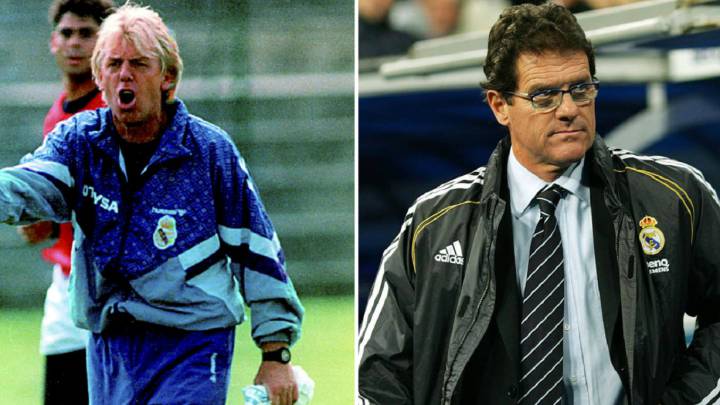 There are countless motives which must have driven Florentino Pérez to recover Zidane for a second stint on the Real Madrid bench. Before Zizozu, 10 coaches have been lured back to the Bernabéu - all under different circumstances and with mixed results - it turned out well for half of them.
Jacinto Quincoces (Salió en 1946 y volvió en 1947)
Quincoces was the first to return for a second spell. After guilding the team to lift the Copa in 1945-46, he returned but enjoyed less success the second tome around - he won just five out of 18 gamesand was replaced by Michael Alexander Keeping, who remained in the post until 1950.
Baltasar Albeniz (Salió en 1947 y volvió en 1950)
He also won the Copa in his first season (1946-1947) and like Quincoces, had a nightmare when he came back in 1950-51, lasting just 16 games before being replaced.
Miguel Muñoz (Salió en 1959 y volvió en 1960)
Muñoz occupied the Madrid bench for the first time in 1959 solely on an iterim basis to cover for Luis Carniglia who'd fallen ill. From that provisional role would come a longer lasting one - he was back a decade later in 1960 to embark on one of the most glorious eras in the club's history: he stayed in the job until 1974, winning the league nine times, two European Cups, several other, now-defunct trophies - including the Intercontinental Cup. Even today, he is the most honoured Real Madrid coach of all-time.
Luis Molowny (Left in 1974 and returned in 1977, 1982 and 1985)
Molowny took over from Muñoz in 1974 and toasted a Copa del Rey triumph in his first season. At the end of the year, he returned to his previous post coaching the reserves but would be hired by the senior side three more times. He substituted Miljan Miljanic in 1977 and won back-to-back league titles. On express petition by the board, he also took over from Boskov, and guided the team to the 1981-82 Copa del Rey final. He came to the rescue again in April 1985 to replace Amancio; he completed that season and another one, winning one league, a League Cup and two UEFA Cups.
Di Stéfano (Left in 1984, returned 1990)
Between 1982 and 1984, Di Stéfano worked wonders for the team just as he had as a player. His side didn't win anything but he was thought highly enough of to return at the end of 1990 and in March 1991 his team won the Spanish Super Cup.
Leo Beenhakker (Left in 1989, returned 1992)
In his first three seasons he won three Ligas, the Copa del Rey and two Spanish Super Cups. It was always going to be difficult to live up to that when he returned to the club in 1992, taking over from Radomir Antic; his Madrid side ended as runners-up to Barça in LaLiga by just one point, lost the Copa del Rey final to Atlético) and were knocked out of the UEFA Cup in the semi-finals.
Del Bosque (Left in 1994, returned in 1996 and 1999)
A club man through and through like Molowny, Del Bosque oversaw a handful of first team games when the club was without a coach in 1994 and 1996. In 1999, after John Toshack was sacked, he finally was handed a real opportunity which he grasped - his Madrid collected seven trophies (two Champions Leagues, two leagues, one Intercontinental Cup, a European Super Cup and a Spanish Super Cup).
John Toshack (Left in 1990 and returned in 1999)
His team won the league and set a points record but he was unable to carry that success through in his second season. He was back in 1999 but it didn't work out, apart from handing Iker Casillas his first team debut Tosh has a miserable few months and was sacked in November.
José Antonio Camacho (Left in 1999 and returned in 2004)
Two quite similar spells: in 1999 he hardly lasted a month in the post and in 2004, just six games... In both cases he left after failing to see eye to eye with the board.
Fabio Capello (Left in 1997 and returned in 2006)
He was brought in in 1996 and took the team to the league title in his debut season. He did it all over again in 2006-07, bringing the team back into contention when they were all but written off. He was criticized for his team's playing style and was offloaded ahead of the following season.