Real Madrid: All smiles as Zidane oversees first training session
The mood was upbeat during the French coach's first session since his return, as he prepared his players for Saturday's clash with Celta Vigo.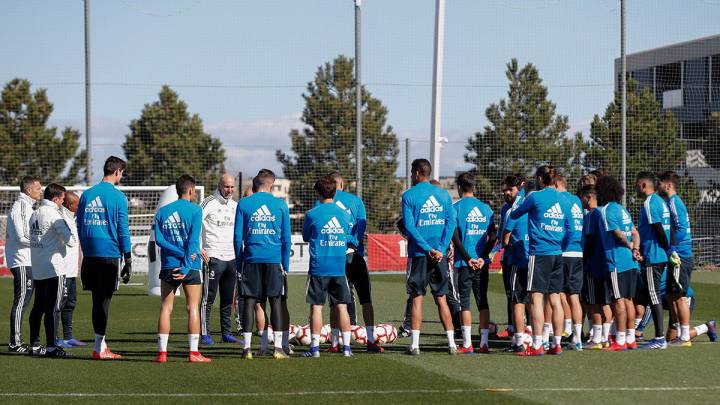 Zinedine Zidane this Wednesday oversaw his first training session at Real Madrid's Valdebebas training ground since he was confirmed as Santiago Solari's replacement earlier this week.
The team enjoyed a day off on Tuesday, before returning for their first session under the new-old French coach, who was met by plenty of familiar faces, as well as a few new ones. For the likes of Alvaro Odriozola, Mariano and Thibaut Courtois, returning Zidane becomes their third coach since they joined Madrid last summer.
At 11am, Zidane began preparation for the first of eleven games that he will take charge until the end of the season. And despite the gloomy position the club finds itself in after having been recently taken out of the running for three competitions, there were plenty of smiling faces during the upbeat first training session under 'Zizou', who was seen constantly grinning throughout and gladly took part in ball-work drills with the players.
Zidane's first test: Celta Vigo
Zidane's last home LaLiga game in charge before his shock departure in May was against Celta Vigo. And coincidentally, Celta will be his first opponents when he returns to the Bernabéu bench this Saturday.
Last season's fixture finished 6-0 to Madrid, with three of the goals on that day coming from Bale (two) and Isco (one), two men whose futures at the club seemingly hang in the balance. Out of favour with the outgoing Santiago Solari, it will be interesting to see what role they will now play for the French coach until the end of the season -- particularly Bale, who threatened to leave following Zidane's last game in charge, the Champions League final last season.
During his first training session since his return, Zidane was also joined by his coaching staff that have been brought in for his second tenue as Madrid boss. David Bettoni returns as his assistant, as does physio Hamidou Msaidie. Also present were goalkeeping coach Roberto Vázquez and fitness trainer Antonio Pintus.
Vinicius, Lucas and Carvajal sit out session
Three injured players were unable to participate in Zidane's first session: Vinicius, Lucas Vázquez and Dani Carvajal continued with their respective recovery work away from the group. Marcos Llorente, meanwhile, re-joined his team mates for some ball work, but will not be ready to make a return for Saturday's clash with Celta.