WEC
"Alonso has professionalism, determination, he's a real racer"
The Toyota boss Rob Leupen spoke to AS about the Spanish driver and how he has adapted to his new challenges with a new team.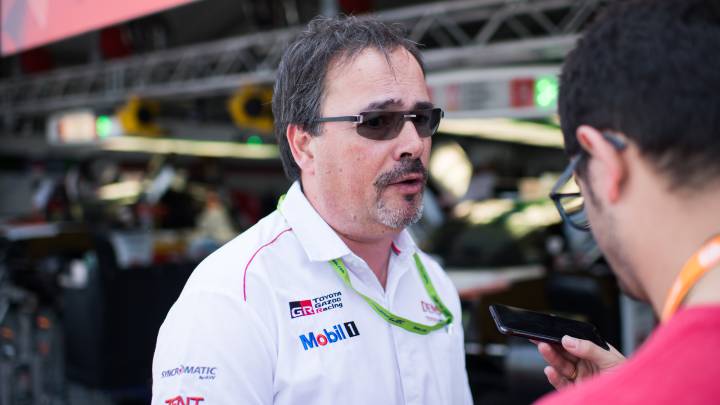 The balance of the Toyota, this championship...?
Well we are quite good. Car 7 and car 8 have both won two races. Fernando did together with ... Sébastian Buemi ... so, the 24 hour that was our long term wish to win and they did it, they made it. So at the present moment, except for Silverstone where we were disqualified because of the illegality of the car, we are 100% scoring, so we are happy with the drivers, with the cars, with the team, things are going very well at the moment.
Winning Le Mans, Toyota...
So many times we have tried and finally we could do it so it was really great for us to achieve this and we did it in a very nice way because it was the biggest ever Le Mans and it was interesting to see how someone like Fernando came in and really did an outstanding performance together with his team-mates and number 7 and it was a tough fight until nearly the end of the race then car 7 missed the pit entry but until then it was really giving everybody enough pressure to enjoy it. It was a great experience...

Do you miss other manufacturers?
Of course. But we say, if you have to do it yourself then it's something you need to concentrate on, it's not easier. You have two cars fighting each other which you need to manage and you don't fight a competitor and this is sometimes a bit more tricky. On the other side for us was the performance, how many... how quick they would be. What we could show was that in comparison to the years before it was the biggest Le Mans ever and that was something we had set as a target. On the other hand, it was important to win for...
What's your opinion of Fernando Alonso?
Surprise? Fernando is a character. That's first of all what you have to take and he comes with a huge amount of professionalism, determination, he's a real racer, you see him jumping in this car and after a short time he was really able to adapt it, to be part of the team and even to add a lot to the team. So he's fully a 100% race driver. He definitely has his energy to put something in and ... then Shanghai was an experience of a different kind, and we went to accept it and then tried to discuss with each other and tried to find ways to touch base again, and so here Fernando and the team is back after Shanghai because it's three months with no racing and we are determined to continue.
We enjoy it and Fernando enjoys it and he also has to understand that endurance racing is teamwork. It's not one driver in the car. I think he's adapted to this. So we will continue and you will see an interesting race... It'll be a tough one for both.