Real Madrid: Hazard waits for Chelsea to name their price
Eden Hazard set his heart on a summer Real move well before Zinedine Zidane's return. The Blues are expected to seek 100 to 120 million.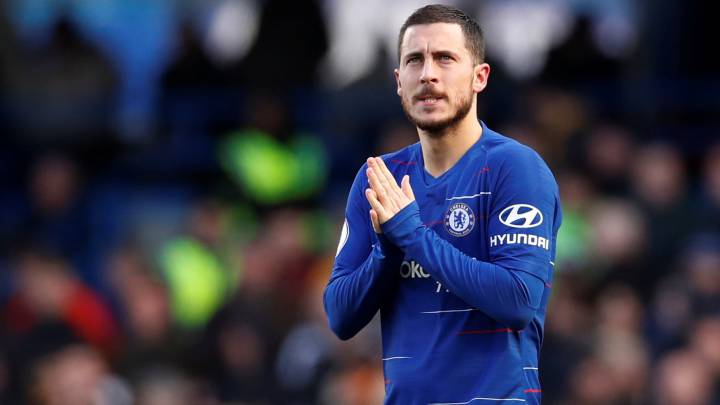 Eden Hazard is absolutely determined to play for Real Madrid. It is a lifelong dream for the Belgium international, one that he has regularly spoken of in recent years and which, AS understands, he has set his heart on making a reality this summer - a resolution that he made well before Zinedine Zidane, his childhood idol, returned as coach of the LaLiga giants last Monday.
Hazard set on Real Madrid regardless of Zidane return
Sources in Hazard's camp acknowledge that Madrid's re-appointment of Zidane - a figure who first recommended that Los Blancos sign the Chelsea star in 2010, when he was still at Ligue 1 outfit Lille - is excellent news for the 28-year-old. However, they also say that it has not been a deciding factor for Hazard; he was keen to join with or without 'Zizou' in the Bernabéu dugout.
Chelsea expected to ask for 100 to 120 million euros
Hazard is eager for a Madrid move but is staying calm, AS was told. He knows the transfer is now out of his hands, and depends on the two clubs reaching an agreement. Chelsea have accepted that he'll be leaving, regardless of the transfer ban handed to the club last month, although our sources close to the player add that they do not know what Blues director Marina Granovskaia's asking price will be.
They estimate that it will be between 100 and 120 million euros, however.
Despite still being a hefty transfer fee, it is well below Hazard's actual market value because, with the Belgian refusing twice recently to renew a Stamford Bridge contract that is due to expire in June 2020, this summer is shaping up as Chelsea's final chance to sell him for a sum of any real significance.