Hazard resolute on Madrid move despite Chelsea FIFA sanction
Chelsea are working with two scenarios depending on the outcome of the CAS appeal, both situations contemplate a Hazard exit from Stamford Bridge.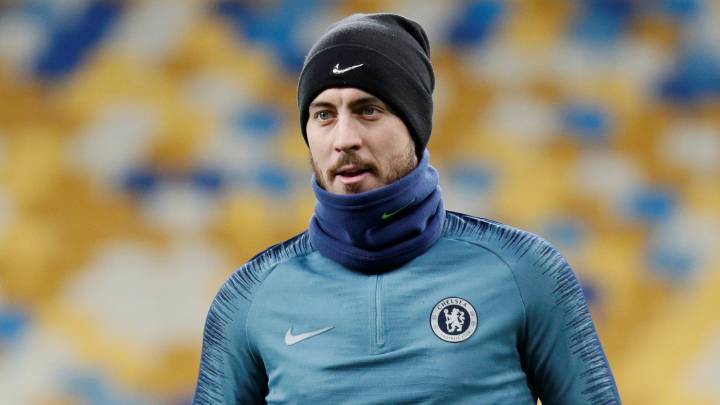 After sealing the signature of FC Porto defender Militao last week for a fee of 50 million euro, Real Madrid now turn their attention to securing Belgian Eden Hazard as part of Zidanes's squad planning for the 2019/20 season. The Bernabéu outfit have yet to make a formal bid for the player's services but his current club Chelsea have assimilated the Belgian's departure and despite the London SW6 club being hit with a FIFA transfer ban, there will be no u-turn for Hazard with his mind made up on moving to the Spanish capital.
The FIFA sanction will inhibit Chelsea from purchasing new players but the Premier League club can sell during the period of the ban. Initially it was deemed that the "Blues" would stand firm and insist that Hazard remains at Stamford Bridge and see out his current contract which expires in 2020 but AS has been informed from sources close to the negotiation process that Chelsea are working with two scenarios based on the CAS (Court of Arbitration for Sport) verdict related to the FIFA ban. Plan A relates to CAS deferring the ban until after the summer of 2019 enabling the club to operate in the summer market and plan B based on a negative CAS response which would see Chelsea not being able to buy new talent and would prompt the call to call upon their many on-loan players to build a squad ahead of the 2019/20 season. Both of these scenarios do not contemplate Hazard being at the club.
Free agent
Club owner Roman Abramovich and Chelsea director Marina Granovskaia are acutely aware that there is little they can do to retain the Belgian who confessed to Radio Montecarlo on February 5: "I've made my mind up and I know what path of action I'm going to take". Chelsea would prefer to negotiate with the player and suitors rather than have the player leave as a free agent in the summer of 2020. With the acquisition of Dortmund's USA international Christian Pulisic who was signed in January and is set to move to London in July, the Premier League side have a replacement with a similar playing profile to the Belgian star.
The situation involving Hazard at Chelsea has ruffled the feathers of club coach Sarri who recently stated that "Hazard is not one of our leaders" and just last Wednesday stated: "I only want players here that want to play for Chelsea".
Zinedine Zidane's return to Real Madrid is yet another incentive for the Belgian player who has never hidden his admiration for the French coach with Hazard claiming in the past that 'Zizou' is his footballing idol. "It would be a dream come true to play for Zidane" stated Hazard on RTL in November 2017. At present the ball is in Chelsea's court to name a price for the player with all signs pointing to Eden Hazard wearing the famous Real Madrid white shirt next season.