Hazard continues Real Madrid flirtation: "I started playing football because of Zidane"
The Chelsea player has once again made overtures in Real Madrid's direction, this time in comments to Radio Télévision Belge Francophone.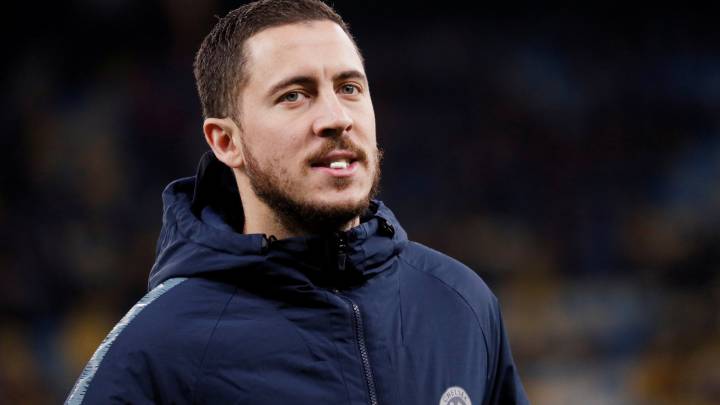 Eden Hazard has sent another come-and-get-me message to Real Madrid, this time in statements to Radio Télévision Belge Francophone (RTBF, the Belgian French language public broadcaster), in which he expressed the strong link he feels with Zidane.
Hazard's admiration for Zidane
The Chelsea player was asked about his preference between Zinedine Zidane and his coach with Belgium Roberto Martínez and replied: "As a player there's no comparison, I have so much respect for Zidane, he's my idol. It's thanks to him I started playing. But for the victories we've achieved with Martínez I'd go with Martínez".
The number 10 talked about his career and how he's suffered physically with the passing of the years. "When I started with Lille, as an 18 or 19-year-old, I didn't feel being kicked much. I've played more than 500 professional games now, I get fouled a lot and I feel it, particularly in the ankles and knees".
Hazard also spoke about his competitive DNA, admitting "I don't get too angry after a bad result. I put it in perspective. Of course I'm not happy when I lose, but the same people can't always win".
As to his preference of Messi or Ronaldo, Hazard refused to be drawn, saying he'd "take both".
Hazard and Real Madrid
This latest nod in the direction of Real Madrid is just the most recent in a long line of messages to the Spanish giants from the Chelsea player, but not all his comments have been favourable to a move to the Bernabéu.
Speaking to VTM News at the start of the week, Hazard said, "I'm not thinking about what could happen in two, three, four or five months. I don't know about my future, we'll see" and admitted there was nobody waiting for him.
Chelsea currently have two plans for this coming summer, and both involve the departure of Hazard, whether they can sign players or not.