Benzema - more playing time than any other striker in Europe
This season, the French centre-forward has played 45 of Real Madrid's 47 games, totalling 3,598 minutes, more than any other striker on the continent.
Karim Benzema has made the centre-forward position his own at Real Madrid. That's probably why he has hardly had a chance to rest since the season started. The Frenchman has played practically every game this season under Lopetegui, Solari and now under Zidane, su situación no cambiará. He's only missed two games - both in the Copa del Rey: the return legs against Melilla and Leganés, in both cases, the tie had been more or less settled in the first leg. In LaLiga, he's played all of the 28 games - and in the Champions League, he's played eight games out of eight. On top of that, he was also involved in the European Super Cup final and both of Real Madrid's games at the Club World Cup. In total, Benzema has played 45 games this season (44 in the starting XI) out of the 47 matches Real Madrid have disputed in 2018-19.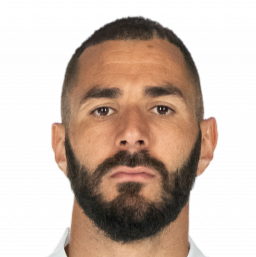 The main reason Benzema's has hardly had time to rest is that Mariano, his natural substitute, hasn't convinced any of the coaches.
No other striker has played more than Karim in Europe this season. He's totalled 3,598 minutes playing time - the closest to him is Liverpool's Mohamed Salah, with 3,369 on-field minutes. In Spain, he is followed by Atleti's most used player, Antoine Griezmann, who has played 3,271 minutes. Cristiano, his old strike partner, has been rested for a number of games at Juventus and has played 582 minutes less while Leo Messi, has racked up 3,021 minutes...
CLUB
PLAYER
GAMES
MINUTES
GOALS
GOALS PER GAME
STRIKE RATE - MINUTES

LALIGA
MADRID
Benzema
45
3.598'
22
0,48
164'
ATLÉTICO
Griezmann
39
3.271'
18
0,46
181'
SEVILLA
Ben Yedder
44
3.129'
28
0,64
112'
BARCELONA
Messi
37
3.021'
39
1,05
77'
VALENCIA
Rodrigo
39
2.872'
11
0,28
261'
VILLARREAL
Toko Ekambi
35
2.140'
14
0,40
153'
PREMIER LEAGUE
LIVERPOOL
Firmino
40
2.850'
13
0.32
219'
TOTTENHAM
Harry Kane
36
3.014'
24
0,66
126'
CHELSEA
Hazard
39
2.952'
16
0,41
184'
ARSENAL
Aubameyang
39
2.886'
22
0,56
131'
MAN UNITED
Lukaku
38
2.570'
15
0,39
171'
MAN. CITY
Agüero
37
2.662'
28
0,75
95'
SERIE A
JUVENTUS
Cristiano
36
3.016'
24
0,66
126'
INTER
Icardi
28
2.374'
15
0,53
158'
ROMA
Dzeko
30
2.363'
12
0,40
197'
NAPOLI
Milik
35
2.229'
18
0,51
124'
BUNDESLIGA
SALZBURGO
Dabbur
38
2.902'
26
0,68
112'
DORTMUND
Reus
31
2.640'
19
0,61
139'
BAYERN MUNICH
Lewandowski
36
2.235'
30
0,83
75'
SCHALKE
Embolo
19
1.213'
5
0,26
243'
LIGUE 1
RENNES
Niang
39
3.196'
10
0,26
320'
PSG
Mbappé
34
2.726'
31
0,91
88'
LYON
Dembélé
36
2.300'
16
0,44
144'