Real Madrid: Hazard denies five-year deal is on the table
According to various reports, the Belgium international has received a formal offer from the Bernabéu but the midfielder is maintaining a tight lip.
Eden Hazard's move from Chelsea to Real Madrid appears to be a question of when not if, but until the end of the current season those questions will continue to be posed, particularly given the Belgium international's recent comment about Zinedine Zidane, the mutual admiration between the pair and Hazard's lengthy flirtation with the Bernabéu board.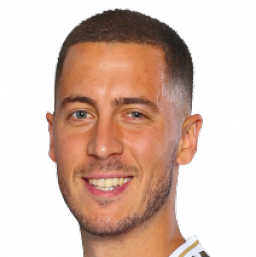 While the wait for the "I do" goes on, Hazard will be subject to endless speculation on the altar of transfer rumour and the midfielder had the question popped his way during a press conference ahead of Belgium's game against Cyprus on Sunday.
Hazard: Chelsea will hold out for 100 million for Belgium star
Recent reports in various media have suggested that Real's determination to land the player this summer has crystallized in the form of a firm offer of a five-year deal at the Bernabéu but Hazard played a straight bat to frustrate his interlocutor.
"I don't know anything about that," Hazard replied. "I am only concentrating on the game against Cyprus, that's all I'm thinking about."
According to Sky Sports, Chelsea recently rejected an opening bid of 70 million euros from Real Madrid earlier in March. The Blues are likely to hold out for something closer to the region of 100 million euros despite Hazard's contract expiring in 2020.