Real Madrid: Militao signing closes door on Palacios
Sources have told AS that Madrid's interest in the River Plate midfielder has cooled as the Brazilian's arrival means there are no non-EU squad spaces left.
Real Madrid have cooled their interest in River Plate midfielder Exequiel Palacios due to the arrival of Éder Militao this summer, which will mean there are no more spaces left in the squad for non-EU players.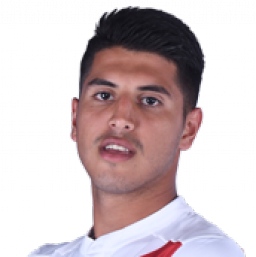 Madrid already have Vinicius Junior on the senior books and the signing of Rodrygo from Santos, which is due to go through at the end of the season, will leave just one more available non-EU place in the first-team squad. That will be occupied by Militao, who Real signed from Porto for a fee of 50 million euros earlier in March. Fede Valverde, who was brought back from a loan at Deportivo last summer and has made 19 appearances for the club this season, is currently a non-EU player but is in the process of obtaining a Spanish passport, having been a permanent resident in Spain for over two years.
Inter ready to step in for Palacios
The Bernabéu has been tracking Palacios, a 20-year-old Argentina international, for some time and a deal was reported to be practically in the bag but the decision to snap up Militao ahead of the 2019-20 campaign has left the midfielder, currently out of action with a broken fibula, on the back burner.
This has not gone unnoticed in Milan, where Inter are said to be preparing an offer.
Real Madrid had initially tabled a bid of 20 million for Palacios, according to regional broadcaster Telemadrid, and River had seemed willing to do business. However, with the non-EU quota and his recent injury taken into account, Real are now unlikely to make a move this summer, paving the way for the Serie A side to snap up one of the most highly rated youngsters in Argentina.