Real Madrid's Vinicius the talk of Brazil even when out injured
Vinicius has dominated the Brazil debate this international break, with coach Tite admitting they could have done with him against Panama.
Vinicius has not left Madrid since his injury, but nonetheless made his presence felt in Portugal, some 570 kilometres from the Spanish capital, this weekend: as Brazil were held to a disappointing 1-1 friendly draw by Panama in Porto, it was the Real Madrid teenager who dominated the headlines and the debate.
Injury scuppers anticipated Brazil debut against Panama
With Neymar unavailable, there had been huge anticipation among the fans, in the media and also within the national set-up over the possibility of the forward making his Seleçao debut, only for the ankle damage he suffered against Ajax to put paid to that idea. However, if anyone imagined his absence would serve to shift the attention elsewhere, they had another thing coming.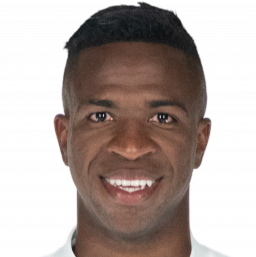 Pre and post-match Brazil talk all about Vinicius
There wasn't a single pre-match interview, be it with player or coach, that did not come with at least one question about Vinicius. Casemiro went as far as to say that his club-mate "was one of the best in the world over the last two months", adding: "What he has done at Madrid isn't normal for a lad of 18." And, in the wake of Saturday's draw at the Estádio do Dragao, the Vinicius talk only escalated.
Both because of Philippe Coutinho's poor display in Neymar's usual role, and because of Brazil's difficulties in turning their dominance of possession into scoring chances. Indeed, Tite even admitted that, without their captain, the team could well have done with Vinicius. "He has the same characteristics" as the PSG star, the coach noted, explaining that the side lacked someone willing to "take responsibility" and say: "Give it to me and I'll make something happen."
Vinicius eager to make Copa América, recovery ahead of schedule
Vinicius' treatment continues, with his recovery thought to be progressing more quickly than expected. There is optimism at Madrid that he could be ready to return a week early, against Real Betis on 5 May, in the process allowing him to play two club games before Tite announces his 23-man squad for this summer's Copa América - a tournament that the youngster has set his sights on being at.
"The injury he's had, and the fact he hasn't been with the national team this week, makes it tougher for him to make the list for the Copa América, but it's by no means a done deal; it's possible," Tite said before Brazil flew to Prague to face the Czech Republic on Tuesday. "I'd have no problem being proved wrong. Not long ago I only saw Vinicius as a prospect for the medium-term future, but the fact is that his performances [for Madrid] merited a place in this last squad."