Marcus Rashford on Barcelona summer list - Catalan press
Manchester United's English forward is a new item on the Barça shopping list, so say the local sports press. We check out the headlines doing the rounds.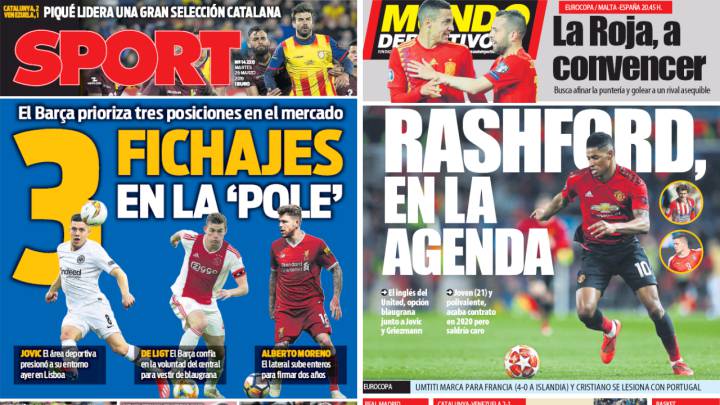 As the FIFA international break comes to a close, and fans await their domestic competitions getting back into gear, the transfer rumours continue apace. And the Spanish sports papers weren't short of rumblings on Tuesday morning.
Rashford Barça-bound?
Barcelona may be on course to retain their LaLiga title, not to mention sitting as one of the favourites for the Champions League, and plans for squad improvements ahead of the new season appear to be getting clearer. Their objectives up till now have been to bring in a new left-back as well as showing a keen interest in Jovic and De Ligt (both being closely watched as they represented their national teams). Another big name, however, has joined their list of desires.
According to Catalan daily Mundo Deportivo, a new target for the Camp Nou club is Manchester United's Marcus Rashford. The highly promising 21-year-old forward, coincidentally Barça's next opponent in the Champions League quarter-finals, would provide a long-term solution in their frontline. And as the paper points out, the Englishman has not yet extended his contract with the Premier League club, one which expires in the summer of 2020.
Barça signings are also adorned on the front cover of another Catalan daily, Sport. The three men taking their attention reiterate the positional objectives of the club: a forward in Jovic, a midfielder in De Ligt, and Liverpool's Spanish left-back Alberto Moreno.