Messi double does the trick for Barcelona
A second half Lionel Messi double was enough to see Barcelona over Espanyol at the Camp Nou on Saturday afternoon in LaLiga.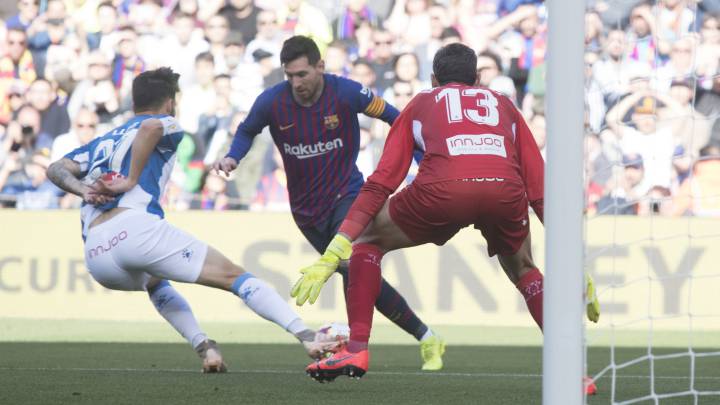 Barcelona 2-0 Espanyol: match report
Lionel Messi scored twice to earn Barcelona a 2-0 derby win over Espanyol and send them 13 points clear at the top of La Liga on Saturday.
With second-placed Atletico Madrid travelling to Alaves later in the day, the champions took advantage of the chance to extend their lead.
A dull match was decided by Barcelona's number 10, who lofted home a free kick after 71 minutes and slotted in from substitute Malcom's cross towards the end.
Messi, the division's top scorer with 31 goals, suffered criticism in his native Argentina after withdrawing from a friendly against Morocco because of a groin problem, but was hailed by Barcelona fans after taking them one step closer to retaining the title.
Barcelona vs Espanyol live online: updates and commentary
90'+4' GAME OVER! Messi's double does it for Barcelona.
90'+4'   It hits the wall and that's it.
90'+4'   One last free for Espanyol as Rakitic handles the ball from the cross. Fairly obvious from the Croatian.
90'+3'   Rosales is penalised this time as he takes Alba out of it.
90'+1'   Messi goes to ground in the penalty area after a collision with Rosales. No penalty.
90'   There will be four minutes of added time. 
88' MESSI! Malcom plays it into his path from the left. Lovely and quite simple finish in the end. Ter Stegen started it, out to Rakitic, one-two with Messi and then Malcom back to the captain. 2-0 and game over.
87' Pedrosa booked for a foul on Busquets as he counters.
86'   Wu Lei puts Ter Stegen under pressure and the keeper sees his clearance blocked. But it rolls kindly back to him! 
85'   Barcelona win it back though and attacl. They're a lot more patient now though.
84'   Espanyol continue to push for the equaliser. Vidal slide sin on Granero and outs it out for a throw. 
82' Coutinho off for Vidal.
81'   Sergio Garcia with the cross. Wu Lei in around the back but Lenglet gets a foot to it and stops it. What a chance! Barcelona clear in the end but this is all a little too close for comfort for Barcelona fans.
78'   Valverde will respond by bringing on Arturo Vidal.
78' Alfa Semedo on for Victor Sanchez. 
77'   Offside as Espanyol break forward. Wu Lei waiting in the middle but Sergio Garcia was offside just before that. 
75'   Messi with an absolutely excellent pass into Malcom's path. He pulls it back to Messi but the effort is over the bar and Messi falls to his knees. Good chance.
74' He collides with Suarez and Granero gets booking for protesting. 
73'   Diego Lopez rushes off his line and grabs the ball. 
71' GOAL! Barcelona find the breakthrough. He panenkas it over the wall and Victor Sanchez dropped to try and stop it from going over the line but insteads he heads it into the net.
71'   Mesis lines it up. He might actually be too close.
69'   Looked really sore for both parties there. Messi kicked his ankle. 
69' Dangerous foul on Messi. Inches outside the box and Victor Sanchez gets booked. 
68'   Coutinho blazes over. Alba crosses and it's blocked out by Naldo and only as far as the Barca midfielder. 
66'   Rakitic with another effort. He's downtown when he hit that. Wide of the post. Barcelona really struggling to break down Espanyol's back line.
66'   Sergio Garcia coming on for Espanyol now. 
65'   Roberto down the right and crosses. It's half-blocked by Hermoso and Diego Lopez grabs it.
64' Wu Lei is coming on for Borja Iglesias. 
63'   Lovely from Coutinho. He turna and played through to Malcom but his shot is saved by Lopez. Corner! Barcelona's best effort of the game. 
62'   Coutinho and Suarez link up and the Brazilin pokes the ball out to the left. 
60'   Barcelona dominating the ball now. 
58' Arthur and Semedo off for Malcom and Sergi Roberto.
58'   Rakitic launches himself into a challenge. Free for Espanyol. Getting a little heated in the middle and it's borne out of Barcelona's frustration.
57'   Semedo with a run into the box. He was muscled out of it by Pedrosa and it's out for a goal kick. Might have been a shout for a penalty but wasn't coming. 
56'   Malcom and Sergi Roberto about to enter the fray. 
55'   Another offside. But how didn't it go in?  Alba cuts it back to Messi and there was an offside there somewhere. 
54'   Melendo gets the ball in the penalty area and spins and shoots. Ter Stegen won't be putting that one in his top 10 saves at the end of his career. 
53'   Another run down the left and Coutinho pulls it back to Suarez. Offside in any case but Espanyol survive it anyway without the help of the flag. Barcelona are really forcing this now and they want the goal. Espanyol holding firm but only just about.
52'   Rosales wins the ball back from Suarez and he races forward. Really good run too as he relieves pressure on Espanyol. But only for about 20 seconds. 
51'   Another ball inside to Alba but there's too much on that and it's out for another goal kick.
50'   Whistles at the Camp Nou. They want a goal! 
49'   Semedo into the box and he crosses. Over Coutinho's head and it falls to Alba. Oh he's completely shinned it. Wide.
48'   Rakitic with a nice run between the lines and he plays inside to Suarez but Naldo cuts it out. 
47'   Wu Lei is warming up. A burst of excitement around the Camp Nou too.
46'   We are back underway! Zero changes.
Espanyol take to the field first.
Looks like no changes as Coutinho is back in the tunnel with his teammates. 
Malcom is warming up at the break.
You'd think Valverde is seriously considering a change for Coutinho. 
45'+1'   Half-time. 
45'+1'  Alba pass inside to Coutinho and the tackle comes in from behind. That would have been so harsh as the referee waves us on. 
45'+1'   One minute added on at the end of the opening half.
45'   Barcelona pushing forward for the opener at the end of the half. Do they have time to get one?
43'   Rakitic bundles Sanchez out of the way in the middle of the field and Espanyol win a free. 
41'   Messi bobbles a shot wide. He looked like he was offside. Ball through to Messi as it takes a flick off a defender. Misses anyway but think that would have gone to VAR if it went in.
41'   There's a foul by Lenglet on Borja after some really nice footwork from the big man. 
40'   Messi with the ball into Coutinho but he slips and it's out for a throw.
39'   Corner comes to nothing. Still 0-0 as we approach half-time.
37'   Lovely move by Espanyol. Pedrosa plays through to Sanchez and he squares to Borja Iglesias. Barcelona recover and put it out for a corner but that was nice by the visitors.
36'   Messi's free is blocked by the wall and Espanyol win a free through a Lenglet foul. 
36'   Neither is Messi though and he wants a card. 
33'   Iglesias is fouled and the referee says no. Then Messi is fouled by Granero. Espanyol are really not happy with that.
32'   Coutinho drives forward and loses the ball. Looked like it might be a free but the referee points to the ball. Espanyol lose it on the break. 
31'   Messt floats it into the middle and Pique heads it over with the help of a Diego Lopez glove. Corner! 
30'   Semedo is hauled down by Pedrosa as he runs in behind. Messi clipped the ball to him and the right-back was obstructed. Free for Bara on the right. Messi to take with his left but not in the shooting zone. 
28'   Game is opening up slightly but still nothing doing for either side. Espanyol have done a decent job of both looking good in attack without really giving up too many big chances. At the end of the day, it's Barcelona and they will create chances but Espanyol are doing okay in limiting them.
25'   Granero fouled by Busquets as he ran down a dead end on the right hand side. Espanyol have a free now from the right and it's whipped in and cleared. 
24'   Espanyol playing with fire as they work it out from a goal kick and they are closed down before losing it. 
23'   That left hand side again. Alba inside to Suarez as he takes it down and drives it just wide of the post.
22'   Lovely ball in by Coutinho and Lenglet collides with Naldo and the ball is headed clear. Sent straight back in again and Lenglet can't execute the acrobatic volley. Espanyol survive again.
20'   Cross comes in after the corner was headed out. Espanyol remain in attack but another cross is headed down. Barcelona on the break.
20'   They do win a corner in the end though.
19'   Rosales out to Pedrosa. Espanyol attack. Nice move too as Melendo clips it to Borja and he plays it back to a man arriving into the box. He's surrounded by three defenders through. 
18'   Semedo fires a low cross into the box and it's almost touched home by Suarez. He misses it and Espanyol dodge a bullet.
17'   Barcelona have really taken over now and they're dominating the ball. Espanyol in retreat. 
14'   Corner for Barcelona and it's worked short to Messi. He plays out to Alba and the left-back is a little ambitious with his pass over the top.
13'   Barcelona threatening. But no chance as they recycle and send it out to the left. Rosales catches Alba late and they have a free now out on that side. Chance for Coutinho so curl it into the box. 
11'   And another one as Rakitic puts it out over the sideline this time.
11'   Pedrosa with a couple of throws back to back. 
9'   Alba splits the defense. Messi was offside anyway but he got it, came back on his right and then his left and fired over. Corner as it took a deflectiob. 
8'   Naldo clips it forward to Borja and Pique heads down to Melendo. Melendo headers it back towards goal and he heads straight down to Ter Stegen.
7'   Not a bad start from Espanyol.
7'   Then Melendo hits the deck in the penalty with Alba on his back but no penalty and the Espanyol player knew it too.
6'   Pedroso hits the deck under a challenge from Piqué but ref says no free. He is grabbing his face. Ref not budging on his decision and Suárez breaks before Lopez grabs it.
5'   Granero tries to play it out from the back. He is surrounded by Barcelona jerseys. They eventually do make it out after some nervous moments. 
4'   Coutinho and Alba link well down the left and try to make inroads inside. They can't but Espanyol cough it back up and Barcelona are back on the ball. Messi spins around Roca and bamboozles him. Hint of a free but Messi has the ball glued to his foot and he keeps it. 
3'   Ball launched down the field and Borja Iglesias a little too physical in the air. Foul and free for Barcelona.
2'   Foul by Coutinho as Barcelona press high to try and win the ball back and start an attack. Lopez to take.
1'   Nice counter by Barcelona as Messi races forward and plays Suarez in on the left. He crosses and it's blocked up to Diego Lopez. Grabbed! 
1'   We are underway at the Camp Nou. Espanyol kick us off and they're whistled from the start.
    Barcelona in their azulgrana shirts and Espanyol in their blue and white shirts too. 
    And there we go! We know it's getting serious when the referee grabs the ball off the plinth..
    Looks like Espanyol have forgiven Piqué as there's hugs all around in the tunnel before they head out onto the field.
    Teams are in the tunnel and ready for action! It's a lovely day in Barcelona for the afternoon kick-off.
    Cesc Fabregas picked his best XI of former teammates and a fair few of the player on the field tonight are in there. 
    Coutinho playing against his former club today. He played 16 times for Espanyol and scored five with one assist. 

    Valverde defended Piqué too saying "he was on a comedy show, about humour, so it was a bit more light-hearted and that's okay."
    Espanyol's manager sounded like he was fairly sick of the Pique stuff in his second press conference before the game. He said Espanyol were "above such nonsense" and he also rightly pointed out that it's a comedy show that the Barcelona player was on and that's what he went with.
    Espanyol fans were not happy with Piqué's comments about the financial situation. He says he has more in assets than their whole transfer budget. 
   Espanyol XI: D. Lopez, Rosales, Lluis, Naldo, Hermoso, Pedrosa, Roca, V. Sanchez, Melendo, Granero, Borja.
    "Keep calm and watch Messi / Wu Lei" 
    That's a full strength team for Valverde. Coutinho in for Dembele as the latter is injured and that would most likely change if he wasn't but that's best team available for the derbi.
    Barcelona XI: Ter Stegen, Semedo, Piqué, Lenglet, Alba, Busquets, Rakitic, Arthur, Messi , Suárez, Coutinho.
    Coutinho could be given another chance with Dembele out but he is said to be up for sale and with not too many suitors.
    The Wu Lei versus Messi showdown is gripping China's PPTV market.

    Somewhat of a showdown today! Luis Suárez has scored 12 in nine against Espanol and Wu Lei, Espanyol's summer signing, has been really good since he arrived. He is the Chinese Super League's top scorer with 102 goals and this is his first really big game in blue and white.
    Hello and welcome to our live online coverage of Barça vs Espanyol with kick-off from the Camp Nou at 16:15 CET.
Barcelona vs Espanyol live online: preview
The Catalan derby rarely needs much to spice it up but Gerard Piqué's appearance on late night television in Spain has added plenty. His comments about having more assets than the size of Espanyol's budget didn't go down well and Barça's opponents on Saturday released a statement to defend themselves against the comments. Espanyol's manager, Rubi, also said there are more important values in sport than money and Ernesto Valverde also defended his defender over some of the criticism he recieved. Barça have practically wrapped up the league title but Espanyol have plenty to play for as they battle relegation. Regardless of what's on offer, this game will have plenty of needle after Piqué divisive comments.
Barcelona welcome their international stars back after the break and that should include Lionel Messi, who missed Argentina's game against Morocco during the week after playing against Venezuela at the Wanda and complaining about a groin issue. Luis Suarez, along with Messi, trained on Wednesday and should be ready for action. They'll be glad to have their hitman too as he has scored 12 in nine against their rivals. Dembele is out with a hamstring injury and Rafinha is another long-term absentee.
Espanyol are not free from relegation but they are nine points off the drop after a mini-resurgance. They have lost just once in seven and while four of those were draws, they are still picking up points unlike plenty of their relegation rivals. They signed Wu Lei in the January transfer market and he has helped in attack and there will be plenty of attention from Asia in this game given he is the Chinese Super League history with 102 goals. They can not count on Sergi Darder and Didac Vila through suspension while David Lopez and Pablo Piatti remain out long term and Ferreyra is also out with a hamstring injury.