Icardi: Spalletti includes striker in Inter squad for Genoa game
The Argentina international has been brought back in from the cold after a contract stand-off and a war of words with his wife and agent, Wanda Nara.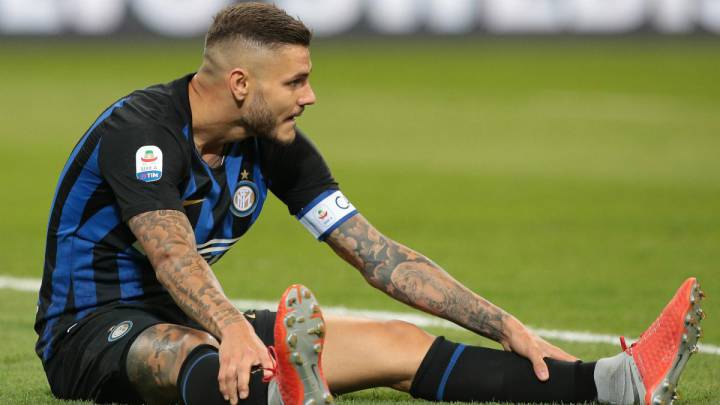 Mauro Icardi has been surprisingly included in Inter Milan's squad to face Genoa in Serie A on Wednesday despite Luciano Spalletti launching a scathing attack on the Argentina international on Monday and describing the stand-off between the former captain, his wife and agent Wanda Nara and the Inter board, which required the services of an intermediary, as "humiliating" for the club.
"The way he has behaved, he needs to stay away and others have to play. Negotiating with someone just to get him to pull on the Inter shirt. What, do I need to email 20 lawyers and ask them if I can call someone up?" Spalletti told a press conference after the 1-0 defeat to Lazio last weekend. ""To have to negotiate with a player to get him to play and wear the Inter shirt is humiliating, for the fans and his team mates."
Spalletti: "
Mauro Icardi is in the squad"
🎙️ | #Spalletti

"@MauroIcardi è convocato. Il lavoro svolto da Marotta è stato determinante per dare modo a tutte le parti in causa di arrivare a un confronto reale e non virtuale. Questo mette ora in condizione Icardi di essere d'aiuto per la squadra"#GenoaInter

— Inter (@Inter) 2 de abril de 2019
Icardi was stripped of the captaincy in February and has not played for Inter since but returned to training a week ago.
On Tuesday, Spalletti made the announcement that Icardi had been brought back in from the cold for the game against Genoa, with Inter currently third in Serie A, two points ahead of local rivals AC Milan, hinting that Inter's general manager had been instrumental in bringing an end to the impasse.
"Mauro Icardi is in the squad," Spalletti said. "The work of [Giuseppe] Marotta has been decisive in getting all the parties involved together for a real meeting, not a virtual one. That has put Icardi in a position to help the team again."