Ronaldo: "Zidane knows how to work in an intelligent way"
Cristiano Ronaldo and Sergio Ramos have given their insight into working with Zinedine Zidane for a French documentary about the Real Madrid coach.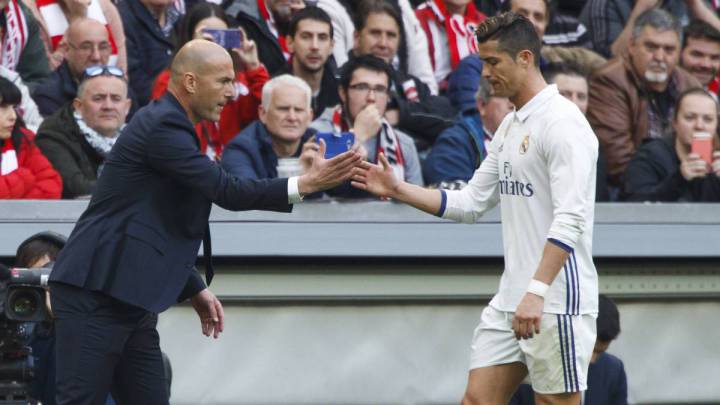 Following Zinedine Zidane's return to the coach's seat at Real Madrid last month, French TV network RMC Sport 1 is set to air its exclusive documentary, Zidane Realmente Madrid, on Wednesday night.
The producers of the documentary have gathered testimonies from players and other personalities that have worked with the celebrated Real Madrid coach and former player in the past few years, including Cristiano Ronald and Sergio Ramos, whose comments have been revealed ahead of the program's airing.
During their time at Madrid, Zidane managed to persuade Ronaldo not to play every minute of every game in order to ensure that the Portuguese striker would reach the final stretch of the season in the best physical shape. And the 34-year-old says that the French coach was the first to convince him of the necessity of rotation and not to obsess about playing every minute.
"I think that Zidane knows how to manage the team in an intelligent way. It's not an easy situation because all of the players want to play a lot. But he knows how to work in an intelligent way and get all of the players involved," said the Juventus striker Ronaldo about his former coach.
As a player and coach you decided to say goodbye at the top. Thank you for two and a half incredible years. Your legacy will never be erased, one of the most successful chapters in the history of our beloved @realmadrid pic.twitter.com/dO6bw74aA3

— Sergio Ramos (@SergioRamos) 31 May 2018
Ramos: Zidane's career does the talking
Zidane's management style was also highly praised by Madrid captain Sergio Ramos, who also gave his personal insight into working with the three-time Champions League-winning manager.
"Zidane's career does the talking for him," said Ramos. "What he did as a player, he does as a coach. He found a way to transfer the talent he had as a player to his role as coach to direct and manage the dressing room. He does a fantastic and unique job, and the results are not a coincidence."