Last-gasp Barcelona rescue dramatic point at Villarreal
Late, late goals by Lionel Messi and Luis Suárez snatched a point for Barça in a thrilling LaLiga clash with Villarreal on Tuesday evening.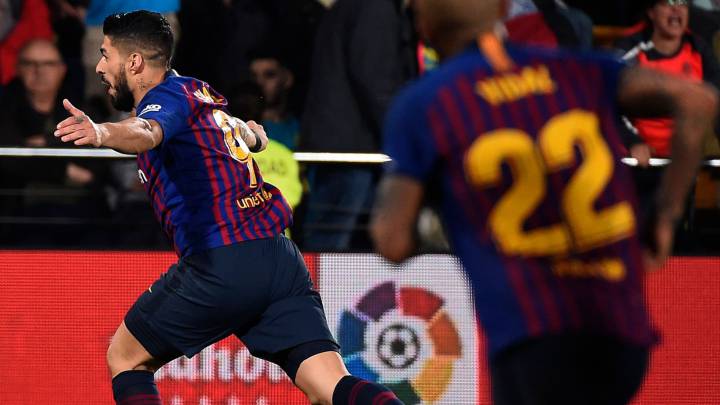 Villarreal 4-4 Barcelona: match report
Well, where to start? Ahead of their top-of-the-table clash with Atlético Madrid on Saturday, Barcelona's lead is cut to eight points - but, having trailed by two goals as the clock ticked towards 90 minutes against relegation-threatened Villarreal, it is with a sense of relief that Ernesto Valverde's men leave the Estadio de la Cerámica tonight, after they were rescued by two late, late stunners: yet another wonderful free-kick from the initially rested Lionel Messi, and an equally fine Luis Suárez drive - powered in with the very last kick of an incredible game.
Barça had looked to be heading for a first defeat to Villarreal since March 2008 - back when Santi Cazorla was still in his first spell with the Submarino Amarillo, no less - as goals by Samu Chukwueze, Toko Ekambi, Vicente Iborra and Carlos Bacca saw the hosts recover from going two down early doors to strikes by Philippe Coutinho and Malcom (the latter brought into the line-up in place of Messi) to lead 4-2 with 10 to play. As it stood, Villarreal were heading for the relative, if provisional, comfort of 15th in the table, and Atlético would have the chance to move to within four points of the leaders at the Camp Nou this weekend.
But after being reduced to 10 men by Álvaro González's silly red card with five minutes left (more than a few accusatory glances will have been cast in the defender's direction in the dressing room, one suspects), Villarreal let slip a two-goal advantage for the second time in a week, and will be in the bottom three if Celta Vigo beat Huesca on Wednesday evening, as a scarcely believable last-gasp double salvo stretched Barça's unbeaten run in LaLiga to 18 games.
Villarreal 4-4 Barcelona: as it happened
And it was the last kick of the game. What a match.
  Suárez had almost equalised a moment earlier, and this time he does just that with an absolute rocket! Barcelona win a corner, and when it falls to the Uruguayan at the back post he thumps a low strike in past Asenjo!
94' 4-4! Unbelievable!
90' Cáseres was booked a few moments ago, by the way.
90'   Three minutes of time added on. What a game.
90' No we won't, but he scores all the same! He goes for power this time, and pings it right into the top corner, the ball kissing Asenjo's right-hand post on its way in! Class.
89'   Oooh, here's a chance for Messi to reduce the deficit. The Argentine is brought down right on the edge of the box, in a position not dissimilar to his 'Panenka' free-kick against Espanyol at the weekend. Will we see another?
86' Javi Calleja responds by replacing Samu with veteran Italian defender Daniele Bonera.
85' Álvaro, you silly boy. The Villarreal defender is already on a yellow card, and earns himself another for a needless challenge on Suárez. Villarreal are reduced to ten men.
83' Sergi Roberto gets himself a yellow card for an offence that I confess I've failed to identify, before Messi follows him into the book for complaing to the referee about the first caution.
Villarreal are heading for their first win over Barcelona since March 2008.
Aleñá is into the book after scything down Iborra.
  Well, I say sumptuous; it's a great ball, but the Barça backline opens up like the Red Sea, and all Cazorla has to do is play a slide-rule pass to Bacca into a space through which a couple of double-decker buses could comfortably be driven. It's perfectly judged, though, and Bacca doesn't need to break stride before collecting, rounding Ter Stegen and rolling into an empty net.
80' 4-2 to Villarreal! Bacca finishes from a sumptuous Cazorla pass!
78'   Funes Mori steps in before the ball can reach Suárez on the edge of the box, then releases Samu to scuttle at the Barça defence... but he gets his cross (or was it a shot?) all wrong.
76' Vidal goes into the book after bringing down Cáseres. We've just seen a shot of Valverde on the touchline, and to say his face was thunder would be an understatement.
What a difference this win would make for Villarreal. If it stays this way, they'll go to bed in 15th.

74'   Ufff! Messi produces a typically twinkle-toed moment of skill and slips Malcom into space on the left-hand side of the box, but the Brazilian blasts his shot into the side-netting!
73' It's a double change for Barça: Busquets and Arthur are both off, with Aleñá and Rakitic on. Villarreal also make a substitution, withdrawing Ekambi and throwing on Bacca.
72'   Barcelona are in real danger of conceding a fourth at the moment. Cazorla plays a one-two with Iborra and feeds the ball out wide to Ekambi, who cuts inside, steadies himself... but sends a low shot straight into Ter Stegen's arms.
70'   Ivan Rakitic is being prepared on the Barcelona bench.
67'   Off the woodwork! Almost 4-2 to Villarreal! Busquets gives it away, and when the hosts break Samu bounds at the Barça defence and fizzes a shot on goal that takes a deflection and forces Ter Stegen to readjust hastily and tip the ball onto the crossbar! Ernesto Valverde looks a mite concerned over on the touchline.
63' Ufff! Malcom touches a Messi pass down to Suárez, who rifles it just over the bar! Villarreal made a substitution in the wake of their third goal, by the way, Manu Morlanes coming off for Santiago Cáseres.
Cazorla feeds a lovely angled ball into the run of Iborra in behind the Barça defence, and the former Sevilla man dinks a perfectly-judged finish over Ter Stegen and in! Having surrendered a two-goal lead three days ago, they've now overturned one!
61' 3-2 to Villarreal! Well. I. Never.
60' On comes Messi, with Coutinho making way. Malcom will shift to the left flank previously occupied by his compatriot.
58' Messi is preparing to come on for Barcelona.
55'   Suárez bustles his way into the Villarreal box, but is finally run out of it before he can pull the trigger. "He's played very well tonight," purrs Julio 'Maldini' Maldonado on Spanish TV.
  As it stands, Barça's lead at the top is going to be cut to eight points - and, were they also to lose to second-placed Atlético Madrid at the weekend, the cat would certainly be edging into a position rather closer to the pigeons, if not positively among them.
Samu plays the ball forward into the path of Ekambi, who keeps the ball in - just - and advances down the right wing. Ter Stegen is clearly expecting him to play the ball across the box and takes a step forward... and is left red-faced when the striker firest the ball straight in from an acute angle! All square.
2-2! Ekambi levels for Villarreal - and after such an impressive first-half display from Ter Stegen, it's a bad error by the German!
48' Funes Mori tries to beat Ter Stegen from the halfway line. He doesn't.
47' Cazorla slips Samu in behind the Barcelona backline on the right-hand side of the box, but the flag is up against the 19-year-old, and replays show he was a good couple of yards offside.
46'   No changes at half time for either side.
Peeeeeep! Back underway at the Estadio de la Cerámica.
  Peep peep peeep! That's half time at the Estadio de la Cerámica, where it's been entertaining - if not always an advert for defending in LaLiga. Having been brought in for the rested Lionel Messi, Malcom has certainly justified his selection, setting up the first for Philippe Coutinho and heading in the second from a delicious Arturo Vidal cross. Up the other end, Samu Chukwueze has been irrepressible for Villarreal, and it is his goal that ensures the hosts are still in this game as they head in for the break. But for Barça keeper Marc-André ter Stegen, indeed, they might well even be level. He's some shot stopper.
48'   ...and Suárez's long-range strike draws a flying save by Asenjo! He turns it behind, but there's no time for the corner.
47' Funes Mori is booked after being turned by Suárez and hauling the Uruguayan down. Barcelona have a set-piece chance to close out the half...
45'   Two minutes of time added on at La Cerámica. It's been a right good first half.
42'   ...blocked. Shame.
41' Samu is giving the Barça backline a torrid evening. Lenglet is the third man to see yellow after he's forced to drag the youngster down on the edge of the box, and it's a free-kick chance for Villarreal. Cazorla to take...
39'   There's a chance for Samu, but again Ter Stegen parries! He's a half-decent shot stopper, that lad. The Villarreal winger was quickest on to a ball into the Barça box, but there was no beating the Blaugrana keeper.
38' Busquets follows Álvaro into the referee's notebook for bringing down Morlanes after losing the ball to the Villarreal midfielder, and in the process nipping a promising counter-attack in the bud.
35' Álvaro is the first man into the book after bulldozing into Coutinho on the halfway line. Hernández Hernández allows play to continue after that challenge, and the Barcelona attack finishes up with Suárez trying to beat Asenjo with a backheel, but succeeding only in getting caught offside.
Lenglet is back on and, for now, looks like he may be OK.
30'   It's pinball stuff in the Barcelona box as twice Villarreal fire it low across the face of goal and twice the visitors scramble it clear. Lenglet appears to have done his shoulder some real damage in the process of defending the first of those two crosses, by the way, and Gerard Piqué's night off could well be cancelled. We'll see.
Spanish football stats guru Mister Chip has officially outdone himself.
Malcom is the fifth-shortest player to score a header in LaLiga this season, behind (or should that be above) Portu, Santi Cazorla, Nabil El Zhar and Wissam Ben Yedder
.
27'   Iborra tries to play a give-and-go with Samu on the edge of the box, but can't quite get on the end of the return. They're handy enough going forward, are Villarreal; at the other end, though...
He's got a fair bit of gas, that boy. He charges at a back-pedalling Barcelona defence, twisting Jordi Alba one way and another before firing low - but against the post. However, the rebound bounces kindly for him, and he gobbles up his second bite at the cherry, turning the ball low past Ter Stegen and into the net! Game on!
22' But just as they look odds-on to concede a third, Villarreal pull one back! Samu with it!
20'   Christ, this Villarreal defence is a horror show.  First Suárez and Coutinho are allowed to play an easy one-two that has the latter gliding through on Asenjo - only for his finish to bounce back off the post! Moments later, an umarked Umtiti drags a shot just wide from 12 yards.
It's a sumptuous cross by Arturo Vidal, bending right onto the head of Malcom - who makes no mistake!
15' 2-0! Having supplied the pass for the first, Malcom heads in the second!
  Roberto's slide-rule pass releases Malcom in behind the Villarreal defence on the right wing, and the Brazilian's low pass across goal to Coutinho leaves his compatriot with the simple task of prodding into an empty net! There's a brief pause as VAR checks whether Malcom was offside, but the goal gets the green light and the leaders are in front.
11' And just like that it's 1-0 to Barcelona! They've made something of a sleepy start, but they lead at the Estadio de la Cerámica.
We can except Ter Stegen from Mr Robinson's assessment, though.
7'   Again Villarreal go close! It's a hugely promising start from the Submarino Amarillo. Samu picks the ball up, shows Lenglet a clean pair of heels and skips into the box, where Ter Stegen again has to be on his mettle to parry the young winger's outside-of-the-boot effort! "Barcelona haven't turned up," tut-tuts Michael Robinson on Spanish television.
6'   Ter Stegen tips over Iborra's header! That's a fine stop by the German. The second corner then finds Pedraza arriving in acres of space at the back of the box, but he swings and misses! That's encouraging for Villarreal, though.
5'   Cazorla pings a lovely diagonal ball onto the head of Mario, who nods it across goal. With Ekambi waiting to snaffle up the ball at the back post, Umtiti seems to have it covered - but suddenly hesitates and has to scramble it behind. And from the corner...
2'   There's the first chance for Barcelona! Ekambi gives it away, handing Coutinho the opportunity to bring it forward and feed Suárez - who is possibly just offside. The Uruguayan advances into the box and, from the left, fizzes an angled shot that Asenjo does well to turn behind.
It really does make grim reading for Villarreal
. For now, Messi will have to wait for his chance to add to his haul. 
Peeeeep! Underway at the Estadio de la Cerámica.
Teams out, hands shaked, coin tossed... we're ready to go!
Almost time for kick-off in Vila-Real. At the Wanda, Antoine Griezmann has sealed the points for Atlético, who provisionally move to within seven points of Barcelona.
Tonight's referee at the Estadio de la Cerámica is Alejando Hernández Hernández, by the way.  

Over in Madrid, incidentally, Atlético are now ahead against Girona, courtesy of a Diego Godín goal.
The Submarino Amarillo, who have Gerard Moreno, Bruno Soriano, Jaume Costa, Manu Trigueros and Miguel Llambrich all on the treatment table, make one change to the side that lost in Vigo at the weekend. Former Everton defender Ramiro Funes Mori returns to the side, and Xavi Quintillà makes way.
Villarreal XI:  Asenjo, Álvaro, Funes Mori, Víctor Ruiz, Mario, Morlanes, Iborra, Cazorla, Pedraza, Chukwueze, Ekambi.  
  Santi Cazorla played for Villarreal that day, as goals by Marcos Senna and Jon Dahl Tomasson earned a 2-1 LaLiga win at the Camp Nou, and the midfielder also starts tonight for Javi Calleja's injury-ravaged hosts.

  To avoid such a fate, Villarreal may well have to bring an end to what is a dreadful record against Barcelona over the past decade or so: they have not beaten the Blaugrana since way back in March 2008. Since then, the sides have met on no fewer than 19 occasions in the league...
Indeed, the Submarino Amarillo could well end this midweek round of fixtures in the bottom three, depending on how Celta - who currently occupy the final relegation place - do at basement boys Huesca tomorrow evening...

Villarreal, meanwhile, are deep in relegation trouble: they sit just one place and point above the drop zone, after throwing away a two-goal lead to lose a veritable six-pointer at fellow strugglers Celta Vigo at the weekend.

  Barça came into week 30 a full 10 points ahead of Atlético, who are in action against Girona as we speak. And with an hour gone at the Wanda, it remains goalless - so as it stands the Blaugrana will have the chance to extend their lead over Los Rojiblancos ahead of the sides' meeting this weekend. We'll keep you updated on how Atleti get on, and you can follow live coverage here. 

You'll find further analysis of tonight's team news in this in-depth article.
Barça substitutes: Iñaki Peña, Piqué, Rakitic, Aleñá, Boateng, Semedo and Messi.
Meanwhile, Sergi Roberto replaces Nelson Semedo at right-back and Gerard Piqué - who is a booking away from a suspension - is also rested, with Samuel Umtiti returning to the XI in his stead.
  And the headline team news is that, with one eye on Atlético and United, Barça coach Ernesto Valverde has opted to rest Lionel Messi, leaving him on the bench in one of three changes to the side that beat Espanyol at the weekend (courtesy of two goals by the Argentine). Malcom comes in for Messi in a Barça XI that reads thusly: Ter Stegen, Roberto, Umtiti, Lenglet, Alba, Vidal, Busquets, Arthur, Malcom, Suárez, Coutinho.

 Ahead of a big week that brings a top-of-the-table clash with second-placed Atlético Madrid and a Champions League quarter-final trip to face Manchester United, it's a match-up in which leaders Barça can take another step towards securing a second straight league title.
Good evening and welcome to our live coverage of Barcelona's LaLiga clash with Villarreal at the Estadio de la Cerámica, where kick-off is at 21:30 CEST - just under an hour's time.
Villarreal vs Barcelona: LaLiga preview
Ahead of headline match-ups with Atlético Madrid and Manchester United, LaLiga leaders Barcelona can kickstart an exacting week of football by taking another big step towards retaining their title at relegation-threatened Villarreal tonight (21:30 CEST).
Barcelona 10 points clear of Atlético, who are up next
On Saturday, a Lionel Messi brace earned the Blaugrana a 2-0 Catalan derby victory over Espanyol that maintained their 10-point lead over Atlético in second - and left Ernesto Valverde's men just six wins away from guaranteeing themselves a 26th Spanish championship.
They now go to the Estadio de la Cerámica in search of the first of those triumphs - against a side they haven't lost to in 11 years - before a top-of-the-table clash with Atlético on Saturday is followed by a Champions League quarter-final trip to Old Trafford four days later.
In a bid to ensure legs are fresh for the clashes to come, Valverde is expected to rotate to some extent - but on Monday admitted there's "never an ideal time" to rest key man Messi, who has netted no fewer than eight times in his last four games in all competitions for Barça.
Villarreal in major relegation trouble
Lining up opposite the visitors are a Villarreal side who are in real danger of going down - particularly after letting a two-goal lead slip to lose 3-2 at fellow strugglers Celta Vigo on Saturday.
After 15 minutes at Balaídos, goals by Toko Ekambi and Alfonso Pedraza, the latter a superb solo effort, looked to have left the Submarino Amarillo set fair to put real daylight - seven points, to be precise - between themselves and the 18th-placed Galicians.
However, Celta's Iago Aspas-inspired comeback dragged Villarreal to within a point of the drop zone and, unless Javi Calleja's side can put an end to their poor recent record against Barça, they could well end matchday 30 in the bottom three - and in a major fight to avoid a second top-tier relegation in seven years.