Valencia shred Real Madrid
Valencia kept their unbeaten run going as they continue to look to grab a Champions League spot, with Guedes and Garay providing their goals. Benzema got a consolation effort right at the end.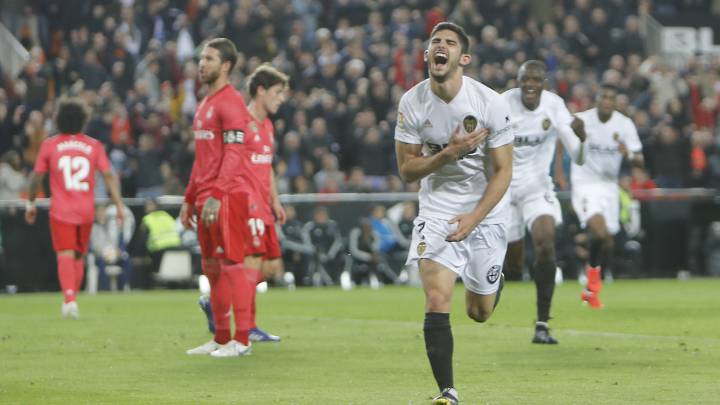 Valencia 2-1 Real Madrid: match report
Valencia shredded Real Madrid at the Mestalla on Wednesday night as they move to within a point of fourth place with Getafe in their sights.
Real Madrid were forced to confront the fact that they are a very average team once again and despite the fact that Zinedine Zidane is back, they need a major overhaul of an aging side with little motivation.
Valencia took the lead through Goncalo Guedes after 35 minutes when he struck to Keylor Navas' right and snuck it between keeper and the near post.
That came on the back of a very good spell for the home side as they piled forward every time Real Madrid were kind enough to cough up the ball, which was becoming increasingly often.
Ezequiel Garay wrapped it up on 83 minutes when he headed home from a Dani Parejo corner as Real Madrid pushed forward for the equaliser and looked increasingly suspect at the back.
Karim Benzema got one back for the visitors from a Real Madrid corner as he headed home but as the clock ticked over the alotted injury time, they barely had time to touch the ball again before the referee was blowing the full time whistle.
Valencia are unbeaten now in 17 games with Real Madrid facing into another week of questions about potential signings and the 'cleaning' of the squad. They welcome Eibar to the Bernabéu on Sunday as they get closer to the end of what has become a miserable season. Valencia travel to play Rayo knowing three points could send them into the top four for the first time all season.
Valencia vs Real Madrid live online: match updates
90'+3' FULL TIME!
90'+3'   BENZEMA heads home. He's frustrated but it's a goal.
90'+3'   Bale shoots on his left and it's out for a corner.
90'+1'   Wait, it's not! it's offside for Ramos. A massive cheer goes up.
90'+1'   Mariano misses the header and instead Real Madrid win a penalty.
90'+1'   Three minutes of added time.
90'   Diakhaby flicks it over Casemiro but he throws his arm at it and it's a hand ball.
89'   Casemiro with a strike that goes a mile over the bar. 
86'   Cheryshev whips it across and it's put out quite nervously by Varane.
85' Santi Mina coming on for Gameiro.
83'   GOAL! GOAL! GOAL! Garay with the header from the corner. 
81'   Wass with the cross a mile over. Wasted chance after Valencia steal the ball off Casemiro and break. Rodrigo sees his initial shot blocked ans it falls to Wass who wastes it.
79' Soler off for Ferran Torres. Another huge cheer for Soler and for the man coming on.
78' Lucas Vazquez off for Mariano Diaz.
77'   Cheryshev with the cross. Navas with the catch.
76' Marcelo gets booked for an absolutely descpicable looking dive. That was pointless.
74'   Valencia get a little but too cute with the counter. Four of them drive forward. Rodrigo plays it back to Cheryshev and he flicks it to Gameiro and then he flicks it into Navas arms.
72' Guedes makes way for Cheryshev. The Mestalla rises to applaud the Portuguese goalscorer.
72'   Free to Valencia. Wass and Lucas go down in the box and it looked like the Real Madrid player had pulled him back before the Valencia defender reciprocated.
71'   Bale with one of those lovely outside-of-the-boot crosses. Benzema lurking and Gaya heads out. He actually nearly headed into his own goal.
70'   It's sent in to the front post. Half-cleared and it falls to Marcelo. He shoots and it's not quite as bad as his earlier effort but it's really not great.
69'   Real Madrid really pushing forward now. They win a corner. 
66'   Game is getting slightly stretched now and Valencia getting a bit tired. Real Madrid with the ball and Marcelo and Benzema link up but that's not going to work. Too many white shirts.
65' Yellow for Parejo. He says it's not a card as he simply slid in on Lucas. He caught him in the back but that's really, really harsh.
64' Odriozola booked for his foul on Guedes.
64' Isco and Bale on for Kroos and Asensio.
64'   Guedes caught by Odriozola as he drives forward.
63'   Another dangerous counter by Valencia. Gameiro drives it across goal and it's cut out by Marcelo.
61'   Parejo with a lovely ball over the top to rodrigo and he shows off some fancy footwork to gain a yard and shoot. Just wide! 
59'   Modric fights to win the ball and Valencia step in front of his pass in the middle to win it back and clear.
58'   Lucas is okay to continue. Just a really sore one there from Guedes but nothing to worry about. 
57'   Guedes catches Lucas and he is some fairly serious pain. He stood straight down on a top of his foot. 
56'   Isco out warming up to.
55'   Marcelo gets the ball inside and strikes with his left. Asensio the man who laid it off to him.
54'   Bale is warming up. 
54'   Diakhaby with the header from the corner. He heads it wide. Another decent chance.
53'   Valencia win the ball back literally on their own goalline and work the ball forward in a matter of seconds. Strike from Soler and Navas saves. Corner.
51'   Odriozola looking dangerous down the right and it's cut out. Real Madrid have started this half quite well. 
48'   Varane puts the ball out for a corner but there was an offside before that. Gaya getting a little bit too excited with his run forward.
46'   Let's do this! We are back underway for the second half. 
45'+1'   Corner comes to nothing. HALF TIME!
45'+1'   Another lightening fast counter and Wass' cross is cut out by Ramos. Corner! 
45'   1 minute of added time.
45'   We are closing in on half time. That onslaught by Valencia is over but Real Madrid not really troubling them. A case of bringing it to the break not without conceding for the home side.
43'   Asensio shoots and it rolls to Neto. Real Madrid not creating any chances of not. Just long pot shots and trying their luck with the occasional cross.
41'   Marcelo drives forward and drives over.
40'   Rodrigo with the curler just over as Valencia go close again.
38'   Kondogbia with an effort outside the box as the cross comes in from the right. He shins it, kind of, and it goes well over. Valencia battering down Real Madrid's back line.
37'   A header from Gameiro goes just wide. Lovely clipped ball into the back post and they're really starting to open up Real Madrid here.
35'   GOAL! GOAL! GOAL! Guedes with the finish. A lovely one to. He gets the ball just inside the box and buries it. 1-0.
33'   Ramos catches one in the chest and it's out for a corner. Valencia fans want a penalty but quite clearly didn't hit his arm.
32'   Ball cleared by Diakhaby and it catches Lucas Vazquez in the hand. Free but Lucas is down and looks winded. 
30'   Jorge Valdano points out that Parejo's influence has been minimal so far. They haven't had enough of the ball. 
27'   Another counter attack comes to nothing after Diakhaby clips Asensio to win it back. He's up and ready for action but looked like he was caught. 
27'   Real Madrid back on the ball and in control. Valencia setting out their stall here by sitting back. They've looked dangerous on the counter attack.
26'   Free sent in by Guedes but it's too close to Navas. He grabs it.
25'   Headed clear and Valencia break. This is where they're dangerous. Soler is lucky there as Ramos catches him on the break. Wass is down after clashing heads with Casemiro in the penalty area. Nothing in it but Valencia fans are most certainly not happy.
24'   Odriozola races forward on the right and Guedes grabs him, fails to foul him, and then pushes him. He eventually brings him down and Kroos with the chance to whip it in. 
22'   Kroos tries his luck from distance on the half volley. Neto grabs it out of the sky with ease.
20'   Guedes is injured as Real Madrid counter and the fans are not happy that the game wasn't stopped. It was Guedes who broke free to play the pass to Gameiro, who laid it in to Rodrigo.
19'   Really good chance for Valencia as it's worked into the box. Ball falls to Rodrigo as he didn't feel comfortable on his right and he backheels straight to Marcelo.
19'   Real Madrid eventually win it back and Lucas is fouled by Guedes as he pushes him in the back.
18'   Lovely move by Rodrigo and he sprays out wide only for Odriozola to intercept. Modric coughs it up though.
17'   Lucas crosses for Benzema at the end of the play. Headed out and Marcelo volleys the rebound. That's up into the sky as he doesn't connect properly at all.
16'   Real Madrid trying to assert control on this one. They are forcing Valencia to retreat as the game settles down a little bit for the first time. Valencia fans whistling now though as the spell of possession continues for the visitors.
15'   Guedes with a header down to himself from a cross-field pass. Navas races off his line though and gathers.
14'   Modric with the cross and Asensio has to bust a gut to keep it in. He does and Real Madrid attack. Back to Asensio and it's headed out before Valencia counter. All the way up to Navas, who clears to Ramos.
13'   Marcelo with a very, very ambitious cross-field ball that is headed down to Neto. Fairly handy one for Valencia to deal with but they can't keep it going forward.
12'   Lots of fouls early on here. Very little good football but lots of bite. As expected then.
11'   And now Benzema hauls down Wass as he tries to shield it out for a goal kick. 
10'   Lucas Vazquez looking for a way through but he's caught by Rodrigo. A slight limp for the Real Madrid academy man. Looked sore.
8'   Marcelo with a nice curling cross into the box but nobody there to meet it as Lucas is muscled out. Throw for Valencia.
7'   Ball played into the middle and Benzema drops deep to recieve it. He gets caught by Kondogbia after taking a touch. He gets up fairly slow but he gets up.
6'   Garay, the former Real Madrid player, draped all over Ramos but no penalty as the visitors' captain gets up and dusts himself down.
6'   Kroos, rested at the weekend, is back and he steps up to take it. Too far out and to the left to shoot. He crosses it in and that's headed out by Ramos for a restart for Valencia. 
5' Wass is tripped by Asensio. Mistake by Valencia at the back and Wass is the man who is forced to foul Asensio. He gets himself booked too. Seemed harsh but it was a decent counter. 
4'   Mestalla absolutely roaring their side on early.
4'   Guedes attacks down the left as Valencia continue their good start. Odriozola puts it out for a throw. 
3'   Casemiro fouled as the ball is delivered to the far corner of the field. 
2'   That's a corner for Valencia. Parejo trods across to take. He plays it shoer to Guedes and they eventually send it in.
2'   Wass with the ball down to Rodrigo and Ramos is right behind him to put it out for a throw. 
1'   We are underway at the Mestalla! 
    Real Madrid wearing their pink strips. Or samlon coloured. Valencia in their traditional white.
    Teams emerge onto the field.
    Bale's playing stats suggesting the end is nigh at Madrid.

    Marcelo keeps his place too after a fairly poor showing at the weekend. Reguilon has admitted he is okay with a place on the bench but he surely knows he could do a better job than the Brazilian is currently. 
    Zinedine Zidane has been compared to the great Vicente del Bosque, who had a very soft hand with star players, by Iker Casillas.

    With two goals in two games under Zidane, Isco is dropped. Bale is also on the bench as the manager rings the changes. He makes seven changes from that win over Huesca. He was obviously not happy with what he saw.
    Valencia XI: Neto, Wass, Garay, Diakhaby, Gaya, Soler, Parejo, Kondogbia, Guedes, Rodrigo, Gameiro.
    Hello and welcome to our live coverage of Valencia vs Real Madrid. Kick-off at 21:30. 
    Real Madrid XI: Keylor Navas Odriozola, Varane, Ramos, Marcelo Casemiro, Kroos, Modric Lucas Vázquez, Asensio, Benzema.
Valencia vs Real Madrid live online: preview
Real Madrid continue their aimless march towards the end of the season with Zinedine Zidane admitting for the first time after the victory over Huesca on Sunday night that they wouldn't be winning anything this season. Valencia still have a Copa del Rey final to look forward to but more importanty, they are in a race with Getafe, Alaves, Sevilla and potentially Athletic Bilbao. They are possibly the in form team in Spain and site four points off Getafe, who drew on Tuesday. While Zidane can be afforded a little room to experiment, Marcelino and los Che's faithful will be hoping their's no funny business with team selection and attitude when it kicks off at 21:30 on Wednesday night.
Valencia are unbeaten in 16 games dating back to February when they lost in a Copa del Rey clash but they eventually won that tie. Their last loss in LaLiga came against Alavés at the very start of the year as they build up a head of steam at the right time. They are without Gabriel Paulista, Ruben Sobrino and full-back Cristiano Piccini.
Real Madrid are without Thibaut Courtois, which might be a good thing, as the goalkeeping debate has never fully built into what it might become. Zidane says there will be no debate next season over who his number one is, which means there might be someone sold in the summer. Luca, his son, was given a start against Huesca but Navas is expected to return against Valencia. Toni Kroos, Luka Modric and Raphael Varane are all back in the squad and could feature after time off at the weekend. Carvajal is back in training but couldn't make the squad and Vinicius remains out with an ankle injury.