Simeone: "Having never won at Camp Nou makes me optimistic"
Atlético coach Diego Simeone previewed tomorrow's vital trip to Barcelona. He refused to confirm whether Morata and Costa will be in the starting XI.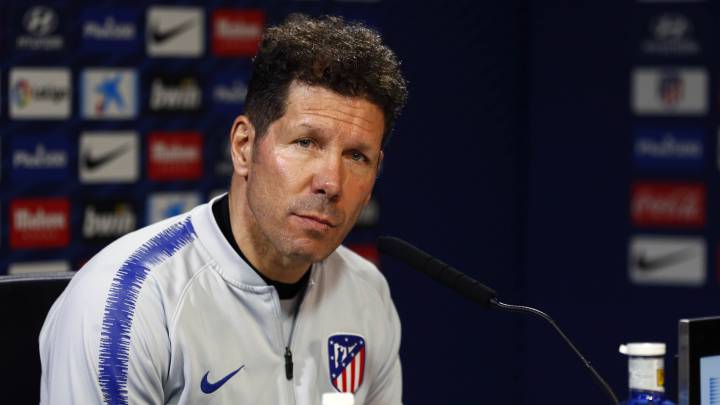 Atlético de Madrid coach Diego Simeone is feeling quietly confident about his team's chances in tomorrow's meeting with league leaders Barcelona. El Cholo is aware that as a coach, he has never tasted victory at Camp Nou but that could all change this weekend. He also refused to confirm whether Morata and Costa, who have been carrying injury problems but returned to training this morning, will feature in his starting XI.
Costa and Morata returned to training with the group today

Basically both of them are fine, and bearing that in mind we'll make a decision as to whether they both play together alongside Griezmann or not.
Simeone's records at Camp Nou
You've never won at Camp Nou, is there anything that might make you feel optimistic?
The fact that we've never won there, that makes me feel very optimistic.
For Atleti to be crowned champions, do you need to win in Barcelona tomorrow?
We could add a parenthesis here - if we win tomorrow but don't win the next games, it won't count for anything. We have to try to continually improve, since the Alavés game the team's been growing; against Girona we had a few decent moments and we need to maintain the equilibrium, consistency and the team's identity.
How afraid are you of Messi?
Afraid isn't the right word, respect is closer to the mark. There's a definite hierarchy at Barcelona and it's also worth noting the extraordinary job their coach is doing to keep them alive in every competition. Last season, the same thing happened to them in Rome as what we went through in Turin and they were left without options to win everything, but this season they could still win the treble. They are in a great position, the coach is doing a good job and they have very capable players who are used to winning. Valverde, with his style of play, is having an unbelievable season.
What do make of Messi's free-kick heroics?
Pure quality, there are moments when precision levels peaks and Messi's in that moment right now.