Benzema brace saves Real Madrid blushes against Eibar
Two goals from the French striker, who also hit the post, aided Los Blancos' comeback against Eibar in front of an empty Bernabéu.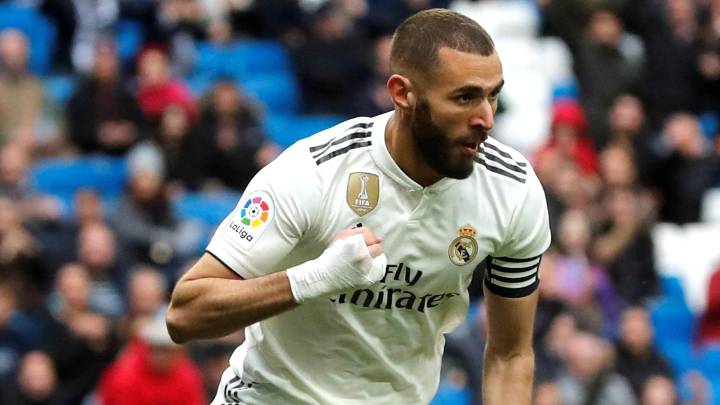 Karim Benzema said earlier in the season that he felt the responsibility to shoulder the task of leading Real Madrid into their post-Cristiano Ronaldo era and the Frenchman did just that on Saturday as he scored twice to complete a comeback against Eibar in the Bernabéu, having capped another a few days earlier against Huesca.
A sparse crowd was on hand to witness Benzema's exceptional performance – and those who did attend the game seemed to do so purely to hound Gareth Bale throughout – but the striker, who has had his share of criticism down the years while laboring in the considerable shadow or Ronaldo, rose to the occasion with aplomb.
Sporting the armband in the absences of Sergio Ramos and Marcelo, Benzema was active in both areas and made as many clearances as he had shots on goal with more than double the tally of any of his teammates.
It seemed Real were in for another chastening afternoon when Marc Cardona gave the visitors a deserved lead before the break and a cacophony of jeers greeted the half time whistle. Zinedine Zidane may not have thrown any tea cups about in the dressing room but his side came out after the break with a different mindset and gradually began to wrest control of the game from Eibar, who had schooled Santiago Solari's Real Madrid 2.0 in Ipurua earlier in the season.
Benzema was almost a lone ranger for large spells of the game with little support from Bale or Marco Asensio, but it was the Spain winger who provided the moment of genius required to pull an underperforming Madrid back into the game, showing great footwork on the right to escape the attention of three Eibar defenders and delivering a cross for the Frenchman to attack. It was no easy ask but Benzema rose above his markers to head into the roof of the net via the turf with Marko Dmitrovic caught off-guard.
Bale under the Bernabéu spotlight again
From there, Real started to exert more pressure on the visitors, whose tight defensive tactics off the ball held form until the 81st minute when substitute Toni Kroos found Benzema with a clipped ball, the Frenchman again sending an unstoppable header past Dmitrovic.
Benzema's desire for a hat-trick and his teammates' determination to hand him one dominate the final stages as Eibar's belief sapped, the number nine whacking a post with a curling effort and missing a sitter after being teed up by another substitute, Lucas Vázquez.
Real's overall performance will do little to dispel rumours of a cull this summer and Bale in particular was a millstone around the collective neck as he endured a miserable 76 minutes. Benzema, though, ensured he will be one player still knocking about under Zidane next season with a captain's performance when the majority around him were flailing.
Real Madrid - Eibar: as it happened
90'+4'   Oliveira is across quickly to deny Valverde a clean run through on goal. Eibar have gone to pieces slightly since conceding the second. 
90'+3'   Benzema! The Frenchman rattles the woodwork with a glorious curling effort! He just hasn't had any luck in the last few minutes but he's had an excellent game overall. 
90'+2'   Corner for Madrid as Odriozola's cross is cut out....
90'+1'   Brahim gets an early taste of the ball and tries to combine with Benzema but Sergio thwarts his intention. 
90'   Five minutes added, for reasons only the officials can know. There haven't been many stoppages in the half. 
90' Final change as Isco goes off to make way for Brahim Díaz. 
88'   Benzema denied again as Eibar cut out a decent ball to the Frenchman's feet. The captain's teammates are trying their best to hand him a hat-trick here. 
87'   Goodness! Benzema can only laugh as an absolute sitter lands at his feet following a howler from Dmitrovic. Vázquez tees the Frenchman up but he spoons an effot over the bar with the keeper nowhere near. 
86'   Dmitrovic! What a save! Benzema is played clean through by Vázquez and tries to lift the ball over the Serbian for his hat-trick but Dmitrovic stands tall and makes an excellent stop to keep his side in the game. 
85'   Asensio cuts inside and dances past a couple of challenges but his range finder is off today and he troubles some fans in the lower tier without bothering Dmitrovic. 
84' Cucurella heads off to make way for Eibar's top scorer, Charles, as Mendilibar rolls the dice. 
83'   Corner to Eibar.... Benzema, who has really led the side with the armband on this afternoon in the absence of Ramos and Marcelo, is under it to clear. 
83'   That's six in five games for Benzema and his 29th brace for Real Madrid. 
81'   It's a carbon copy of the first as Kroos crosses for the Frenchman to nod home. It's an excellent header from Benzema, who is perhaps a little underrated in that particular facet. Real take the lead 2-1! 
81'   Gooooooooooooooooool! Benzema! 
80'   Valverde breaks from the back and finds support in Asensio but Eibar, yet again, retreat in numbers to block the attack. Real win a corner though, only their second of the game. 
78'   Benzema does not look best pleased as Vázquez plays a dreadful ball straight into the gloves of Dmitrovic with the Frenchman ready to run onto it. 
77'   Orellana and Cucurella get their wires crossed and Real have a goal kick. The visitors are straight back on the front foot though as Real struggle yet again to play the ball out. 
76' Changes for Real, Modric and Bale off, Kroos and Lucas Vázquez on. 
75'   Free kick to Madrid as Jordán clatters into Isco. It's taken short and Benzema steals into the area but Eibar close ranks as he looks to find Bale on the far side. 
73'   Navas deals with a cross well with Enrich lurking and launches a quick counter but Eibar again drop back in perfect order to smother the danger. Asensio, who has livened up after the break, plays Odriozola in and the cross is good but Eibar clear. 
72'   Not sure if the wind howling around the Bernabéu is to blame but Dmitrovic will claim it was as he belts a goal kick straight out for a throw. 
71' Reguilón goes in the book for a shoulder barge on Peña. 
70'   Odriozola, who has been one of Real's better performers this afternoon, almost cuts a way through but Sergio makes a fine challenge. Rubén Peña, who is the last available defender Mendilibar has, comes on for the visitors. 
69'   Uffff, Bale fails to read an excellent ball from Isco that could have played he and Benzema through as it hits his heel and pings off to safety from Eibar's point of view. 
68'   Sergi Enrich is unamused as he's picked up for a foul on Modric. He claims he was shoved into the Croatian by Nacho, which is not entirely without merit. 
66'   Sergio cuts out a very dangerous Modric ball from the right, which was going straight to the source of Real's equaliser, the bonce of Karim Benzema. 
64'   Eibar let a decent looking move break down as goal scorer Cardona hits a pass straight out for a goal kick. 
63'   And then Benzema partially undoes his good work by playing a loose pass out on the right. Hail is pelting down in the Bernabéu now, it's all rather biblical... 
61'   Free kick to Eibar, and Benzema shows his value to the side at the other end with a headed clearance. 
60'   Bale bursts down the left and hits a decent cross but it's too high for Isco. Asensio picks up the loose ball and hammers it into the stands. 
That's 25 across all competition for Benzema now this season. 
58'   Great work from Asensio who jinks around on the right and plays a glorious ball to the far post. Benzema is left unattended and rises to plant a header into the floor and then the top corner. Dmitrovic didn't have a chance there. 1-1 in the Bernabéu! 
58'   Goooooooooooooooooool! Benzema! Real level! 
57'   Isco twists and turns and feeds Odriozola, who finds Modric. The Croatian plays a ball across the face of goal but there's nobody on the far side to meet it. 
55'   And the decision stands! Offside. No goal. That's two goals disallowed for Benzema now. 
54'   Goooooo... no, it's been ruled out! Benzema was played in over the top by Bale and a mix-up bewteen Dmitrovic and Sergio falls kindly for the Frenchman, who strokes home. It's gone to VAR.... 
52' There'll be a change for Eibar here as Ivan Ramis heads off clutching his hamstring. Fabián Orellana comes on to replace him. 
50'   Eibar don't make any headway from the corner flag though and Real survive. Eibar come again though through De Blasis and it takes another last-gasp clearance to deny the visitors, who are thoroughly outplaying the European champions overall this afternoon. 
48'   Real have come out with a bit more bite in the second half and Eibar are bing pinned back early on. The visitors break though as Dmitrovic whacks a ball the length of the pitch and it takes a fantastic last-ditch tackle from Odriozola to save the day! 
47'   It's Modric instead, who plays a one-two and has a pop from distance but it's bread and butter for Dmitrovic. It's a shot on target though, finally. 
46'   An early free kick for Real as Isco is downed. This is within Bale range... 
46'   And we're back underway! There don't appear to be any changes on either side. 
Will Zidane ring the changes at half time? His Plan A is definitely not working and Eibar are 45 minutes away from a first-ever victory at the Bernabéu, having scored their first-ever victory over Madrid just four months ago. 
Real managed three shots in the first half to Eibar's one with possession almost evenly split. The visitors had the only shot on target though and was enough to give them the lead. 
45' Bale attempts to replicate his Champions League final goal and pelts the ball into orbit, to howls of derision from the stands. It has not been his afternoon.  And that's the half! Real trudge off to the loudest chorus of boos the home fans can muster and there's plenty for Zidane to ponder at half time. 
44'   Modric this time  - that's Luka Modric, the Ballon d'Or holder - plays a pass to nobody. Oh dear. 
43'   Benzema and Odriozola try to make something happen on the right but Eibar are so well organised that it's played back to Isco in midfield. It's like the EU versus Brexit out there only Real won't get an extension at the end of the 90. 
41'   Eibar hoist one over the top again and Varane is there to meet it. Yo uwonder how bad this could be if it weren't for the Frenchman's aerial prowess. 
39'   How will Real react to that? Mendilibar said part of his pre-game work was to ensure his side did not drop their shoulders if they went behind. Can Zidane expect the same from his disgruntled assembly of stars? 
37'   Escalante plays a beautiful ball that takes out the entire defence and Cardona is there at the far post to chip it over Navas. That is deserved and the crowd, such as it is, are vering on mutinous. Welcome home, Zizou. 
37' Gooooooooooooooooool! And there it is, it's been coming. Eibar are ahead! 
36'   Still scrappy, still barely a clear chance for either side but Eibar are still just about on top. Real have been atrocious in the opening half, hardly able to string two passes together and shaky at the back. 
34'   Real give the ball away again - we've lost track of how many that it now - to hand the iniative to Eibar. 
33'   Nacho mops up as Eibar try to play it through the lines. Real are struggling to get a foothold in the game and Eibar look the more likely to open the scoring so far. 
31' Varane this time with a howler, passing the ball straight to Escalante, whose first time pass is intended to release Enrich. The striker wasn't expecting it though and the Frenchman's blushes are spared. 
30' Varane is under it and Cote decides to eithe rhave a go from distance or just to belt it away to prevent a break. In any case, it's into the top tier and Navas gets a chance to get his boot on the ball. 
30'   Corner to Eibar.... 
29'   Bale again, with a pass straight out into touch this time. He's really having a bit of a schocker so far. 
28'   Bale draws a chorus of jeers as he cuts inside to shoot and drags a tame effort well wide. 
27'   Real with the ball under their control again now but Eibar are one of the better sides in the division at switching their shape from attacking to defensive in a heartbeat and there's no way through for the hosts at the moment. 
24'   A good spell from Eibar here as Cote twists and turns after a decent run and gets the better of Bale, who dropped back to help out in defence. Enrich's shot is blocked and Eibar win a corner but it's cleared. The visitors are starting to settle now and have Real on the back foot at the moment. 
22'   Asensio wins another free kick as he tries to play his way out of a three-man press with a nice little touch, which results in the Spain international being immediately floored. 
20' First yellow of the game for Paulo Oliveira as the Eibar man floors Asensio with an intentional block with the Real man threatening to play himself through on the left. 
18'   Varane is doing his best to hold the Real back line together but there are plenty of spaces opening up every time Eibar come forward. Real try route one again, Benzema sending Bale after a low ball through Eibar's high line of defence but it's too much for the Welshman to feasibly catch and he gives up the chase. 
17'   Eibar sow panic in the Real back line with a ball into the area but the home side manage to hack it clear before a purple shirt can get a telling boot on it. Decent chance for the visitors. 
16'   Eibar boss Mendilibar has sent out a couple of players to warm up... 
15'   It's end to end stuff at the moment and pretty scrappy, neither side really able to hold on to the ball for a sustained period of find a telling pass over the top or through the lines, other than that doozy from Isco earlier on. 
13'   Escalante has limped off for Eibar, who are temporarily down to 10. Looks like he might have twisted his ankle. We'll have to see whether that elicits any movement from the Eibar bench. 
12'   Real win a free and it's taken quickly to release Benzema but the Frenchman's touch lets him down and the chance goes begging. Isco lofts a ball over the top for Bale to chase but the Welshman is, by his reckoning, checked in his run. Nothing given by the ref though. 
10'   Close! Cardona almost gets on the end of a fizzing cross from Cucurella, who got in behind the defence there. Varane was a little slow to react to the danger and Navas would have been handed a hard task had the Eibar man made contact. 
8'   Benzema! The Frenchman has the ball in the net with a glorious little flick but the lino's flag is up again, eliciting some shoulder-shrugging from the forward. 
7'   Cucurella, the on-loan Barcelona winger, was a constant thorn in Real's right flank in the reverse fixture and he bursts down the left to give Odriozola an early spot of bother but overruns the ball and it's out for a goal kick. 
6'   Bale! The Wales forward belts forward and draws a fine save from Dmitrovic, who read that well. The flag was fluttering anyway but inevitably the jeers pour down from the stands onto the number 11. It was a lovely ball from Isco to put him through. 
5'   And indeed it's hit towards the far post but there a bit of a breakdown in comms there with no Eibar players making that run. 
4'   Eibar seeing a fair bit of the ball in the early exchanges and the visitors win a free kick about 40 yards out. This will be going into the mixer.... 
3' It seems as though Pedro León hasn't made the line-up after all... he pulled up during the warm-up and has been replaced by Marc Cardona, with Mendilibar switching to a 4-1-4-1 as a result. 
2' It looks as though Eibar are going to try and replicate the high press they utilised in Ipurua earlier in the season, they've come out of the blocks like banshees. 
1' Here we go! Real get us underway. 
The teams are out on the pitch and we're about to get underway... 
Just five minutes away from kick-off in the Bernabéu. Real with plenty to do to win over what will in all likelihood be a sparse crowd this afternoon. 
Meanwhile, Pedro León returns to the Bernabeu this afternoon after coming back from a lengthy foot injury and he'll be keen to prove a point against his old club. 
A rare start for Fede Valverde this afternoon, will be interesting to see how the Uruguay international handles the physical side of Eibar's game. 
For Eibar fans, here's the report from that 3-0 victory, which set the tone for a solid season on home turf. Away it's been a different story - just the one win on the road for José Luis Mendilibar's side - but against a Madrid side in this mood, anything is possible. 
Eibar are practically safe for another season and may fancy a crack at Madrid this afternoon having turned over Santiago Solari's interim version back in November in Ipurua, while for Zinedine Zidane there is little to do but grin and bear it until the summer after Valencia ended even the remotest chance of catching Barcelona this season. 
  Hello and welcome to AS English's live coverage of the LaLiga game between Real Madrid and Eibar from the Santiago Bernabéu.