Barcelona close in on LaLiga title as Suárez, Messi secure win
Late Luis Suárez and Lionel Messi goals sent Barça 11 points clear of Atlético, who played with 10 men for an hour after Diego Costa's red card.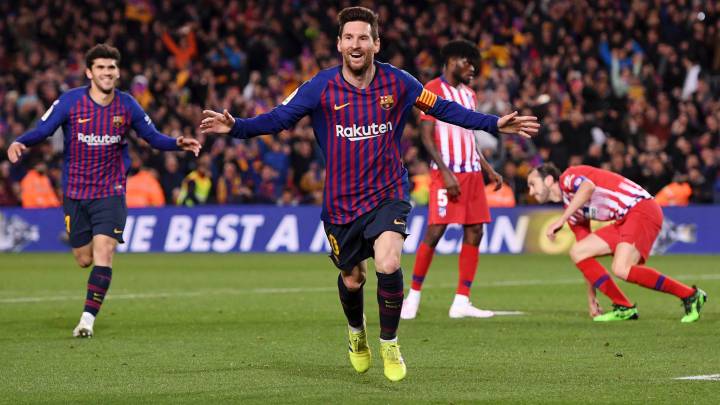 Barcelona 2-0 Atlético Madrid: as it happened
92'   Peeep peeep peeeeeeep! What was that headline after David Beckham got sent off in England's World Cup defeat to Argentina? "10 brave lions, one stupid boy", I think it was. Well, that could also describe Atlético Madrid and Diego Costa tonight. A man down for just over an hour at the Camp Nou, Los Rojiblancos produced a laudable display to push Barça all the way, but were finally undone by Luis Suárez and Lionel Messi's late goals. With seven games to go, the hosts move 11 points clear of Atlético at the top of LaLiga, and only an astonishing turnaround can deny them a second straight Spanish title now. Thanks for reading!
90'   Two minutes of time added on at the Camp Nou.
Barring an unbelievable Atlético comeback in the final few minutes, Barcelona are heading 11 points clear at the top and, though they won't yet mathematically be assured of first place, the championship will be all but theirs.
87'   2-0 to Barcelona! Messi leads a Blaugrana break down the right and, after initially having his progress towards goal blocked in the box, he collects the loose ball and finishes coolly into the near post! There's a brief wait while VAR checks to see whether the Argentine was offside in the build-up, but he wasn't.
86' Barcelona brought Nelson Semedo on for Sergi Roberto just before the goal, by the way.
Goooal! Suárez curls in a wonderful strike that beats Oblak's dive, kisses the right-hand post and bounces into the net! 1-0 to Barcelona!
83'   Messi picks the ball up and shoots once more, but a deflection takes the sting out of the effort and Oblak gathers with relative comfort.
81'   Ufff. Atlético aren't a million miles away from the goal they need there, as Saúl crosses low to Morata and the striker's attempted flick from six yards is cut out by Lenglet. 
80' Barcelona make another change, replacing Coutinho with Carles Aleñá.
79'   Coutinho gives it to Suárez and advances into the box to collect the return, but it's cut out. Roberto then hangs a cross towards the back post, but again Atlético deal with it. It's been a fine defensive performance from the away side, although even if they do manage to keep Barça out, they still need to find a goal if they're to keep this title race alive.
76'   Messi tries to play a one-two-three-four with Alba from a free-kick, but Atlético win it back and when Thomas breaks, Lenglet earns himself a yellow card by hauling the Ghanaian down. From the resulting set piece, Giménez heads well wide.
Piqué was booked for his protests in the wake of that free-kick decision, by the way.
72'   Griezmann cleverly wins a free-kick off Roberto just inside the Atlético half, before Morata draws one off Piqué - and it's in a good crossing position on the left. Griezmann swings it over... and Rodri heads off target! That was a real chance for the smash and grab; he had Giménez arriving in a better position behind him, as well.
70' Saúl gets a richly deserved yellow card for a poor challenge on Busquets.
68'   Double save from Oblak! First, he denies Messi once more, before getting back up to stop Malcom from scoring from the loose ball. The first save in particular was a fine stop. 
66' Malcom came on for Arthur a couple of minutes ago, I neglected to inform you.
65'   Piqué gives away a dangerous free-kick on the left-hand corner of the Barcelona box. He's not happy about the decision. Griezmann stand over it, but fires a cross-cum-shot straight at Ter Stegen.
63'   Again Messi runs and strikes on goal from his age-old shooting position, and again Oblak saves (after briefly threatening to drop the ball, admittedly). Messi has stepped it up a notch over the past 10 minutes or so, though.
62'   Suárez should score! Messi once more runs menacingly at a backpedalling Atlético defence, before feeding the ball to the Uruguayan, who has peeled off to the left and into shooting space. He fluffs it, though; Oblak saves, and it looked like it was going wide anyway. "Suárez isn't on his game tonight," tut-tuts Michael Robinson on Spanish television.
60'   Messi again drifts past a cluster of red and white shirts and into space to strike, but his shot is slightly mishit and bounces off a couple of Atlético legs and into Oblak's arms.
59'   Morata immediately gets into the action, Thomas whipping over a low cross that is just behind the striker and forces him to attempt a not unambitious scorpion kick-style effort. He doesn't manage it.
58' Atlético make a second change, former Real Madrid man Álvaro Morata coming on to boos from the home supporters, and Filipe Luis making way for him.
55'   Messi goes peak-Messi all over Koke, springing away from the midfielder with a lovely first touch and advancing into his favourite shooting position (you know the one: drifing from right to left, just on the edge of the 'D'). However, he then surprises us all by flopping a weak strike into Oblak's arms.
51'   Barça pop it about nicely and open up a shooting chance for Busquets, who proves he is precisely the wrong man for the opportunity to fall to by thrashing a wild effort well off target.
49'   Atleti enjoy a brief period of possession, but before the hosts win it back and enjoy a rather longer one. However, Los Rojiblancos then momentarily get Saúl striding forward and, if he beats Piqué, he's in on Ter Stegen. That's a big 'if', though, and Piqué shuts the midfielder down expertly when he tries to burst by him. Good defending. 
48'   That early Atlético attack aside, it's been all Barça ball. Messi tries to dink Alba into space behind the visiting backline, but Thomas hooks it clear.
46'   Atlético immediately win a free-kick, which Roberto scrambles behind for a corner, which comes to nought. No changes at half time for either side, by the way.
Back out come the sides, and we're underway once more.
Here's more on that red card for Diego Costa. Diego Simeone could be seen waiting to seek an explanation from referee Jesús Gil as the sides trooped off at half time, and initial reports suggest that the striker said"la puta made que te parió" to him, a somewhat foul-mouthed exclamation of annoyance which literally translates as "the bitch mother that gave birth to you".
Peep peep peeep! It's goalless at half time at the Camp Nou, but Diego Costa's red card means Atlético face an uphill battle in the second half.
48'   Again Coutinho goes close, although this time Oblak's save doesn't need to be quite as heroic as before. There is a brief glimmer of an opening for Correa in the opposite penalty box, but when Barça win it back they charge up the other end. Messi's cross finds Coutinho's head at the back post; however, he sends a bouncing effort across goal that Oblak grabs hold of without too much fuss.
46'   Three minutes of time added on at the end of the first half.
45'   Back come Barcelona. Rakitic winds up a shot from distance, but it's blocked, before the home side win it straight back. When Atlético do reclaim possession and try to launch a break, Barça's man advantage is painfully evident.
43'   Rakitic's first-time touch-off to Messi gives the Argentine a chance to shoot from the edge of the box, but his low strike is straight at Oblak.
41'   Suárez looks to slip the Brazilian into space on the left-hand side of the box, but overcooks his pass and it's behind for an Atlético goal-kick. Seriously, what an act of idiocy from Costa; Atlético were growing into the evening nicely.
40'   "Coutinho looks a lot sharper tonight," notes Movistar+ commentator Carlos Martínez. He's come closest to putting Barcelona ahead; but for Oblak's brilliance between the sticks, he would have.
37'   Uffff, Godín; you are a lucky, lucky man. The Uruguayan wafts a lazy, underhit backpass into Oblak's general direction, and Suárez is onto it first. If he can find Messi with his cutback, it's 1-0. Thankfully for Godín and Atlético, though, he doesn't.
34'   Atlético make a change, bringing Correa on for Arias, with Thomas dropping from midfield to right-back. It's not clear whether Arias had a knock, or whether it's a Simeone tweak motivated by being down to 10 men.
33'   Rodri is down and in need of treatment, but looks like he'll be OK. 
28' There was also a yellow card for Giménez in the aftermath of that sending-off, presumably for some sort of complaint.
  Costa appears to say something out of turn to the referee, who has no hesitation in whipping out a straight red for the Spain international. We'll have to see what Señor Gil puts in his report. What a shame for this game as a footballing spectacle. And if, as it appears, he did overstep the mark, what lunacy from Costa.
28' Red card for Diego Costa!
27'   What a save from Oblak! Coutinho scuttles between the Atlético centre-backs and into the box, but his low show towards the corner is beaten out by the Atlético goalkeeper! Marvellous keeping from the Slovenian.
26' Thomas is the first man to go into the referee's notebook.
21'   Just as I sound such notes of optimism for Atlético, Messi wins a free-kick in prime Messi territory... but, unlike Villarreal and Espanyol before them, Los Rojiblancos can breathe a sigh of relief as the Argentine slaps his strike over the crossbar.
20'   Griezmann bursts into a shooting position similar to Suárez's, but trundles his effort right down Ter Stegen's gullet. It's become a more even affair, though; Atlético, and Griezmann, are growing into it.
19'   Up Barça go to the other end, but when Suárez is found in shooting territory on the right-hand side of the penalty box, he sclaffs his effort high, wide and handsome. 
17'   There's an opening for Atlético... but when the ball comes to Arias at the back of the box, the Colombian takes too long to get his shot away and sees his strike blocked. Shortly afterwards, Los Rojiblancos get Thomas into a promising position inside the area, but the midfielder can't sort his feet out quickly enough. After a first 15 that's been all Barça, it's been a better couple of minutes for the visitors.
14'   Barça hit the woodwork! Messi plays a peak Messi-to-Alba ball to Alba, who controls, advances on the onrushing Oblak and beats the Atlético keeper... but is denied by the post! Moments earlier, Messi had dinked a neat little ball onto the right boot of Suárez at the back post, but the Uruguyan's touch let him down and it ran out for a goal-kick.
10'   Coutinho's shot from range is deflected behind for a corner, which the Brazilian will take. It's played short and finally worked over to the opposite flank, from where Suárez slices his cross wide.
9'   Atlético finally put together a move of any substance, Filipe Luis swinging over a cross that Costa heads well over.
7'   Lenglet is down in a heap after Costa leaps to cut out a ball out from the back and appears to accidentally-on-purpose waft a flailing arm at the Frenchman as he does so. No action taken by referee Jesús Gil or by VAR, though. 
5'   It's been all Barcelona so far. Suárez barrels at the Atlético defence but is run out of it, before Rakitic almost slips the Uruguayan into shooting space on the edge of the box. Griezmann takes his first touch and gets a smattering of whistles, but not more than that.
  It'll be interesting to hear the reception for Antoine Griezmann when he finally gets a proper touch of the ball. He's rumoured to be keen to move to Barcelona in the summer, a season after rejecting the Blaugrana in his infamous 'The Decision' documentary. However, fan polls carried out in Sport and Mundo Deportivo have yielded results of 91% and 92%, respectively, against signing the 28-year-old, and the home crowd are expected to whistle the forward.
1'   Barcelona come zipping forward right away, finding Jordi Alba in crossing space on the byline. However, the left-back's ball can't find a Blaugrana shirt.
Peeeep! Underway!
Out come the teams at the Camp Nou!
Having never led his Atlético to a win away to Barcelona, though, boss Diego Simeone appears to be applying an it's-got-to-happen-sometime mantra to his Camp Nou hoodoo, telling his pre-match press conference yesterday: "The fact that we've never won there [under me], that makes me feel very optimistic."
 Tonight's referee is Jesús Gil Manzano, by the way.

Anyway, getting back to the first of my big 'ifs'. Yes, Atlético can reduce the lead to five points... but that requires them to do something they haven't managed for just over 13 years: beat Barcelona in their own back yard. As we mentioned earlier, Los Rojiblancos haven't defeated the Catalans at the Camp Nou since February 2009, when Fernando Torres grabbed a brace in a 3-1 LaLiga victory.
 It's not that easy to see Barça relinquishing even a five-point lead from their seven remaining fixtures, to be honest. But, either way, it's worth bearing in mind that they drew with Atlético in the reverse fixture at the Wanda in November, so an away victory today would also give Los Colchoneros the head-to-head advantage if the sides finish level (and that's an even bigger 'if', clearly).
  If Atlético win tonight, though - and that's a big 'if' - a Barcelona advantage that was 10 points less than a week ago will have been halved to five, and, while we won't quite yet have a fully-blown, neck-and-neck title race on our hands, we will - as today's AS front page points out - a decent dose of excitement will have been injected into the run-in.

  After all, avoid defeat tonight and it's hard to see them dropping sufficient points - whether they're eight ahead or 11 ahead - in a run-in which as is follows: Huesca (a), Real Sociedad (h), Alavés (a), Levante (h), Celta Vigo (a), Getafe (h) and Eibar (a).
  Despite having a Champions League quarter-final trip to Old Trafford to contend with on Wednesday, it's as strong a Barcelona team as coach Ernesto Valverde could name, and not without reason; the leaders know that victory tonight over Atlético tonight will leave them 11 points clear their closest (and only) title rivals with seven games to go. Indeed, anything other than defeat to Los Rojiblancos will leave them with one hand on the championship trophy.
Atlético Madrid substitutes: Adán, Savic, Juanfran, Vitolo, Kalinic, Correa and Morata.
Barcelona substitutes: Cillessen, Semedo, Malcom, Murillo, Prince, Aleñá and Umtiti.
There's just the one change to the Atlético side that beat Girona on Tuesday, meanwhile, with Diego Costa partnering Antoine Griezmann up front ahead of Álvaro Morata, who drops to the bench.
  Having been left on the bench for the midweek draw with Villarreal, Gerard Piqué, Ivan Rakitic and Lionel Messi all return to the Barcelona line-up, with Samuel Umtiti, Malcom and the suspended Arturo Vidal making way.
Just over an hour to go until kick-off, and we have team news!
Of course, while much of the narrative around this game is on whether Atlético can close to within five points of Barça, they'll also be looking over their shoulder as city rivals Real Madrid could end the day just two points adrift of them.
Atlético president Enrique Cerezo is hoping for lots of goals in this evening's game and, with his side no longer in the competition, is also keen to see Messi and co. lift this season's Champions League in his own back yard.

The last time Atlético Madrid beat Barcelona in Barcelona? Back in February 2006, when two goals by future Liverpool star Fernando Torres and another by future Liverpool, er, player Maxi Rodríguez earned Los Rojiblancos a 3-1 league win over that season's eventual champions. Henrik Larsson replied for the Blaugrana, in case you were wondering.

Another statistic that is less than positive for Atlético fans is that Antoine Griezmann has never scored in Camp Nou. That he may eventually break his duck in a Barcelona shirt is another story, but for now the France striker will be hoping to add to his league tally this evening. 

As ever, we've put together a little guide as to how and where you can watch the game. 
In 14 attempts in league action, Diego Simeone has never beaten Barcelona. The Atlético manager will have to overturn that statistic today to have any chance of preventing the reigning champions from retaining their title. 
Hello and welcome to AS English's live coverage of the potentially season-ending clash between Barcelona and Atlético Madrid at Camp Nou. 
Barcelona vs Atlético Madrid: match preview
Leaders Barcelona host Atlético Madrid tonight (20:45 CEST) in a top-of-the-table LaLiga clash which will decide - if not mathematically, then at least realistically - whether we still have a title race.
The Blaugrana's advantage over second-placed Atlético was trimmed to eight points on Tuesday evening, when Los Rojiblancos' 2-0 win over Girona was followed by a thrilling 4-4 draw at Villarreal in which a below-par Barça needed two last-gasp goals to salvage a share of the spoils.
That means that an Atlético win today would see what began the week as a 10-point gap halved to a comparatively tantalising five points; however, the visitors know they'll have to end a seriously barren run at the Camp Nou if they're to make that happen.
Indeed, not only has Diego Simeone never beaten Barça on their own patch in his seven years as Atlético boss, but no coach of any description has led Los Colchoneros to victory in the Catalan capital since a 3-1 league triumph under Pepe Murcia way back in February 2006.
Ernesto Valverde left Gerard Piqué, Ivan Rakitic and Lionel Messi out of his line-up in midweek, but the Barça coach is hardly likely to hold anything back tonight, even with the small matter of a Champions League quarter-final first leg at Manchester United coming up on Wednesday.
After all, anything other than three points for Atleti will ensure the reigning champions head into a broadly user-friendly LaLiga run-in - Huesca (a), Real Sociedad (h), Alavés (a), Levante (h), Celta Vigo (a), Getafe (h) and Eibar (a) - with a cushion few would tip them to relinquish.