Diego Costa shown red card in Barcelona LaLiga clash
Less than half an hour into the big game of the weekend and the fiery striker could not control his own actions, making his side's chances all the more difficult.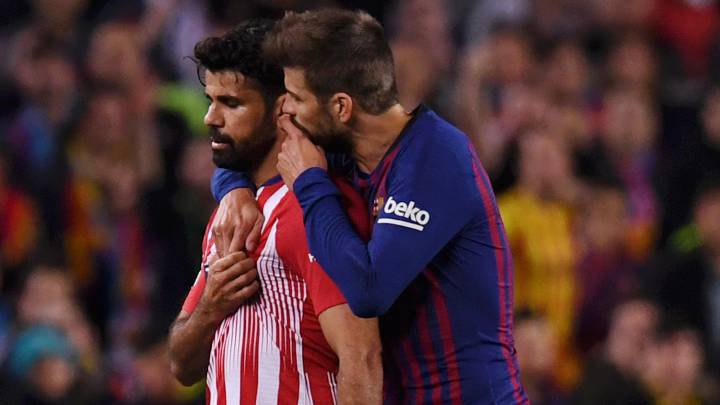 Diego Costa was shown a red card less than 30 minutes into the top-of-the-table LaLiga clash between Barcelona and Atlético Madrid. Vicious tackle, no. Dangerous elbow, no. Dirty mouth, yes.
Costa sees red at Camp Nou
Although Barça were on the front foot at that point, Jordi Alba going closest when he saw his effort come back off the left-hand post, Atlético were holding the leaders at bay. Then came a great chance for Philippe Coutinho, one that Jan Oblak did well to save, when many in the stadium were on their feet to celebrate. No sooner had that chance gone than the potentially game-changing moment occurred.

Following a seemingly innocous challenge in the middle of the park, Costa took exception to something. He shouted towards the referee some metres away, and as the official went to his pocket, the striker continued his commments. Whether or not the original thought from the ref was to only show him yellow or not, we'll possibly find out, but based on the reaction, our resident ex-referee believes that was his intention. What it did mean was that a player unable to keep his temper could have cost his side a faint chance of getting back in the title race.
Costa's tirade at the ref
Analysis from replays after the incident have some suggesting that the offensive phrase directed towards the referee was: "la puta madre que te parió" which, let's just say, is a very unpleasant insult with reference to the official's mother. Gil Manzano explained to the other senior Atlético players after the incident what their silly teammate had said.
Although the phrase above is what seems to have been initially stated on the field of play, the referees submitted report had a different version. It read:
"In minute 28 the player (19) Da Silva Costa, Diego, was sent off for the following reason: He came at me with a loud voice, saying: 'me cago en tu puta madre! me cago en tu puta madre!'
That phrase literally translates into: 'I shit on your fucking mother.'" Not the wisest thing to say to the man with the cards.
Despite going down to 10 men so early, Atlético, in part thanks to Jan Oblak in goal, held on until the final stages of the game. Late goals from Luis Suárez and Lionel Messi sealed a 2-0 victory for the hosts, a win that almost certainly clinches another LaLiga title.