Diego Costa: Piqué's words to Atlético striker after red card
Barcelona's Gerard Piqué sought to calm Diego Costa down and usher him from the field after the Atlético Madrid striker's red card at the Camp Nou.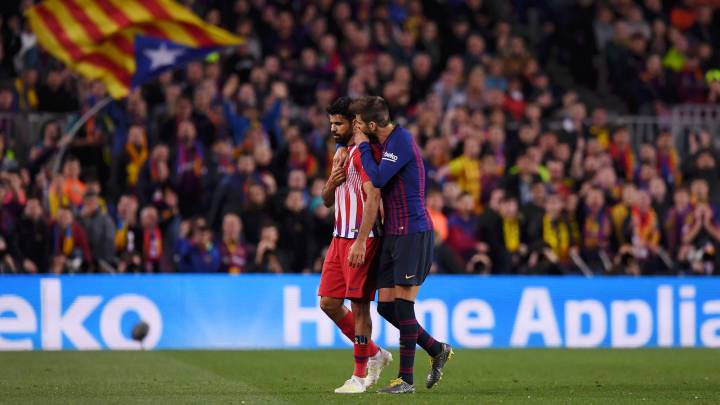 Diego Costa was sent off in the first half of Atlético Madrid's defeat to Barcelona at the Camp Nou on Saturday, as the Catalans moved 11 points clear at the top of LaLiga and left themselves within touching distance of a second straight title.
Costa dismissed for foul-mouthed outburst
According to referee Jesús Gil's match report, Costa was dismissed just before the half-hour mark for shouting "me cago en tu puta madre" at the official - a foul-mouthed Spanish insult which literally translates as "I shit on your whore mother".
"Stop talking now! What do you want, a four-match ban?"
And as Costa reacted furiously to his sending-off, it was Barça defender Gerard Piqué who sought to calm the striker down and usher him off the pitch, telling him: "Stop talking now! What do you want, a four-match ban?"
Having finally been persuaded to leave the field, Costa then watched on from the stands as late Luis Suárez and Lionel Messi goals earned the Blaugrana a 2-0 win.
Fourth red of Costa's career
The red card is the fourth of the Spain international's career.