Diego Costa facing ban of up to 12 games for insulting referee
If LaLiga decides to throw the book at the Atlético striker it could signal the end of his season after his sending off in the defeat against Barcelona.
Diego Costa's sending off in Camp Nou on Saturday night during Atlético's 2-0 defeat to Barcelona cost his side dear as the title was effectively wrapped up by the reigning champions, but the striker could also pay dearly for his moment of madness with a possible ban of between four and 12 games to be decided by the LaLiga disciplinary committee.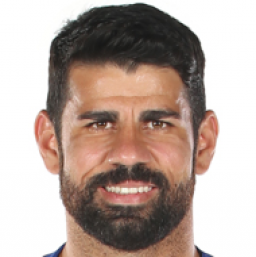 Match referee Jesús Gil Manzano stated in his report of the incident in the first half that Costa, disagreeing with a decision, shouted an insult at him repeatedly: "In minute 28 the player (19) Da Silva Costa, Diego, was sent off for the following reason: He came at me with a loud voice, saying: 'me cago en tu puta madre! me cago en tu puta madre!'"
A widely-used phrase in Spanish, the literal translation of which is "I shit on your whore mother," it could see Costa slapped with a ban of between four and 12 games under Article 94 of the Liga disciplinary code, which cites "directing insulting or offensive language at the referee, assistant referees or fourth official, except in cases where is constitutes part of a more serious offence" as being punishable to that degree.
However, if LaLiga decides to be merciful, Costa could be charged under Article 117, which prohibits "disdainful or contemptuous language" towards officials. If Costa is found to have been in breach of this rule and not the more serious Article 94, his ban will be two or three games.
Costa also faces another potential sanction for "grabbing" the referee after his tirade, which also carried a punishment of between four and 12 games if the Liga committee decides to pursue it. In his report, Gil Manzano stated that Costa grabed his arm on several occasions to prevent him showing a yellow card to "his teammates with the short numbers 24[José Giménez] and 2 [Diego Godín], respectively."
Atlético claim grammatical misunderstanding
Meanwhile, Atlético will seek to appeal on the grounds that Costa did not shout "me cago en tu puta madre" at all, but the rather more industrial-strength "la puta madre que te parió," which was reported by some observers to have been what the striker actually said. But according to Atlético's planned line of defence, Costa did not use the second-person singular "te" but the first-person "me," which grammatically changes the target of the insult to the speaker himself, and tonally makes it considerably less offensive, along the lines of: "Goodness me ref, I couldn't disagree more."
After the game, footage was pored over and seems to back up Costa's claim that he said "me" and that much of the subsequent discussion after Gil Manzano had shown him the red card was the player protesting his innocence to that effect.