Real Madrid's Fede Valverde: "Ancelotti watching is an honour"
The Uruguay international has worked his way into the Real Madrid first team and is attracting the interest of the Napoli manager.
Fede Valverde's ascent to the Real Madrid team and his performances this season have been one of few bright points in a disappointing campaign and it has not gone unnoticed outside of LaLiga by a former Bernabéu manager.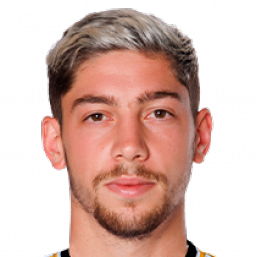 Carlo Ancelotti is reportedly interested in the 20-year-old Uruguay international and the Serie A side have made initial contact with Valverde's representatives. "Someone from Napoli got in touch with my colleague; we know they are admirers but there's nothing else in it," Edgardo Lasalvia told Radio Kiss Kiss Napoli."
After starting in the 2-1 victory over Eibar at the weekend, Valverde spoke to Corriere dello Sport-Stadio in the mixed zone and was asked about his reaction to the news that Ancelotti was interested in taking him to Napoli: "It's an honour," Valverde replaied. "It's very nice that a coach of such class and experience like [Ancelotti] is interested in me, but now I'm a Real Madrid player and will give everything for this team."
ZIdane looking for youthful midfield next season
According to Corriere, if Ancelotti intends to make his interest in Valverde concrete the asking price will be around 20 million euros, but Napoli would face opposition from Zinedine Zidane, who is keen to rejuvenate his midfield. Valverde would probably be assured more playing time in Naples but will also feel after this breakthrough season that he can command a more regular place at the Bernabéu next year.
The midfielder has racked up over 800 minutes across 21 appearances in 2018-19 but has yet to open his goal-scoring account for Real Madrid.