Real Madrid: Odegaard will decide future this summer
The Norway midfielder has been in good form for Vitesse and scored a fine goal against PSV. Ajax are exploring the possibility of signing the 20-year-old.
Real Madrid have two fronts to contend with this summer: firstly, a potential record-breaking splash in the transfer market and secondly just what to do with the raft of players on the books at the Bernabéu but currently on loan elsewhere.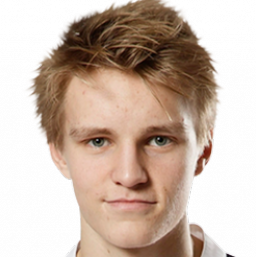 Of those, Martin Odegaard is one whose future remains completely up in the air. If some, such as Mateo Kovacic, have little chance of being called back by Zinedine Zidane, others like Raúl de Tomás are doing their chances no harm at all right under the Frenchman's nose.
Odegaard, on the other hand, has been quietly going about his business in the Eredivisie and popping up with the occasional piece of skill to draw comparisons with the man who was, and may soon again be, his manager at Real Madrid. But the 20-year-old, who didn't find a place at the Bernabéu under the Frenchman last time around, also has other options, most notably Ajax, who are widely reported to be considering a bid in the summer.
Odegaard coy on Real Madrid amid Ajax interest 
Odegaard is under contract at the Bernabéu until 2021 and said he had not made any decision about his future after scoring a fine goal against PSV in Vitesse's 3-3 draw at the weekend. "I have to talk to Real Madrid and we'll make a decision together."
Ajax are going to be in a buying position this summer with Frenkie de Jong already signing for Barça and Matthijs de Ligt expected to follow. Sporting director Marc Overmars can expect to have well over 100 million to spend and Odegaard could represent a bargain.
The midfielder will have another chance to impress Zidane when Real go on their pre-season jaunt to the USA for a series of friendlies against Bayern, Arsenal and Atlético. After that, player and club will sit down and decide where Odegaard's immediate future lies.