CHAMPIONS LEAGUE
Liverpool have one foot in semi-final after victory over Porto
First half goals from Naby Keita and Roberto Firmino sealed victory for Jurgen Klopp's side as they travel to Portugal next week for the second leg.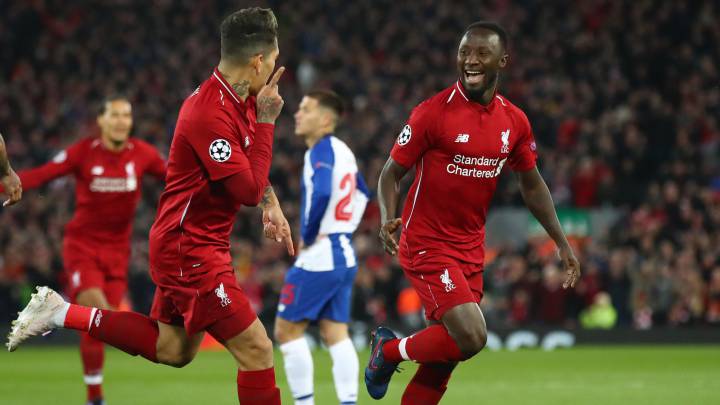 Liverpool 2-0 Porto: match report
Liverpool took care of business in the first leg of their Champions League quarter-final against Porto much like they did last year against the same side in the last 16. With a blistering start and the kind of energy Jurgen Klopp's side have trademarked as their own.
Klopp was forced to rotate his defence with Joel Matip, who was replaced by Dejan Lovren, carrying a slight knock into the game. Fabinho and Naby Keita continued in midfield after starting together against Southampton and they didn't disappoint.
Keita had the home side ahead after five minutes when Firmino played it to him from just inside the penalty area's left-hand side and his deflected effort flat-footed Iker Casillas.
The memories of last season's 5-0 in the last 16 were flooding back to Porto on 26 minutes when Trent Alexander-Arnold squared to Firmino, who tapped home from point-blank range.
Liverpool looked like they could score at will and while Porto were keeping their hosts on their toes with a potent counter-attack, they failed in the final third time and again. That was due to Liverpool's sturdiness in defence and a lack of composure when those rare chances did fall their way.
In the second half, we saw a more proactive Porto side and a slightly more cautious Liverpool one. But that didn't prevent Klopp's men creating chances. They kept Porto at arm's length and were more picky when pushing men forward as they elected to prioritise a clean sheet rather than searching for more goals.
Sadio Mane scored but it was ruled out for offside and Salah had two efforts that would have at least troubled Casillas blocked by his own teammates.
Felipe wanted a penalty when a cross came in from the right and Alexander-Arnold held him off the ball. He chased Mateu Lahoz but there was no reward as the referee had made up his mind. That came after Lovren caught the ball with his shoulder and we needed VAR to decide if it should be a penalty. It decided against awarding the spot kick too.
Despite those couple of chances, Liverpool largely bossed affairs and will need to keep their house in order and little more to make their fifth semi-final since 2004-05.
Liverpool vs Porto live online: match updates
90'+3' FULL-TIME!
90'+3'   Fabinho pulled down and Liverpool won't be in much of a hurry here.
90'+3'   That should do it now. One last chance for Porto but Liverpool comfortable at the back recently.
90'+2'   Keita with a lovely run into the box. He almost gets pulled down as Porto scramble to keep up with him. They block his low cross.
90'+1'   Origi with a cross and that's over everyone.
85'   It was Danilo he went in on. Very lucky.
82'   How is that not a red card? Salah goes in on Militao and he catches him high and in the shin with his studs. He is really, really lucky.
82'   Felipe wants a penalty as the ball is crossed in and he falls under a challenge from Alexander Arnold. He wants a penalty as he chases the referee up the field. 
82' Firmino off for Sturridge.
80'   Marega gets another effort and this one isn't going out for a goal kick because it just drifts across the line.
80'   Van Dijk whips one in and it bounces awkwardly up into Casillas' chest and he gathers eventually.
77'   Marega with the strike now and it's out for a goal kick.
76' Last change for Porto. Pereira is going off for Fernando.
74'   Liverpool seem happier to see this game out now than before. They have stopped attacking wholesale like they usually do and are not passing around trying to pick their attacks. Porto have no answer either. 
71' Bruno Costa replaces Oliver Torres.
71' Mane goes off to a massive round of applause. He is replaced by Origi. Attacking change for Klopp.
70'   Mane with an effort as he curls it high and wide. Looked really close too with Casillas only able to look at it drifting wide.
69'   Marega, who has been quite good for Porto, strikes and Alisson saves. Tough angle to score from and he can't beat the keeper.
68'   Milner crosses with a floater. Casillas out and gets under it with Mane lurking around it as it lands too. No dice for Liverpool.
68'   Oliver tries to thread one through the middle but Van Dijk is standing there and clears. Porto running out of options now as Liverpool stand firm. 
66'   Another call for VAR as Lovren handles the ball, by mistake as it turns out, from a corner. Lovely fairly dodgy. 
64'   He strikes again and this time Henderson catches the shot with a trailing foot. Goal kick.
63'   Salah with a lovely move and cut inside and he strikes. Firmino catches it on the back though. That might have been going in as it curled towards goal. 
61' Tiquinho off for Brahimi. First change of the game.
61' Porto just trying to stem the tide here. Really hard to do with Liverpool's movement. They win a corner now as Felipe is booked too for a foul in the build-up.
59'   Liverpool dominating possession now.
59'   Fabinho wins the ball back masterfully as Porto thought about a counter. 
56'   Lovren is pushed in the back by Tiquinho as he tries to play it back to Alisson and that's a free.
54'   Tiquinho with the cross and it's out by Lovren for another throw. Porto continue to look dangerous.
52'  Ball whipped across to Milner but he can't reahc it before it's out for a goalkick.
52'   That's before Liverpool counter and Salah strikes. Saved by Casillas without too much fuss.
52'   Porto looking really lively. 
52'   Cross comes in and it's put out again by Alexander Arnold. That was so, so close. 
52'   Danger from Porto down the right. Lovely move by Otavio and he cross. Van Dijk puts it out and it's crossed in again. Headed out by Alexander Arnold.
51'   Marega lurking behind Van Dijk and Alisson and his central defender collide. What were they doing? Van Dijk puts it out for a throw.
49'   VAR having a quick look. OFFSIDE it is! 
48'   GOAL! But it's offside. Mane finishes. It was a nice cross and lovely finish but he was just about a half a yard off. 
48'   Great cross from Alexander Arnold and Porto head it away. Liverpool keep attacking though. They continue to look dangerous.
47'   Porto on the ball to start this but the ball over the top needed to be higher as Van Dijk cuts it out. 
45'   We are back underway at Anfield. Do Porto have any fight left in them?
45'+1'   HALF-TIME at Anfield! The Reds lead 2-0.
45'+1'   Liverpool happy to finish this one off by throwing it around the middle.
45'+1'   One minute of added time at the end of the first half.
44'   Fabinho slides in on Marega. He gets the ball but he slipped into the challenge and that's a free. 
41'   Throw for Liverpool.
41'   Another ball down the middle and Mane can't reach it. Casillas gathers.
39'   Corner is sent in and it is glanced away. Follow-up is caught by Alisson.
37'  Marega hits the ground as this game opens up. He took the ball down in the penalty area and Lovren recovered and kicked it out of play.
37'   Free for Porto on the right and they have a chance now to whip it in.
35'   Salah bundles over Felipe as he drives forward into the penalty area.
33'   Another chance for Liverpool. Henderson with a lovely cross this time and it's half-volleyed wide by Firmino.
32'   CORNER! Mateu Lahoz decides not to give the penalty. 
31'   Alisson flicks the resulting cross off Alexander Arnold's hand and out for a corner. We could have another penalty?
30'   What a save. Marega with the strikes and Alisson saves with his feet. 
28'   Porto were 2-0 down in the game last year too before a half an hour had been played.
26'   Liverpool look like scoring every time they attack.
26' GOAL! Firmino just taps it home. 2-0. Trent Alexander Arnold with the squared pass to him. Simple as that.
26'   Mane fouled, it looked like, but referee doesn't give it. Liverpool keep it and they attack again.
26'   Porto sitting back now and soaking up pressure in an effort to catch Liverpool on the break. 
24'   Fabinho plays back to Alisson and that calms things down for a second before Liverpool set off with another attack. Salah to Henderson and he wins a throw.
24'   Another really dangerous ball crossed in by Firmino and it's cleared by Porto. Liverpool look like scoring every time they attack.
23'   Liverpool with six efforts on goal so far! Porto have had two.
21'   Salah misses! What a chance. Mistake by Porto as it's played back to Felipe and it's too far out of his reach. Salah with a one-on-one and he slices just wide. That was a great chance!
21'   Tiquinho with the cross and Milner drives it clear.
21'   Keita whips it out to Milner and he plays it back. Liverpool work it up the field but they lose it in the end and Porto counter. 
20'   Porto certainly battling back into this one and Liverpool not having it all their own way. 
18'   Salah shoots from outside the box on the volley. Lovely effort but Casillas traps it at the second time of asking.
18'   Soares gets himself a yellow card for dissent. 
17'   Marega again looking dangerous. He wants a corner but it's not coming. 
15'   Marega breaks and drives forward. Otavia loses the ball to Salah though as he gets back to defend. What a battle that is as the Egyptian eventually wins the free. Impressive from the attacker.
14'   Otavio feels Mateu Lahoz' wrath! He handled the ball and the referee gave a free but he says he didn't. The pair have words but the man with the whistles wins the argument, as he so often does.
13'   Porto playing with fire. Ball clipped in from the right and it's headed up into the air as Casillas grabs it.
12'   Keita slides in on Soares and that's a fairly nasty one.
12'   Alexander Arnold cross in from the right and Porto manage to clear eventually. 
11'   Milita thrown off the ball by Salah. Corner? Surely. Or is the ref saying it's a goal kick.
10'   Keita gets another stroke of luck and holds onto the ball as he scoops it over the top to Salah. Casillas off his line this time.
10'   Conceicao up off his seat on the bench now as he barks instructions to his players. 
9'   Porto with more possession now since the goal. 
8'   How is that not a free? Mateu Lahoz doesn't give Otavio the free after some lovely footwork and what looked like a foul. 
7'   Porto trying to respond. Corona down the right but he loses out and it's a throw. Looked like he might have been clipped too but referee says he wasn't. 
7'   Firmino through now as he strikes. Another deflection but this one drifts to safety.
6'   Casillas was really unlucky as former Atlético Madrid attacker, Oliver Torres, deflects it home.
5' GOAL! There it is. Keita gets a stroke of luck as he strikes from outside the box and it's deflected beyond Casillas. Mane inside to Firmino and Keita strikes. 1-0.
4'   Lovely curling pass by Milner out to Mane.
4'   Liverpool with all of the ball  and none of it really in Porto's half. Long ball to Henderson the latest the changes hands. Casillas grabs it. 
3'   Porto making it hard to Liverpool to play the ball forward. Mane drops and picks it up. Milner slips and allows Porto to win it back and Liverpool concede a throw.
2'   STRIKE! Porto go, kind of, close. But it's not troubling Alisson. 
2'   Alisson a mile off his line to pick the ball up. Liverpool in possession now and they try to figure out a way forward. 
1'   Cross comes in rom the left and Liverpool clear it. This one has started at breakneck speed.
1'   We are underway at Anfield.
    Liverpool wearing their red shirts with Porto in their blue and white.
    Let's see how much Liverpool lose without Robertson on the left. Milner steps into his place.
    Teams in the tunnel and getting ready to emerge onto the field.
    Anfield as loud as ever! 
    Just four of the Porto starting XI survived from the 5-0 last season when Liverpool were 2-0 up within 30 minutes. Telles, Otavio, Marega and Soares the lads with that seared into their memory.
    There have been over 2.5 goals scored in Porto's last 6 games (UEFA Champions League). Stat via WhoScored.
    Two towering centre-halves on display tonight. Pepe is out with suspension and Militao, who has already agreed to join Real Madrid in the summer, is hoping to leave the club with some lasting memories! 
    A look at Porto's bench: Vaná, Hernâni, Brahimi, André Pereira, Fernando Andrade, Diogo Leite, Bruno Costa.
    Salah is Liverpool's top scorer this year with 18 with Mané on 17 and Firmino on 12. They have 47 between them. 
    Tiquinho Soares has 13 goals in Liga NOS this year and he has a goal and an assist in the two games he has played for Porto in the Champions League. 
    Liverpool looking to make their fifth Champions League semi-final since 2004-05. They won it that year and have been to two finals in that time too.
    Porto XI: Casillas, Maxi, Felipe, Militão, Alex Telles, Corona, Danilo, Óliver, Otávio, Marega, Soares.
    Joe Gomez returns to the bench. Liverpool's subs: Mignolet, Matip, Gomez, Wijnaldum, Sturridge, Shaqiri, Origi.
    Liverpool XI: Alisson, Alexander-Arnold, Lovren, Van Dijk, Milner, Fabinho, Henderson, Keita, Salah, Mane, Firmino.
    Both Liverpool and Porto locked in a league title battle at home and conceding the exact same number of goals per game at 0.61. 
    Here is a look at predicted team news ahead of the clash. We will be bringing you the real team news once the teams announce their starting XIs.

    Hello and welcome to our live online coverage of Liverpool vs Porto in the Champions League quarter-final at Anfield. Kick-off is 21:00 CET.

Liverpool vs Porto live online: preview
It's the second year in a row that Liverpool have met Porto in the knock-out stages of the Champions League with the Portuguese side succumbing to Klopp's scintillating side in that first leg when they lost 5-0 at home before restoring a smidgeon of pride by holding the Reds to a 0-0 draw at Anfield. This year, in Klopp's third season as the manager, Liverpool might be even better and while Porto are locked in their own domestic league battle with Benfica, it will be an upset if they can manage to overcome Salah, Mané, Firmino and co.
Liverpool will play with home advantage in the first leg and will be hoping to build an advantage before the return leg. Mo Salah looks to be back to his goalscoring best after a late winner against Spurs followed by another late strike against Southampton at the weekend. While the goals weren't flowing for the Egyptian prior to his recent run, Jordan Henderson says he played his best football during his drought. Liverpool are without Andrew Robertson (out) while Alex Oxlade-Chamberlain and Joe Gomez are unlikely to feature. Meanwhile, Joel Matip, Virgil van Dijk and Georginio Wijnaldum are all carrying knocks but should be fine to start with that game against Southampton taking place on Friday with sufficient recovery time for their aches.
Porto are going to have to do this the hard way. Alex Telles is questionable and Pepe, Vincent Aboubakar and Héctor Herrera are all out. They will be relying on Iker Casillas to steady the ship by harnessing all the experience he has earned deep in the Champions League during his stellar career. They will also need their top scorer Tiquinho Soares in top form in an effort to give Sérgio Conceição's side an away goal and something to build on in the return leg.