Lloris saves early Agüero penalty
Tottenham defender Danny Rose blocked the ball with his hand in the 12th minute but City's striker failed to convert.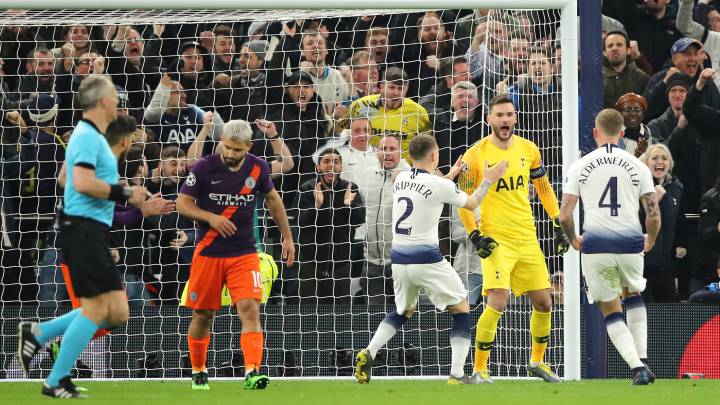 Sergio Agüero missed his second penalty of the season in this evening's Champions League quarter-final match between Tottenham and Manchester City at the Spurs' brand new stadium.
Tottenham defender Danny Rose went to ground in the box to block a shot after 12 minutes of the match, with the ball hitting him. The Manchester City players instantly demanded a penalty but referee Bjorn Kuipers turned down the requests until he received the call in his ear to review the action on the VAR monitor.
Manchester City awarded penalty for Rose handball
Having seen the replays Kuipers awarded City the penalty (and gave Rose a yellow card) and Agüero stepped up to take the spot-kick. The Argentinean had missed his last penalty, against Swansea in the FA Cup on 16 March, though City went on to win 3-2.
Agüero fired the ball right from the penalty spot, but at a decent height for the keeper and Hugo Lloris guessed correctly and saved well to deny City the opener. Lloris had previously faced two penalties from Agüero, with the Argentinean scoring both.
Agüero has now missed four penalties in the Champions League, more than anyone else since the Argentinean made his debut in 2008.