Real Madrid: Kroos eyes end-of-season move from LaLiga club
After five seasons at the Bernabéu, Real Madrid midfielder Toni Kroos is thought to be considering seeking a new challenge this summer.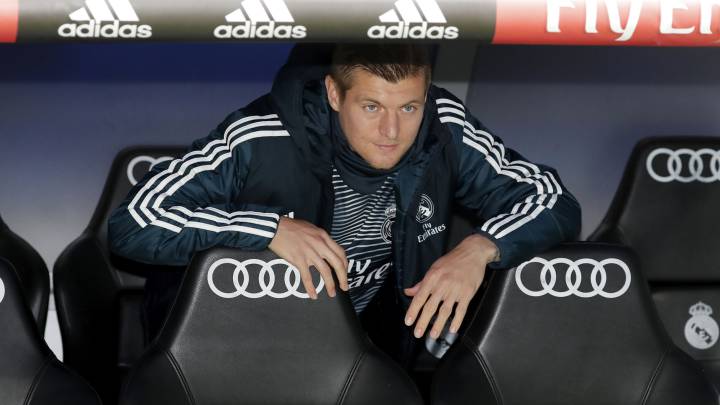 Toni Kroos is eyeing a move from Real Madrid, AS understands, and could well leave this summer if Los Blancos agree to sanction his sale.
In addition to fetching a sizeable transfer fee, the 29-year-old's departure would also free up space on the LaLiga giants' wage bill for potential midfield signings such as Paul Pogba and Christian Eriksen, who are both players that Madrid's re-appointed coach, Zinedine Zidane, is keen on.
Kroos has had poor 2018/19 campaign at Real Madrid
In what has been a poor season all-round for Madrid, Kroos has endured his worst campaign in Spain since arriving from Bayern Munich five years ago, leading to unprecedented levels of criticism for the German. "Right now, he's a diesel tractor," his compatriot Bernd Schuster, a former Madrid player and coach, even told Spanish radio in February. "He jogs around and does nothing."
Kroos' lacklustre form was particularly evident in March's shock Champions League last-16 exit, for which he was widely identified as one of the chief culprits. In the holders' 4-1 second-leg defeat to Ajax, the midfielder - whose precise passing is normally one of his key features - gave the ball away no fewer than 24 times, with one such loss of possession leading to the Dutchmen's opener.
---
Read also: Real Madrid expect Vinicius return for Athletic clash
---
Kroos keen on new challenge, but Madrid won't let him leave on cheap
Having enjoyed an otherwise successful spell at Madrid that has seen him win 12 trophies, Kroos feels he has achieved everything he can at the Bernabéu and that the time has come for a fresh challenge. A summer departure will also depend on the club's stance on his future, although the 13-time European champions are not expected to stand in his way if he is adamant he wants to go.
8


However, Kroos' excellent reputation among Europe's top clubs is not lost on Madrid - for example, Manchester United sought to lure him to Old Trafford last year - and Los Merengues would only be persuaded to sell for a significant sum.