Huesca and Barcelona play out low-key LaLiga draw at El Alcoraz
Neither side could find a way through as LaLiga leaders Barcelona drew with bottom club Huesca on Saturday afternoon.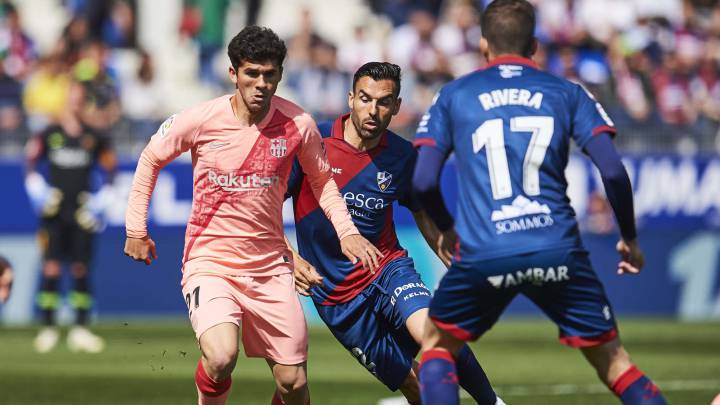 Huesca 0-0 Barcelona live online: as it happened
90'+3' GAME OVER! Not a classic. 0-0.
90'+1' Yellow card for Pulido as he pulls Prince down. 
90'   The free incoming now but Gallar can't even beat the first man. That pretty much sums up this game.
90'   Wague pulls down Gomez and they have a chance to win it. 
88'   Avila going off now for Huesca. Last change for them as Alex Gallar comes on.
87'   Really good challenge from Wague as Chimy Avila goes down in an absolute heap. Corner and embarrassing from Avila. 
82'   Gallego clatters into Murillo and now free. Ref says it was fair. Barcelona win it back and cross comes in from the left. Nobody waiting in the box.
82'   Very uninspiring from Barcelona today.
79' Arthur comes on for Aleña. 
76'   He  does return.
76'   Murillo is on the ground as he gets treatment. Looks like he will be okay to carry on as he gets treatment on his lower back on the sideline. 
75'   Barcelona want a win too though. Vidal catches Chimy Avila in the eye as the pair lie on the ground after a challenge. Free for Huesca.
74'   Melero floats one over the top for Cucho and he can't win it as it loops ove his head. Not a bad attack. Cucho looking lively.
72' Cucho Hernandez on for Ferreiro. 
71'   Huesca getting closer now as Gallego is ruled offside. 
70'   Murillo pulls down Ferreiro and Huesca have a chance to deliver one into the box. Sent right into the danger area and Barcelona have to scramble it away for a corner.
67' Riqui Puig going off for Coutinho and Alba comes on for Dembele.
66'   Dembele tries his luck with his right. He's outside the box and it looked like a good hit. Went wide though.
63'   Melero off target with a pass as Prince loses the ball in the penalty area and Huesca break. 
61'   Corner for Huesca. It's delivered to the back post and headed down but Ter Stegen gathers.
59' Melero comes on for Huesca. Juanpe off.
57'   Malcom hits the post with a rifle of a shot! Lovely effort. Aleña follows it up and he strikes as it's helped out for a corner. Barcelona pushing for that first goal.
55'  Some very strange decisions by the referee. Malcom pushed over on the sideline and he gives a throw to Huesca. Barcelona attack again, however, and the cross comes in from the right. Dembele catches it on the volley and it's wide, taking a deflection on the way out. 
53'   Corner for Huesca that comes to nothing. Well, that's not true. It turns into a Barcelona attack and Dembele is offside.
52'   Chance for Gallego. Ball in from the left and he wins it before Ter Stegen and he goes down as he was caught before he kicked the ball. It was a very subtle clip but he was clipped. 
51'   Wague plays it forward to Dembele but that's too heavy. Disjointed again.
51'   Barcelona do look more likely, however, but even at that they haven't created that many clear-cut chances. 
50'   Nothing really working for either side here. 
48'   Vidal finds Aleña with a really nice pass into the box. He twists and turns but loses it in the end. Bright start from Barcelona.
46'   We are back underway! Zero goals so far. Let's see if that changes in the second half.
45'   That's it for the first half! 0-0. 
45'   Free for Huesca from deep and it's crossed in but nobody on the end of it. 
44'   Huesca cross omes in from the left and it falls to Moi Gomez outside the box. He strikes but that is fairly hopeless. It starts high and keeps rising.
43' Not quite done yet. Todibo gets himself booked for hauling down Ferreiro on the break. Not really much in it but he did have his hands on him.
41'   It gets really heated in the middle as Vidal slides in after some kicking and spocking. Prince gets an arm to the head as he tries to hold off a player too. All kicking off there but free for Barcelona and it calms down.
40'   Enric breaks into the box. He takes down the long ball and takes a nice touch before poking it wide. He was reaching for the shot and it drifts well wide.
38'   Dembele looks for Boateng but while the idea is nice, that's a poor pass. Too heavy and another Barcelona attack comes to nothing.
37'   Wague with a lovely cross into the box and Prince is right there. He catches it with his boot but can't send it towards goal. 
34'   Lovely ball into the box by Puig but Wague had strayed offside and he couldn't control it anyway.
32'   Throw is floated into Barcelona's penalty area by Huesca. It catches a defender and is cleared but Huesca improving again here more recently. No real chances to test Ter Stegen yet though.
31'   Huesca do really well to not foul him and break up the counter. They win themselves a throw in the end.
30'   Riqui Puig shows of his speed as he breaks and leave two defenders in his wake. 
29'   Wague covers back to prevent a break but he concedes a throw in a tussle with Galan.
27'   Barcelona continue to inflict their style on Huesca. Huesca's attacking threat all but gone now aside from a few forays into Barça's half.
26'   Some close-quarter passing from Barcelona and it's too tight. Wague plays the ball inside and Huesca eventually win it back.
24'  Chimy Avila gets it on the right and he skips by one challenge before winning a corner as Vidal covers.
22'   Malcom tries to free Dembélé but he's offside and it's cut out. Just as Malcom passed though, he was tripped up and it's a free.
21'   Dembele showing that he's not injured anymore as he races forward. He leaves a couple of defenders in his wake and then loses it. But a nice run to start.
19'   Huesca need to improve their counters. A couple of times now they have won the ball back and failed to capitalise because of a poor pass up the field. Another one way ahead of Avila as he is left watching it drift over his head.
19'   Game has opened up a little bit more now and it's suiting Barcelona. They have more room to operate in Huesca's half.
17'   Corner sent in and Murillo heads it towards goal. Santamaría with the save.
16'   Barça's first chance! Dembele recieved the ball from Riqui Puig and he slices it wide with the help of Santamaría. Corner.
15'   Wague with a pass to Prince but he's well offside this time. Second time to start the game. Not a very fluid start to this one from Barcelona. Huesca starting to grow into the game.
13'   Prince catches Puligo with a nasty elbow to the mouth.
12'   Huesca corner is sent in all the way to the back post and then headed back across goal. Ter Stegen sees that one go wide.
11'   Another tattack down the left and Wague blocks it for a corner as Moi Gomez sent in the corner.
10'   Wague having a tough time early on here. Ferreiro thrown off the ball by him as he chases him on the sideline. 
8'   Dembele loses the ball just outside the box and Huesca break but that pass down to Chimy Avila is way too hard. He doesn't even bother properly chasing it. No chance.
7'   Gallego offside as the ball is whipped down into the channel in his direction.
6'   Barça with all of the ball but not chances yet. Huesca putting them under pressure as soon as they enter their half.
4'   Arturo Vidal is fouled by Galleho. A fairly rough start from Huesca here as they try to muscle their way into this game. Offside from Prince is called as Barcelona start another attack.
4'   Just prior to that, Wague was turned quite easily in the box as Huesca created a chance.
3'   Late challenge comes in on Malcom as Avila slides in very late on his triling leg. 
3'   Wague with a foul on Galan.
2'   Murillo playing in the middle of tht back three. Ball into the middle from Wague after being sent out by Murillo is picked off and Huesca nearly start a counter attack.
1'   Barcelona on the ball to start. They do indeed line out in their three-man defence. 
1'   We are underway! 
    Barcelona in their salmon coloured jerseys and Huesca in their blaugrana.
    Wague is the first ever Senegal player to play for Barcelona.
    Teams ready to make their way onto the field. Gloriously sunny day in Huesca for this one.
    Huesca are the lowerst scoring home team in LaLiga with just 1.69 goals per game while Barcelona score 3.33 goals per game away from home.
    Barcelona won the last game between these two sides when they hammered their opponents 8-2. Just two scorers that day survive with Dembele and Jorge Pulido (own goal) starting.
    Huesca have drawn their last two games 3-3 and 2-2. They lost to Real Madrid 3-2 so expect this one to be high scoring.
    Debut for 19-year-old Jean-Clair Todibo. 
    A lot of changes in their from Valverde and we will have a look at them now as Prince returns and so does Murillo along with starts for Puig and Dembélé.
    Hello and welcome to our live coverage online of Huesca vs Barcelona. Kick-off coming your way at 16:15.
Huesca vs Barcelona live online: preview
Barcelona return to action between their two games against Manchester United in the Champions League against Huesca on Saturday afternoon. They have the league all but wrapped up after victory over Atlético Madrid last weekend and it would take a monumental and unprecedented decline for them to lose it from their position. They are 11 points clear with seven games to play. Huesca lie last in the table and they are all but relegated with six points between them and Real Valladolid in 17th.
Huesca
Huesca have Jorge Miramon back after injury and Xabi Etxeita, who was serving a suspension. Luisinho, Insua and Akapo are all still out however. The team holding up the rest of the table in last place put up a huge fight against Real Madrid and only lost thanks to a late Karim Benzema strike. Chimy Avila and Cucho Hernandez should start and could cause all manner of problems for a weakened Barcelona defence.
Barcelona
Barcelona have left Lionel Messi out after he took a heavy knock to the nose from Chris Smalling on Wednesday. They also rested Luis Suárez, Gerard Piqué, Busquets, Rakitic and Sergi Roberto with Thomas Vermalen and Rafinha out injured. Samuel Umtiti should start despite some shaky moments recently and talk of a potential move out of the club after Clement Lenglet's emergence as Pique's partner. It will be an experimental XI for Valverde but winning is not important for them today unless you're talking about momentum. Their main goal is no injuries.