Inter Milan and Manchester United plotting to snatch Eriksen from Real Madrid's grasp
Tuttosport report that Inter's Director of Sport attended last week's Champions League game between Spurs and City. The Mirror claim United are also in the race.
Manchester United will launch a counter-attack if Real Madrid are succesful in their bid to sign Paul Pogba. To replace him, United will look to bring in Christian Eriksen, another player who is on Real Madrid's summer shopping list. Madrid have waited until the Spurs star has entered the penultimate year of his contract with the hope of getting him at a discounted price - the same strategy they used in the past with Toni Kroos, Thibaut Courtois and, possibly will use again with Eden Hazard.
Like Hazard, the English press are quoting a transfer fee of around 100 million euros for Eriksen aalthough Spurs chairman Daniel Levy is well known for being one of the toughest negotiators in the business and will be loathe to let the Danish midfielder go on the cheap.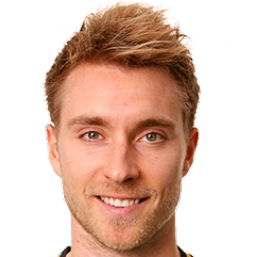 Pay rise
Today, The Mirror published a piece detailing United's interest for Eriksen. They report Ole Gunnar Solskjaer has asked executive vice-chairman Ed Woodward to make a concerted effort to sign Eriksen if Paul Pogba leaves. They also claim that United would be able to offer him a generous salary of 277,000 euros per week, trebling the 80,000 pounds he currently takes home at Tottenham.
There is a snag however...  Levy will not sell any of his star players to any of Tottenham's rivals in the Premier League, and that could benefit Real Madrid, as it did with the transfers of Luka Modric and Gareth Bale. Bale is a bargaining chip which Florentino Pérez could use in  negotiations for Eriksen, two players with a similar market value - Bale is worth around 70 million and Eriksen, 85 million, according to Transfermarkt.
Inter keeping their options open
United and Madrid aren't the only clubs interested in signing Eriksen. Inter Milan's Director of Sport Piero Ausilio has been closely following the player over the past few weeks, Tuttosport reports. The 27-year-old is their alternative if they fail to land either Modric or Rakitic. The fact that that Eriksen doesn't want to renew with Tottenham and will be out of contract in June 2020, makes him an attractive prospect in this summer's transfer market - his quality and his future projection. A bidding war appears to be on the cards over the next couple of months...