Real Madrid: Hazard arrival likely to uproot Vinicius
Eden Hazard's favoured position is on the left-hand side of the forward line - just where Vinicius has excelled for Real Madrid this season...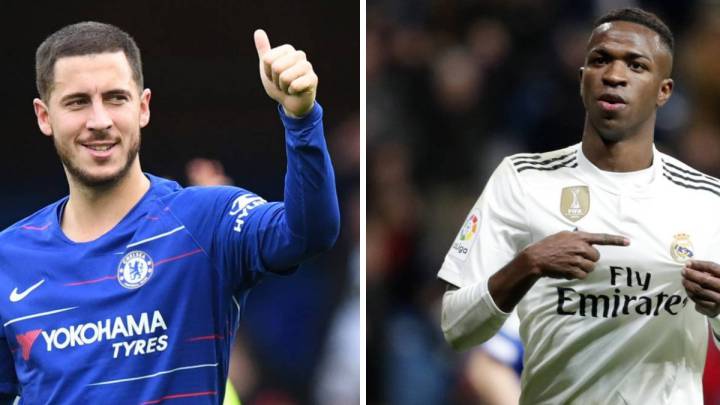 There is absolute confidence at Real Madrid that Eden Hazard will be the first through the door this summer: terms have been agreed with the Belgium star, and all that remains is to reach a deal with his club, Chelsea. However, one issue that still hasn't been considered at the Bernabéu - or, if it has, it is clearly viewed as a necessary evil - is the negative impact the signing is likely to have on Vinicius.
Hazard and Vinicius both favour left-wing position
After all, the pair have the same preferred position, and it is the Brazilian who is all but certain to have to make way. Having only broken into the Madrid side following Santiago Solari's appointment in place of Julen Lopetegui in October, the 18-year-old certainly grabbed his chance once it arrived, scoring seven goals and supplying 13 assists in what has been a fine first season at the LaLiga club. However, he has always excelled on the left.
Vinicius central role at Leganés did not work out
Indeed, the one time Vinicius shifted inside to centre-forward, in the first half of January's Copa del Rey last-16 second leg against Leganés, it was a disaster. Restored to his usual role after half time, he was then among his team's best players once more. The statistics show that he has featured on the left 94% of the time, while his appearances in the centre and on the right account for just 4% and 2% of his 2018/19 first-team action, respectively.
Vinicius' appearances by position:
Hazard also most at home on the left wing...
Meanwhile, although Hazard has operated right across the forward line, he is also at his most comfortable starting on the left. The 28-year-old has been on that flank for 68% of his Chelsea appearances so far this term, compared to 16% as a false nine and 16% on the right. When he's on Belgium duty, moreover, it's a positional tendency that is even more pronounced.
Hazard's appearances by position:
Zidane likely to give Hazard positional priority
All of which means that something of a problem is homing into view for Vinicius: it can only be expected that, if and when Hazard becomes a Madrid player, head coach Zinedine Zidane will seek to accommodate the marquee signing to the detriment of the Brazil Under-20 international...