Odegaard's Ajax nod: "I'm ready to take the next step"
"When the season ends I'll make a decision and see where is best for me to continue my development," said the on-loan Real Madrid midfielder.
Martin Odegaard feels that he has finally taken the leap that for so long appeared to elude him and said he is "ready to take the next step" in his career after a breakthrough season at Vitesse Arnhem.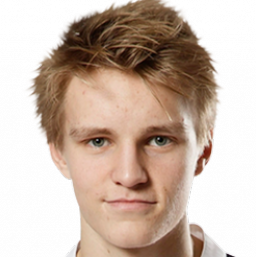 The on-loan Real Madrid midfielder arrived at the Bernabéu at the age of 15 after being pursued by practically all of the richest clubs in Europe but his apprenticeship under Zinedine Zidane at Castilla did not go as planned. A salary of 1.5 million euros per season and a clause stating that he would train with the first team did not help his transition and since then Odegaard has been in limbo, loaned out first to Heerenveen and then to Vitesse, where he has been one of the stand-out players in the Eredivisie this season.
"I'm ready to take the next step. I want to keep growing as a player," Odegaard told De Telegraaf. Where he decides to do that remains to be seen, with Ajax increasingly looking like a perfect match. The Dutch side are noted for their youthful line-up and it has been suggested in the past that Odegaard would have been better off moving to the Johan Cruyff Arena than the Bernabéu in 2015.
Odegaard: "Slutsky has given me freedom and confidence"
The loan to Heerenveen did not work out but Odegaard has flourished under Leonid Slutsky, scoring eight times and providing six assists in 31 games so far this season and winning back his place in the Norway national team.
Zidane wants to have a look at Odegaard before making any decision and the midfielder will return to Madrid in the summer and go on the pre-season tour. Ajax are reportedly preparing an offer in the region of 20 million euros and Real are looking to cash in on some of their current players so it could be a move to suit all parties.
"I've scored more and assisted more than last season and I think I've been improving," Odegaard said. "Slutsky has given me freedom and confidence. When the season ends I'll make a decision and see where is best for me to continue my development, but first I want to finish the season in the best way possible with Vitesse. I'd like to play in the Champions League but there's no need to rush. I'm only 20 and I've got plenty of time ahead of me."