Juventus - Ajax: Clément Turpin to referee Champions League clash
The French official is not afraid to reach for his pocket and has awarded 21 penalties this season in 29 games.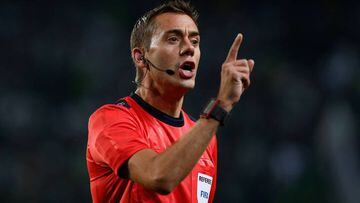 French referee Clément Turpin will be the man in charge on Tuesday evening as Juventus take on Ajax at the Allianz Stadium with the scores level at 1-1 after the first leg in Amsterdam.
Turpin, 36, has been a FIFA international referee since 2010, a UEFA Elite group match official since 2012 and was at the 2018 World Cup in Russia.
Juve-Ajax a card-balancing act
In the Champions League he has overseen one Juve game and one Ajax match. In the case of the Italian champions it was a largely straightforward 1-1 draw against Sporting Lisbon in last season's group stage, while his experience with the Dutch side was altogether more spectacular. That was also a group stage game earlier in this campaign against Bayern Munich, which ended 3-3, involved two penalty awards and saw both sides reduced to 10 men as Thomas Müller and Maximilian Wöber both saw red.
Turpin is no stranger to his top pocket, having shown 100 yellows and eight reds in 29 games across all competitions this season. He has also pointed to the spot 21 times so far this season. In the Europa League game between Sporting and Villarreal in February he brandished eight yellows and a red, his personal record for the season.