Messi fires Barça back into semis after three-year absence
Two first half goals scored by Lionel Messi and a finisher by Coutinho in the second was enough to see Barcelona past Manchester United at Camp Nou.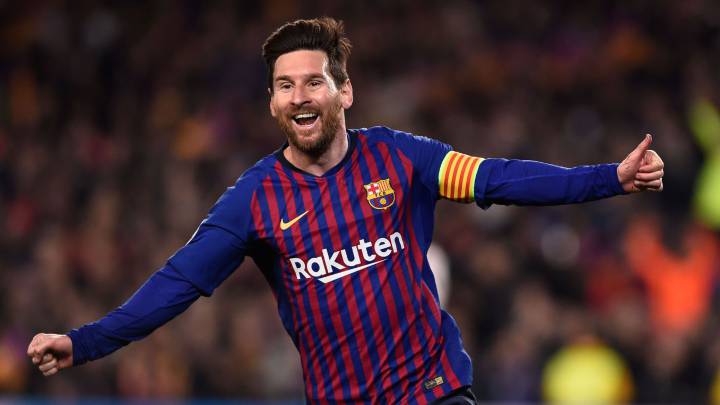 Barcelona 3-0 Manchester United: match report
Barcelona are back in a Champions League semi-final after a three-year absence thanks to a dominant display against Manchester United at Camp Nou as they built on their advantage from the first leg. Messi scored a first half double to put the game out of reach before Coutinho wrapped things up with a tradermark curler in the second half.
The spectre of that night in Rome last year has haunted the players ever since it happened. As a football club and an insitution, they were rattled after losing from such a formidable position. Add to that defeats by Atlético Madrid and Juventus in previous years and this group of Barça players might have been excused for wondering if and not when they might make it back to the last final.
With that hurt, however, also came an underlying commitment within this squad that the Champions League is the holy grail this year and nothing else will suffice. After watching Real Madrid lift the trophy for the last three years in a row despite Messi and co. being the best team in Spain for two of those years and playing some scintilating football during at that time, they felt like it was time to restore themselves to former glory. They won't get a chance to knock Real Madrid off their perch personally but are keen to let the world know who Spain's alpha respresentative are in European competition.
Lionel Messi was given a rare rest against Huesca at the weekend as Ernesto Valverde learned his lesson from last year. He played a strong eleven to beat Leganés last season before being ambushed in Italy a couple of days after. The 10 outfield players were rested on Saturday in fact and while they started rusty, it didn't take them long to get back into their stride.
Manchester United, with nothing to lose, bolted out the door and Rashford saw a shot strike the crossbar before McTominay had a chance but couldn't take down the ball inside the box shortly after that might have seen him through on goal.
Barcelona and Messi soon got to grips with United's intense start. Ashley Young gifted them the ball deep in their own half before Messi nutmegged Fred and struck to De Gea's right. The Spanish keeper was left grasping at fresh air as Valverde could finally breathe after a nervous start.
It's a good idea to keep on nodding terms with your own past but Barcelona might have been a little too nostalgic over that night in Rome. That was when Messi, their God and saviour, stepped up.
He was on hand four minutes later too and lady luck might be claiming the assist. He struck and the ball rolled under David de Gea's body for what should have been a routine stop for the Spain number one.
After that, United were deflated, the monkey was off Barcelona's back and they were playing like with the shackles off and with a semi-final coming into focus.
The stats speak for themselves with United only registering three shots on target over 180 minutes. They failed to ruffle a feather at the Camp Nou on Tuesday after that opening spell and once Messi scored his brace, they were never coming back.
Philippe Coutinho curled home the goal of the game on 61 minutes and quickly put his fingers in his ears after being on the recieving end of some negative feedback recently from his own fans. Messi's second was the final nail in United's coffin as the Brazilian lowered them down.
It was almost a case of damage limitation after that for Solskjaer's side with Messi in the mood and Barcelona with the momentum. 3-0 was as bad as it got, however, despite chances for Suárez and Messi again later on.
Barcelona have the league wrapped up and a Copa del Rey final to look forward to. But the one they really want is one step closer to becoming a reality after a convicing victory over Manchester United at the Camp Nou on Tuesday night.
Barcelona vs Manchester United live online: match updates
90'+2' GAME OVER! That was tame.
90'+2'   Another tasty move by Barcelona but De Gea denies Messi time. 
90'   Alexis Sanchez with a header at the front post. Ter Stegen gets his body turned and saves. What an incredible save. 
89'   Suarez tries a little chip over De Gea but he overcooks it. Over the bar. 
86'   Alexis with a lovely pass into the box for Lukaku. Cut out! The Belgian knew that was close. They haven't created anything though.
84'   De Gea with the strike and that goes out for a corner. Why didn't De Gea try to save it?
82'   Ball down over the top of Alba's haead and Dalot gets it but he was offside anyway.
81' Dembélé replaces Coutinho.
79' Alexis Sanchez comes on for Lingard.
77' Suarez booked.
76'   Pogba got pushed off the ball by Vidal. That was really, really weak.
76' Arthur goes of for Vidal.
74'   Suarez is fouled, he thinks, and grabs the ball thinking he had been awarded one! Ref says it was hand ball.
68' Sergi Roberto off for Nelson Semedo.
67' Martial replaced by Dalot.
66'   Ashley Young breaks and the ball into Rashford is won back by Barcelona. They have been so blunt tonight.
64'   Messi with a chilena. He nearly scores too.
60' GOAL! Coutinho with the goal. He absolutely buries it. What a finish. We haven't seen that in months. 3-0 and that's game over.
60'   Pogba with a cross miles over everyone. That is awful. They worked a nice chance and Pogba just lumps it out over the penalty area.
58'   Diagonal ball to Rashford and Pique gets in his way. He barges into him and that's a free. Well, it would be if Ter Stegen didn't win possesison.
57'   Another Barcelona break and Sergi Roberto pulls back to Messi and his pass out to Alba is cut out. 
55'   Penalty? Suarez is bundled over in the area and referee tells him to get up. Looked like he was tripped but he doesn't protest too much so maybe not.
54'   Dalot and Lukaku warming up for United.
53'   Rashford gets a run on Roberto but the Barcelona defender gets a block on the cross and it's out for a corner. 
52'   Messi is fouled by McTominay out on the sideline. Messi has United absolutely terrified.
50'   Barcelona bossing possession to start the second half. Coutinho gets it and tries to wriggle his way through the backline. Out for a corner. 
47'   So, so close! Suarez pulls it back for Messi and it's saved for a corner. Deflected out from Messi's left foot.
46'   We are back underway for the second half. Suarez and Sergi Roberto link up but it's out for a goalkick.
45'+2'   HALF-TIME!
45'+2'   Sergi Roberto with the shot at the back post and De Gea made the save. That would have been a wonderful goal.
45'+2'   Messi with a marvellous run. What a ball across the box too as De Gea saves.
45'+1'   Two minutes of added time.
44'   Messi runs at United and gets squeezed out by Lindleof. He has to put it out for a throw though shortly after though as he gets put under pressure by Messi and Alba.
42'   Pogba hauled down by Rakitic. There were a couple of players around him actually as Pique slid in too.
41'   Cross comes in and headed towards De Gea but he gets down to save it.
39'   Messi finds Suarez with a pass forward and the striker has too much work to do to round him. Back to De Gea and United start again.
38'   Pogba shoots from miles downtown. No chance of that ever troubling Ter Stegen.
36'   Barcelona on the break and Pogba with a foul. Arthur gets the legs absolutely kicked off him and the fans at the Camp Nou are not happy. That was pretty bad and Pogba is lucky not to be carded.
36'   Free from Messi goes well wide. 
33'   Fred catches Rakitic on the ankle as he tries to break through. Sore one for the Croatian.
32'   Barcelona threatening again. Alba crosses at the end of a nice move and it's put out for a throw for Barcelona. 
30'   Ball back to De Gea from Young and he looks really nervous. He clears into the air and Busquets concedes a free. 
29'   Young fouls Messi now and Brych blows for the free. 
27'   Messi gets the ball from Alba on the left and he takes it down expertly. He strikes but it's well wide. Threatening though.
25'   Barcelona in cruise control now. United's intensity completely gone and they're deflated. 
21'   That really should do it for this one so early. Two horrible mistakes. United need 3.
20'   MESSI AGAIN! 2-0. De Gea lets the ball under his body and after Fred was picked off, Messi finishes. That is just awful from United.
19'   Pogba to Jones and back to Smalling. United need two now. 
18'   Barcelona are back in control of this. They are throwing the ball around like normal again after that very sloppy start.
16'   WHAT A GOAL! Messi finishes. Young gives it away cheaply and Messi nutmegs Fred before firing beyond De Gea. Simple as that. 1-0.
15'   Martial tripped up after Barcelona go close. Ball cleared from Alba's cross. Jones with the header. Free for United.
14'   Rashford breaks forward with a couple of Barcelona defenders in front of him. Lingard peels off him and he doesn't need or use him. Strikes but it's saved. He slipped as he was kicking anyway. Ter Stegen not having any trouble with that one.
13'   The referee hops the ball and Suarez puts it out for a goal kick.
11'   It's gone to VAR! And the referee comes back and says NO PENALTY.
11'   PENALTY! The referee says Fred fouled Rakitic.
11'   Headed out by Pogba in the middle and Barcelona win it back. Mesis gets the ball and flicks it towards Coutinho. He chests it down and Rakitic is taken out of it.
11'   Suarez the only player to look like he wants anything to do with this tonight. He won a corner against Smalling.
10'   Alba slips and gives the ball back to United. Pogba picks it up and tries to lob Ter Stegen. Terrible effort.
9'   Suarez with a nice little shimmy and the cross from the right. 
8'   Corner for Barcelona as Jones covers across with Alba bearing down on goal.
8'   Barcelona finally getting a foot on the ball now. Alba to Rakitic and back again.
7'   Lingard with the ball in the box and Ter Stegen gets it away. He couldn't pick it up or it would have been a backpass. Three Barcelona players around it and United still nearly get a foot to it.
6'   Rakitic is bundled over by Fred but it's only a throw to Barcelona. 
6'   Barcelona really need to get a grip here. 
5'   Suarez decides to go it alone as he tries to kick the ball by Smalling and run after it. The handiest save of De Gea's night as it rolls to him. 
4'   Young's corner can't beat the first man. Pogba gets it and shoots and Ter Stegen watches that one drift past the post.
4'   Barcelona finally get the chance to attack. And Mesis loses it! Barcelona fans whistling United's possession and Alba concedes the corner. 
3'   What has happened to Barcelona's defence? Very, very shaky start.
3'   Another chance! McTominay with the ball now in the box and he can't control it.
2'   Suárez chases a pass down now and falls over along with Jones. Back to Ter Stegen.
1'  Rashford hits the crossbar. What a chance that was as Ter Stegen watches it fly over his head. Lovely through ball after a nice start by United.
1'   We are underway at Camp Nou.
    Young the only Manchester United in danger of missing a potential semi-final first leg with a yellow.
    Young anf Messi meet with the referees to flip the coin.
    Busquets will miss a potential semi-final first leg with a yellow card. 
    Teams are in the tunnels! We are ready for action. A strange "Walking To Glory" banner just unveiled at Barcelona.
    We are just ready for kick-off! Ryan Giggs has just been by Spanish radio and says "Whenever Messi plays, Barcelona are favourites."
    Marcus Rashford is adored at Barcelona and they have scouted him a number of times. He has a chance today to make a real impression and he is probably United's most danerous player. 

    Ahead of the Champions League clash, Barça's Marc-Andre ter Stegen has lauded Manchester United goalkeeper David de Gea as one of the world's best. Regardless of both sides' quality, they have two world class keepers. 

    Barcelona's home record in the Champions League is certainly daunting.  They have not been beaten in 30 Champions League games at Camp Nouand and will be confident of maintaining that streak against United, particularly given Lionel Messi's history against English clubs in the competition.

    Dembélé started against Huesca and didn't exactly cover himself in glory but it was a fairly meaningless game with the league wrapped up. Valverde keeps him as his secret weapon in case he needs an extra burst tonight.
    Barcelona XI: Ter Stegen; Sergi Roberto, Piqué, Lenglet, Alba, Rakitic, Busquets, Arthur, Messi, Suárez, Coutinho.
    Manchester United XI: De Gea; Jones, Lindelöf, Smalling, Young, McTominay, Pogba, Fred; Lingard, Martial, Rashford.
    Valverde has a plan to beat United tonight and keep their strength and height off the table as something to influence this game.

    We don't know what Pogba has up his sleeve but he says United know how to beat Barcelona at the Camp Nou.

    Hello and welcome to our live coverage of Barcelona vs Manchester United from the Camp Nou at 19:00 CET! 
Barcelona vs Manchester United live online: preview
Ole Gunnar Solskjaer returns to the scene of one of the most iconic moments in Manchester United history as his side travel to Camp Nou on Tuesday night. The problem is that Barcelona are unbeaten in 30 games at their home stadium in Europe and Solskjaer admits that his attackers are lacking confidence and the kind of ruthless streak it takes to beat the very best.
Barcelona
Barcelona have a full strength squad with Messi, Suárez and all ten of their outfield players rested for the game against Huesca at the weekend. This time last year, they beat Leganés with a strong team out before capitulating to Roma in the second leg in Italy. Luis Suárez admitted it was a mistake to play and Valverde learned his lesson. His best players are rested and ready for action with Messi "fully fit" after the blow he recieved from Chris Smalling in the first leg. The only real doubt for Valverde is whether to
Manchester United
Manchester United were lucky to beat West Ham admitted Solskjaer after their game at the weekend and they have hit a slump recently with reports suggesting the manager is concerned over their conditioning. It's not the best time to be playing a fully fit Barcelona side with questions lingering over tactics and fitness. He should start a back five with Luka Shaw out injured and potentially being replaced by Ashley Young. It remains to be seen whether they have the firepower to hurt Barcelona with OGS admitting they are lacking confidence and if they do attack whether they can keep Messi and co. quiet enough up the other end.