Sadio Mané: "I want to be a Liverpool legend"
Liverpool's Senegalese forward is one of the players on Real Madrid's summer shopping list but says he's perfectly happy where he is.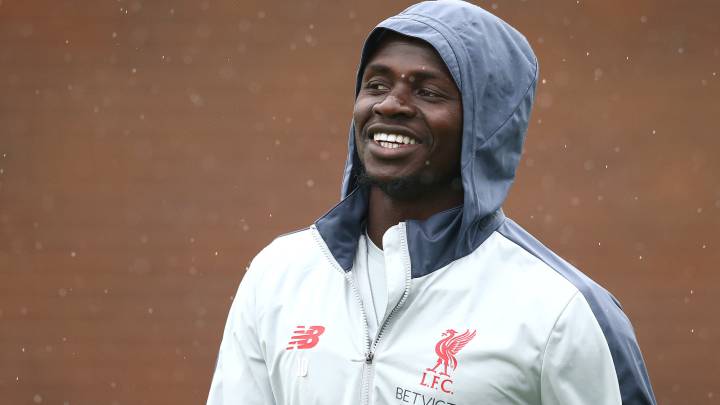 Everything seems to be taking shape for Sadio Mané. In terms of goals, this has already been the most productive season of his career; the team occupies top spot in the Premier League table and have a decent chance of making the Champions League semi-finals for the second year running tonight in Porto. It's little wonder Liverpool manager Jürgen Klopp can't stop hugging him. The German coach said recently that Mané has reached the point where he no longer needs to convince anyone about his ability and has started to realize where he figures in the ranking of Europe's elite forwards. Klopp isn't the only one to have made a mental note about Mané's moment of form – Real Madrid are rumoured to be concocting a campaign to lure the Senegalese forward to the Bernabéu this summer...
Main man wants to be Anfield legend
The player however, says he's happy where he is. "Of course I want to be a legend not only for Liverpool but also in the Premier League story and that is one of my targets," Mané declared in an interview featured in the May edition of Liverpool FC's official magazine. "Like I have always said, I am very happy to play for this club and every single day I am enjoying being here and trying to do everything to win something for this club. I will do everything possible to achieve everything possible".
At Estádio do Dragão in Porto tonight, Mané will make his 116th appearance for the Reds, with the team holding a 2-0 advantage going into the return leg of the Champions League quarter final. "Reaching 100 games means a lot to me. To play this many games for a club like Liverpool is incredible", said the 27-year-old, who is on 21 goals in domestic and European competition so far this season – his best figures for Liverpool since he joined from Southampton in 2016.
Zidane, a Mané fan
Mané's words will come as a bit of a disappointment to Real Madrid who have him and Eden Hazard in mind as part of Zidane's summer rebuild project. While Hazard's contract is up next summer, Mané recently committed to Liverpool until 2023 and Madrid would need to find a way of coercing the player to hand in a transfer request. Judging by the player's comments, that seems unlikely to happen. Los Blancos also need to sell some of their surplus players to finance a squad makeover and Mané would cost way in excess of 100 million euros – a figure which Madrid would baulk at, considering they need to strengthen other areas of the team and have only recently taken on credit to the tune of half a billion euros which has been set aside to modernize the Santiago Bernabéu.
Touchy-feely Klopp
Apart from the economic arguments, Mané has probably seen how Philippe Coutinho has struggled to recapture his form since swapping Anfield for Barcelona. Like Coutinho, Mané knows he has benefitted from Klopp's cariño – all of those post-match hugs might seem gratuitous - but some players need it to build up their self-confidence and Coutinho is certainly missing that now at Camp Nou.
Mané said as much himself when asked about Klopp's man management, "He loves all his players and is very close to us. He demands a lot but he never puts pressure on us other than asking the best of us. He only asks you to do your best in whatever you are doing and also to enjoy it. I think that's important because, under him, everybody has progressed a lot as everyone can see. It's very important for us to work with him for more years".