Messi on Pelé's tail: three goals short of 600 and Santos record
The Barcelona forward's brace against Manchester United took his tally for the club to 597, leaving him within sight of the Brazil great's Santos record.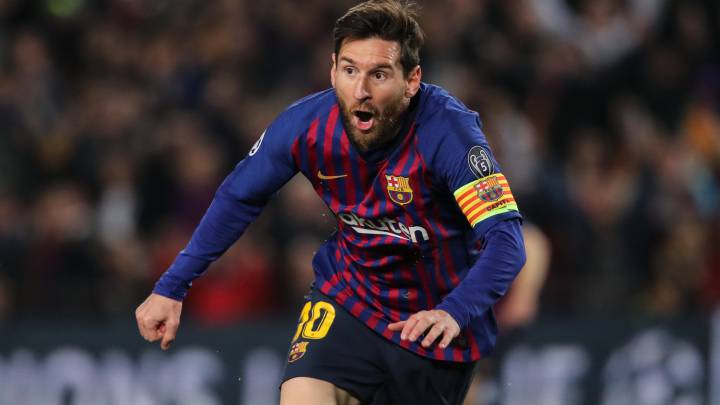 Leo Messi is on course for another 50-goal season and closing in on 600 competitive goals for Barcelona after his brace against Manchester United in the Champions League took his overall tally to 597.
The Argentinean is a shoo-in for the Pichichi award with 33 league goals to his name - 13 ahead of teammate Luis Suárez - and he also leads the Champions League scoring chart with 10 so far in Europe this season. In total, Messi has scored 45 goals in 2018-19 and has at least nine games remaining: six in LaLiga, two European semi-final legs and the Copa del Rey final.
The prolific Argentinean's finest season remains 2011-12, when he managed a remarkable 73 goals in all competitions but he is also closing in on another significant milestone: Pelé's long-standing record of official club goals scored.
Messi could break Pelé's record in 2019-20
The Brazil great hit a total of 643 for Santos between 1956 and 1974, a figure Messi now stands 46 goals shy of.
Assuming that figure will be reduced further still this season, any of Messi's total from 2008-09 onwards will probably be enough to overtake Pelé in the 2019-20 season. That season he scored 38, his lowest total in a decade for Barcelona. Since then his season goal stats read: 47, 53, 73, 73, 60, 41, 58, 41, 54, 45 and 45.
The Argentinean's total of 597 to date has been achieved via 416 LaLiga goals, 110 Champions League strikes, a nice round 50 in the Copa del Rey, 13 in the Spanish Super Cup, 5 at the Club World Cup and three in the European Super Cup.