Spurs squeeze past City into semi after epic battle at Etihad
The game saw seven goals and one, very important, strike ruled out for offside at the end as Spurs squeeze past City into the Champions League semi-final.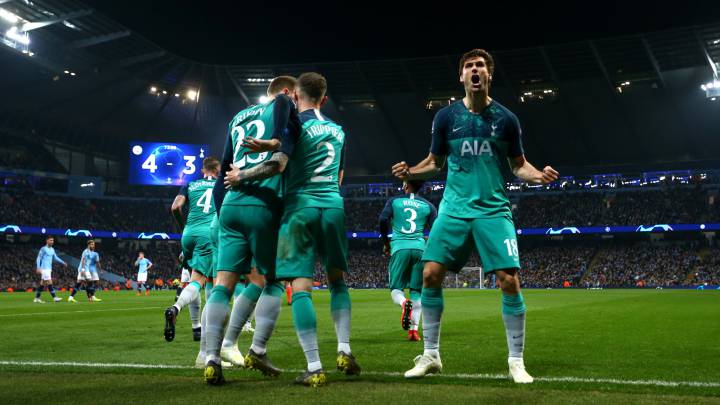 Manchester City 4-3 Spurs: match report
Manchester City won the battle but lost the war on Wednesday night as Tottenham Hotspur did just enough to knock them out of the Champions League despite conceding four and being under the cosh for large spells of the game.
In what turned into an epic encounter after a cagey first leg, Raheem Sterling, Bernardo Silva and Heing Ming Son (twice), rattled the back of the net before the 12th minute and things hardly slowed down after that.
Mauricio Pochettino was without Harry Winks, Harry Kane and without much hope after 21 minutes when Sterling scored his second and Aguero knocked home the fourth after 59. His side, with a bench lacking depth, looked out on their feet and it looked like they would have to put it down to experience. It was a dominant display by City but they couldn't put the tie to bed and could never quite shake off Spurs.
They needed just one chance and Fernando Llorente scored with his hip to make it 4-3 on the night after 73 minutes.
City poured everything into getting that leveller that would see them through. They thought they had it too when Eriksen coughed up the ball and Aguero fed Sterling to score beyond Lloris as the Etihad exploded and Pep sprinted down the sideline in celebration. The referee consulted with VAR though and Aguero was offside by a matter of inches as he recieved the ball.
It will be another year without a Champions League semi-final for Pep Guardiola and City and further heights reached by Pochettino, who was down to his bare bones on the night.
Ajax await in the semi-final as one of the other most interesting stories in this year's competition. But regardless of the result and the debate surrounding VAR and Guardiola's inability to get to the last four that will surely follow, what we watched at the Etihad on Wednesday night will linger in the memory and go down as one of the greatest games the competition has ever seen.
Manchester City vs Spurs live online: match updates
90'+6' It's over! What a game. Good lord. One of the very best games in the history of the Champions League. 
90'+6'   Dele Alli drives forward and plays it to Son and he shoots. Out for a corner.
90'+5'   It's over. Spurs clear the ball down the field. And it has to be over. Is it? 
90'+5'  Aguero took the ball from an offside position.
90'+5'   It was offside. 
90'+4'   He was offside. 
90'+4'   Hat-trick for Sterling.
90'+3'   GOAL! GOAL! GOAL! GOAL!
90'+2'   Ball out by Spurs. City have nothing left. It looks like that anyway.
90'+1'   Five minutes added on! 
90'+1' Davinson Sanchez comes on for Danny Rose.
90'  Danny Rose takes the ball down and runs into the corner. Aguero gets it and he's foule by Dele Alli.
88'   Lloris grabs the ball as it's launched into the box. He hits the ground and has a nap for a minute.
87'   Son down the field in search of Eriksen. He loses it and City come at them again! This is going to be relentless for the next couple of minutes.
86'   Ball clipped towards Sane and he heads down to Gundogan. He scoops it over on the volley.
86'   Ball across from the right. Cleared.
85'   Rose jumps in on Fernandinho and gives away the free. 
84' Mendy off for Sane. 
81'   Poch shutting up shop here. Left back for a left attacking midfielder. 
81' Moura off for Ben Davies.
81'   Bernardo Silva almost gets the ball through to Sterling but it's out for a goalkick.
80'   Aguero header straight into the hands of Lloris but it does force a save from him.
77'   Bernardo Silva with the shot off his left and he wins a corner. 
77' City win it and De Bruyne breaks and Wanyama fouls him. Clear yellow.
77'   Eriksen in the box now and he shoots. Blocked. Spurs back on the attack. 
76'   Aguero tries his luck now. 
75'   It hits hit hip. It looks like?!?!
74'   It might be handball though. Will he chalk it off? VAR could be saving City here.
73' BIG Fernando Llorente with the finish! 4-4. 
72'   Out for another corner.
72'   Ederson drops the cross. 
71'   Son's movement catches them out again. Ederson out and gets a foot to it. Corner.
70'   Aguero hauled down by Vertonghen. He was protecting the ball and hit the ground. 
68'   Fenandino slides in on Eriksen and he is absolutely fuming. 
67'   City win a free as Moura hacksat Walker. 
65'   Offside. Gundogan misses after Sterling pulls it back to him. He was offside. 
65'   Pochettino has to do something! 
64'   De Bruyne again down the right this time. He shoots across goal and Spurs just about get it away.
62'   De Bruyne runs down the left and cuts into the box. He plays to Aguero but he loses it. Spurs clear and Llorente is whistled for a handball.
61' David Silva off for Fernandinho.
61'  City in no hurry now either.
61'   Son gets the ball and Mendy puts him and the ball out but it's a goalkick.
61'   Fernandinho coming on for City.
59' Aguero slams it home! De Bruyne lays it on to him and he absolutely buries. it 4-3. What do Spurs do now?
57'   Moura sends Son free but he loses it and Llorente picks it up. Cleared again and comes back down the field. Llorente heads down into Ederson and he saves. Out for a corner! First good attack of the half and in a long while for Spurs.
56'   Free is sent in and David Silva heads it wide.
55'   Llorente fouls Benardo Silva. 
55'   Poch's options on the bench are limited though.
54'   Spurs just can't get a hold of it here. They're under serious pressure and they need to do something or else the next City goal is coming! 
53'   Son loses it and Bernardo Silva drives forward. Rose fouls him. De Bruyne gets the ball on his right and Lloris saves. What a stop that is.
51'   City pushing again. Aguero to Silva and he runs out of road at the edge of the box. Corner for City in the end.
50'   He wants a penalty but Rose was very cute about the tackle. 
50'   Oooohhh! Sterling sees a shot saved by Lloris and Bernardo Silva follows it up with a shot wide. 
49'   De Bruyne hits it well but it's too high and isn't coming down.
47' Son booked for that one.
47'   Nasty one on De Bruyne. He runs through the middle and gets pulled back by Son before Rose launched himself at his feet. 
47'   They work it out nicely. 
47'   Long ball down to Moura but it's headed back to Ederson. 
46'   We are back underway for the second half! 
45'+3'   One last chance for City maybe. Sterling runs into trouble down the middle. But City get it back and attack again. 
45'+2'   Free for City as Sterling is pulled down. De Bruyne stands over it now as he gets ready to whip it in.
45'+1'   Three minutes of added time. 
45'   De Bruyne tests Lloris from distance. He takes his time with the clearance.
44'   Trippier gives the ball away and City attack. Mendy gets the ball robbed off him by Wanyama and Trippier and they clear. City piling it on now and Spurs scrambling.
43'   Son gets a cross-field ball and after a little stepover, he strikes just wide of the post.
42'   Spurs hanging on now until half-time.
41' Sissoko is booked too. He refused to get up on the stretcher maybe. But he has to go off.
38' Llorente on for Sissoko.
38'   Fernando Llorente is coming on. sissoko can't continue. 
38'   Oliver Skipp out warming up. The 18-year-old has never played in the Champions League before. But Sissoko is okay to continue for now.
38'   Sissoko down now and it looks like his knee is injured. Spurs have very limited options on the bench.
37'   Son wins the ball after a poor Aguero pass. He gives it straight back to City though as Bernardo Silva attacks and gives it to Aguero. He spins in the box and shoots. Blocked for a corner by Alderweireld.
36'   City back on the attack again.
35'   Son puts the ball out of play for a throw as Sissoko goes down injured. 
34'   Things calm down for a minute as Poch talks to the fourth official. He think Rose was caught in the face but it was a free and nothing more.
33'   Bernardo Silva again as he cuts in and crosses this time. It comes straight back out to him and he fouls Rose.
31'   Bernardo Silva cuts in on his left and shoots. That one went very wayward as Spurs manage to get it away. City continue to push forward though.
31'   Silva looks for Bernardo Silva but Spurs win it back through Rose. They lose it again and City attack one more. Can Spurs hold on until half-time?
26'   Two teams are looking tired now. The game had to hit a lull. 
26'   City fans want their side to win the ball back as Spurs hold it. They lose it as Sterling picks them off and Aguero moves forward. 
24'   Son drives forward and hits the ground. It's not free though and Wanyama wins it back as Spurs restart their attack.
21' ANOTHER ONE! Sterling finishes. The fifth of the game. Absolutely insane. Quick free out to Silva and De Bruyne drives it across goal before Sterling slots it home. 3-2 on the night and 3-3 in the tie. 
19'   Spurs win a throw as they try to take some control over this one. They do look good when they decide to attack. Eriksen drives a shot over the bar.
16'   Onus is completely on City. But they've responded well to Son's brace. Dominating the ball since that.
16'   City pressing up on Spurs and they force Lloris to put the ball out for a throw. 
15'   De Bruyne drives forward and thinks he won a corner but the referee says it didn't hit off a Spurs player.
14'   Son drives forward and Ederson is forced off his line. He heads down to a teammate but Spurs looking dangerous on the break.
12'   City attacking now as Aguero tries to find space through Spurs' back line. He can't and they win a throw.
10'   He strikes and Rose gets a touch on it and sends it into his own net. 
10' GOAL! GOAL! GOAL! Bernardo Silva scores. 2-2.
10'   Son yet again! Opened right up. What is happening to City. They've capitulated. Laporte gives it away too, too easily and they break with Son curling past Ederson.
7' SON! Opened right up. Moura to Alli and Laporte played it onto him and he struck. Ederson nearly saved but couldn't stop it with his leg.
6'   City on the attack looking for more. Aguero offside though. 
4' GOAL! Sterling. What a finish. Great ball out wide by De Bruyne and he cuts in on his right before curling home. 
4'   Rose with the deep ball curling around City's defense. All the way over everyone though. 
3'   City with all the ball so far but have done nothing with it. 
2'   We are back underway now after quick a soft start. Bernardo Silva chases the ball down the field and Rose holds him off before he throws him to the ground. Very unnecessary. 
1'   Go home! Ball is burst. Referee stops the game because the ball is flat. We are back underway though.
1'   We are underway at the Etihad. 
    Son and Alderweireld on yellow cards and could miss a potential semi-final if they are carded tonight.
    In fairness, the sea of sky blue flags is quite impressive.
    Man City have lost all five of their previous matches against English sides in European competition.
    Dele Alli in the line-up tonight despite a broken hand. He broke it against City in the first leg but he's fine to start tonight in midfield. A lot of the burden will fall on  Lucas Moura, Christian Eriksen and Son Heung-min and Pochettino would be delighted as long as one of them fills Kane's substantially large boots. It was Moura at the weekend with a hat-trick against Huddersfield. 
    Pochettino knows Spurs will have to match City's intesity from the start tonight: "For us to beat them in the first leg was an amazing result, but we know very well that the tie is still open. What we have is the belief and the faith that we can be strong. We are going to fight. We know they're so strong and have a very high tempo from the beginning, but that is our challenge – to try to stop them, to be offensive and attack. We need to believe that we can stop them and show our quality."
    Pep doesn't know what to expect heading into this one. "I know how focused the players are: the desire to get to the semi-finals. Will it be enough? I don't know. I got to the final once with one shot on target, and once I had 33 shots on target and didn't."
    Spurs line-up: Lloris. Trippier, Alderweireld, Vertonghen, Rose. Wanyama; Sissoko. Eriksen; Dele; Lucas. Son.
    De Bruyne starts for City. he has only started two games for City in the Champions League this season and they scored three times in each of them.
    Man City line-up: Ederson, Walker, Kompany, Laporte, Mendy, Gundogan, Silva, De Bruyne, Bernardo Silva, Sterling, Aguero.
    UEFA.com have Sterling vs Trippier as a key clash for tonight: "Two of England's FIFA World Cup stars of last summer renew their battle. Trippier hasn't always been at his best this term but was mighty impressive in the first leg to tame Sterling, whose fine double on Sunday took him to ten goals in his last nine appearances for club and country."
    Hello and welcome to our live online coverage of Manchester City vs Tottenham Hotspur at the Etihad on Wednesday night with kick-off at 21:00 CEST.
Manchester City vs Spurs live online: match preview
The Etihad is the venue for Spurs vs City on Wednesday night with kick-off at 21:00 CEST with, at the very least, one Premier League team set to make it into the Champions League semi-final of the competition.
Heung-Min Son scored a second half winner in the first leg of the all-Premier League quarter-final clash between Tottenham Hotspur and Manchester City last Tuesday night. The Korean will be needed again in the second leg as Pochettino's men defend their lead against a Pep Guardiola side looking to make their first semi-final appearance under their technician.
Fernadinho is out for the hosts along with Zinchenko but the former could have a massive bearing on how Guardiola lines out his team. He experimented in the first leg and was largely lambasted after the game with suggestions he got too cute at the wrong time. Gündogan could replace him and Bernardo Silva, who was left out in London should start as City go in search of a goal. Guardiola might be feeling the heat after a tetchy press conference in which he referred to himself as a failure and said he didn't come to City to win the Champions League but to play the kind of football they have been playing since he arrived.
Pochettino has to plan without Harry Kane after he went off in the second half with an ankle injury. Harry Winks is missing as is Eric Dier and Serge Aurier. The two teams meet each other again at the weekend in another season-defining game as City look to close in on the title and Spurs look to interrupt that. Pochettino has said that City's side are capable of winning the quadruple but they could be the masters of their demise if they can knock them out tonight and take points off them at the weekend in what are sure to be two heated battles.