Giroud offers ultimatum to Chelsea amid offers from other clubs
Olivier Giroud, who is out of contract in June, has warned Chelsea he is not happy in a secondary role.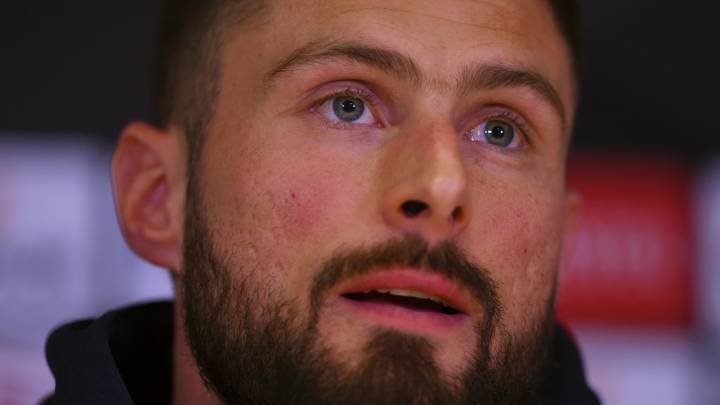 Olivier Giroud has confirmed he has received offers from other clubs while demanding a more prominent role at Chelsea if the club wants him to stay.
The ex-Arsenal striker, who won the World Cup with France last summer, has found himself out of favour at Stamford Bridge since the arrival of coach Maurizio Sarri in August.
The Frenchman has started just seven of Chelsea's Premier League games this season, playing second fiddle to the likes of Eden Hazard, Hudson Oboi and Willian in Sarri's front line.
And the arrival of Gonzalo Higuaín in January has further dropped him down the pecking order. Since the Argentine joined the club on loan (with the option to buy) from Juventus in January, the 32-year-old has made only six league appearances.
Speaking ahead of Chelsea's quarter final second leg clash with Slavia Prague in the Europa League (a competition in which he has enjoyed some more prominence starting 10 of 11 games), Giroud has warned that he is not satisfied in a secondary role at Stamford Bridge.
Olivier Giroud on lack of game time "Trust me I am very frustrated when I am not on the pitch but I don't want to show it. You need to keep that frustration and transform it into positive energy. Trust me I'm not happy to play the second role." #CFC pic.twitter.com/FAF2TdzPTi

— The Blues (@TheBlues___) 17 April 2019
"I'm not happy to play the second role. That's why I said next year I will need to have a more important role to play in the team," he told reporters.
Quizzed on his future at Chelsea, the France international responded: "I am not happy to be the second striker. I don't know [if I will be here next season] you have to speak to Marina [Granovskaia, club director]. I want to enjoy my football. It must be decided by the end of the season."
On the topic of offers from other clubs, Giroud stated: "Yes [I have received offers], but I won't tell you. The priority is Chelsea. With what I've achieved here, there is no reason they won't give me one more year. But I need to be happy, also."
Giroud has pondered return to France
Giroud, who joined Chelsea from Arsenal in January 2018, will become a free agent in June should he not agree terms with Chelsea and has previously spoken of the possibility of a return to France.
"If the club decides to sign another striker, like Higuaín, it will affect me, it will certainly cast a shadow over my future at Chelsea. I will be free in June, I will see the decision I have to make. I have never said 'no' to a return to France. Lyon and Marseille are two great clubs. My priority is to stay in the Premier League, but let's see," the French striker told Canal+ in January.
"Even though I didn't score in the World Cup, I'm the fourth highest scorer in the history of French football; nobody will take that from me."