Juventus: Cristiano Ronaldo won't see out contract - report
Following Juve's Champions League exit, La Repubblica reports that the ex-Real Madrid star will leave the Serie A club before 2022.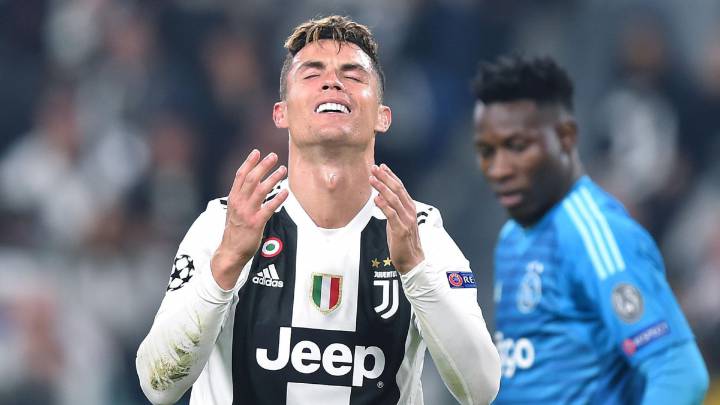 Juventus can clinch the Serie A championship by avoiding defeat to Fiorentina this weekend, but after Tuesday's Champions League quarter-final exit, it'll be a title party tinged with sadness even if they do secure an eighth straight 'Scudetto'.
Juve's Champions League dream scotched by Ajax
Having spent 117m euros to bring in Cristiano Ronaldo last summer, there were high hopes that this would be the year that Juve ended their wait for a third European crown, but despite the former Real Madrid striker scoring in each leg against Ajax, the Italians found themselves dumped out of the competition by the Dutch underdogs, who prevailed 3-2 on aggregate after winning in Turin.
And not only has continental glory eluded Juve, but their season as a whole has in fact been less successful than in previous campaigns: they had won a domestic league and cup double for the past four years, but this term also bowed out of the Coppa Italia at the quarter-final stage after a heavy, 3-0 loss to Atalanta.
---
Read also: Gazzetta reveals details of planned transfer blitz at Juventus
---
"Next season may well be Cristiano's last in Italy"
Clearly, it's a state of affairs that Cristiano will be far from pleased with, particularly given his personal contribution to the cause: before his two goals against Ajax, he was also the hat-trick hero in their epic comeback against Atlético Madrid in the Champions League last 16. Yesterday, Corriere della Sera went as far as to suggest that an angry Ronaldo could even bid Juve farewell this very summer.
Although such a dramatic turn of events appears highly improbable, another major Italian newspaper, La Repubblica, has revealed that it does look like the Portuguese won't see out his Bianconeri contract, which is due to run until 2022. "It's unlikely CR7 will stay until the end of his deal", the publication said today, adding: "Next season may well be his last in Italy."
Having dug deep to sign Cristiano, Juventus' European elimination will have a clear financial impact, with the club's last-eight exit seeing them lose out on 16m euros in prize money at least. The 34-year-old had featured in the tournament's semi-finals for the past nine campaigns; that his arrival at Juve has coincided with the end of that run will also take its toll from a marketing perspective.